WE all have a favourite beauty therapist and, in unfortunate circumstances, many of us have discovered our least favourite therapist. It's an important relationship; after all, a dexterous beautician that transforms us from work-a-day to wow on every visit is an invaluable find. The extra special one's even share great gossip material too. Yet what is it exactly that makes us return to the beauty chair time and time again? Especially when it comes to something as vital to our beauty regimes as eyebrow shaping.
It all starts with the daunting first wax – and the group would be practicing on each other.
As someone who flitters from beauty salon to salon, I thought it would be enlightening to see what actually goes into making a brow therapist great, and in turn creates a loyal customer. Plus, how scary is it to wax your first eyebrow?
NSI, a leading authority of beauty therapy training, educates budding therapists to learn the skills of the beauty trade and receive widely recognised qualifications. For some they'll run their own business, others will join reputable beauty salons.
The courses take place in a large beauty school in Salford, where 30 beginner to professional cosmetology classes are taught, including eyelashes, fake tanning or acrylics – the entire works.
For eyebrow waxing, the course mixes theory with practice. On this occasion, a small group of trainees would learn everything from picking the right coloured brow tint for their client, the difference between hot wax and warm wax to spotting a customer with scabies – and how to refuse treatment respectfully.
The lesson promised to not only help you earn money but the highly qualified teachers would impart invaluable skills to put into practice right away. Yet, before a glittering beauty career can begin, it all starts with the daunting first wax – and the group would be practicing on each other.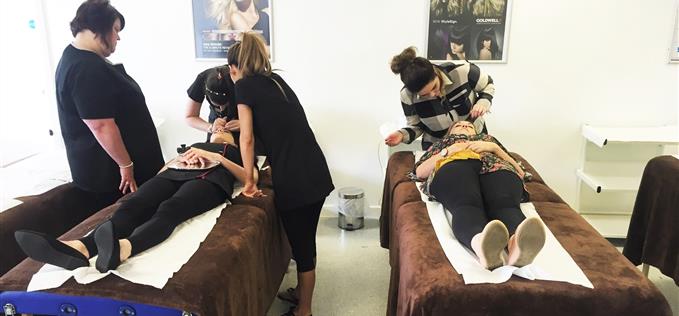 NSI Brow Course
"90% of women get their eyebrows done regularly," explained our instructor, "and more are investing in their eyebrows, buying make-up and getting treatments. It's likely eyebrow waxing and threading will get you regular maintenance trade. You have to sell your client the advantages; you're going to frame the face, or thicken the eyebrows and you'll have two weeks wear – that's what will make you money."
Along with a business strategy, the class would explain that to develop a trusted reputation takes times, practice and on very rare occasion's you can experience horror stories if you cut corners. To avoid mishaps, means to always abide by key codes of professionalism.
From a consumer's standpoint, venturing into a fledgling salon or relatively untrained hands can be a scary prospect. What should we be looking out for before we get in to the salon chair?
"If you're getting your eyebrows tinted they should be doing a patch test 24-48 hours before it's done. Yet you'll find that rarely you'll be asked for it. The risk is someone having an awful reaction – and when that happens there's nothing you can do."
Our instructor adds:
"You should always apply the tint before waxing the brow. Always. There's no question, always tint first. If done incorrectly you could be left with black spots in your client's pores. And never have a tint and spray tan or vice versa on the same day. Never do that."
To put theory into practice, the girls would administer their first eyebrow tint and waxes on each other under the watchful eye of a trained professional. To be expected there were nerves, a few giggles, yet thankfully no cases of bald eyebrows or too dark brow tints. You gain a new found respect for therapists when you realise they've all had to be test dummies for the newly trained – this is also the case for intimate waxing. Yikes.
As eyebrows were being carefully arched and lips waxed smooth, it was easy to see how NSI's courses help to instil a confidence in its enthusiastic new beauticians, ensuring a confident start in their shiny new careers.
The Brow waxing course costs £100 and NSI are offering 2-for-1 deal on courses.
Powered by Wakelet