THERE'S a moment, just before Beyoncé (entertainer, dancer, vocalist, all-round diva extroadinaire) begins to perform, where she is standing before her audience, hair blowing in the wind machine, with a hand on hip; she hasn't muttered a single note but the audience stands at her mercy. It's this, they say, that can't be taught: owning a room.
For me, nothing encapsulates pure joy more than shaking my bum like a pneumatic drill to a good dance beat.
Still, it's the sass and attitude of Beyoncé and all divas that have gone before that dance troupe Seen On Screen are trying to bottle and sell to women and men everywhere.
Lead by Bonnie Parsons, they're a team of professional dancers who teach the very best of sexy, powerful, female-led moves from our favourite music videos. Hair flicks and bum shaking are all legitimate techniques here. They aim not to just teach the popular moves (oh yes, there's twerking), but to keep people fit (classes are said to burn up to 600 calories and more) and empower people.
Hailed by Grazia, This Morning and more as the fitness trend to try this year, Seen On Screen have now landed in Manchester, holding classes at Northern Quarter dance school Studio 25 on Church Street.
I jumped at the opportunity. For me, nothing encapsulates pure joy more than shaking my bum like a pneumatic drill to a good dance beat. Also, it was single-handedly what kept me fit for many years.
After all, dancing involves a high level of cardio, increases flexibility and has been said to raise serotonin levels. It's the reason why dance-meets-fitness classes, such as Zumba, have rose to such wide-spread popularity. It's working out that feels like a night out on the town.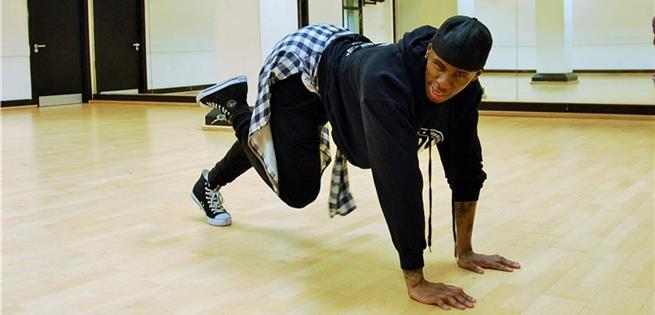 Leave your inhibitions at the door
I was to meet one of Seen On Screen's biggest characters, Joelle, for two classes. He's warm, hilarious and punctuates his sentences with an exclamation of "yaaaaaas!" He taught me, alongside a class of varying dance abilities, a fun and sexy routine to song of the moment, Mark Ronson's Uptown Funk, and a high energy routine to Beyonce's 7/11. He'd also teach us to not fear getting dance steps wrong.
"I am really good at breaking things down, trust me by the end of the session you'll have a video that you'll be proud of,"said Joelle to the class.

Watch L'Oréal try Uptown Funk and 'twerk' with Joelle below:
What's great about the classes is that any previous inhabitions you had when you entered the studio leave you by the time you've completed the last eight counts of a routine. We rolled on the floor, we crawled like cats, we whipped our heads round and round like we were in The Exorcist - and it was great fun. Also, it doesn't require you to be an elite gymnast or have the rhythm of Fred Astaire - you just have to want to dance.
At present, Seen On Screen offer weekend workshops for Manchester at £15.00 for two hours. They also offer membership at £50 per month for weekend classes. It's intensive and expensive, but feels worthwhile. You will get fit and you will learn how to walk into a room with the vigour and confidence of Naomi Campbell.
There's a diva in us all and Seen On Screen will bring her out.
Watch more videos below...
For more information and to book classes see the Seen On Screen website.
Studio 25 | Church Street | Manchester | Lancashire | M4 1PE
Follow @LOreal_B on Twitter