NOT SINCE Year Nine PE classes, when pleated sport skirts were compulsory and before my hairy legs discovered a Venus razor, have I felt it necessary to practice sport away from the eyes of males.
80% of women aren't doing enough exercise to stay healthy
Today, I'm accustomed to the full range of male gym characters: the bullish guys leathering the punch bag, the intensely focused bicep curlers parked right in front of the mirrors, and the top-heavy dudes who seem to have skipped 'leg day' every day. They're as much part of the gym furniture as the girls texting while using the cross-trainer (and letting the bloody side down).
So I've never felt the need to venture into the 'women only' section in my current gym. Until more recently, I've been quietly offended by that secluded area away from all the action. Segregating the sexes in the gym seemed incredibly infantile – much like the school disco when the boys and girls stayed on either side until one maverick kid decided to mingle.
So it would appear that I'm not suffering from 'gymtimidation' or 'gymphobia' – terms I recently learned following a new survey conducted by TrainFitness which revealed, out of 2000 Brits, almost a quarter of women revealed they won't go the gym due to self-consciousness.
Being wary of men in the gym has been cited as one of the main reasons for some women not wanting to join large gyms; whether it be the fear of being leered at, or lingering feelings of inadequacy.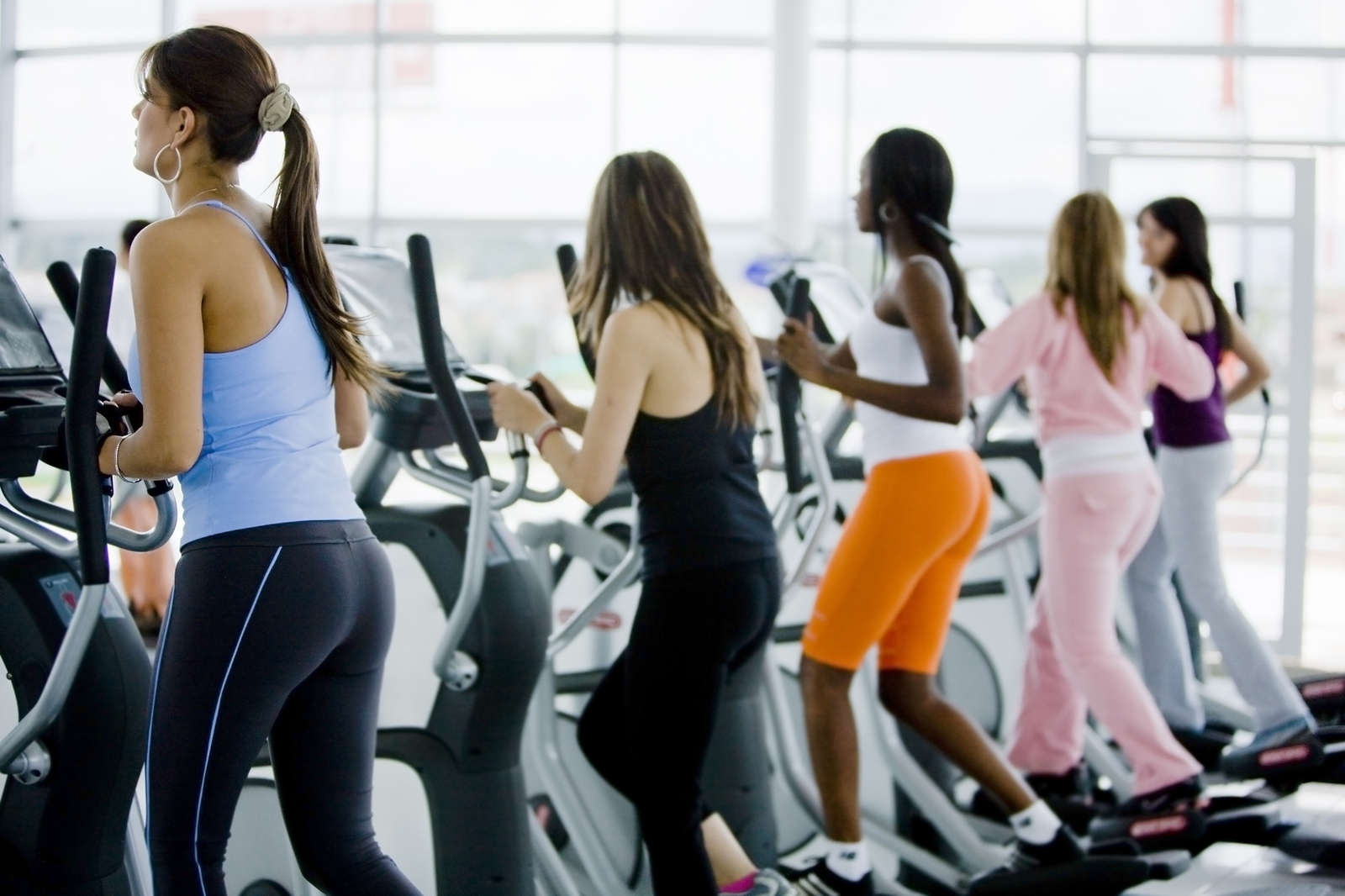 Ladies only gyms help with 'gymtimidation'?
I can't say I've never felt those pangs of intimidation while gymming.
On one evening workout I dared to leave the cardio section and approached the male-dominated weight-lifting station. As I completed a few sit ups on the mats, I notice one grinning man standing directly over me lifting up his top, flashing his six pack. I assumed this was for my benefit.
Instead of walloping him in the nads (I was near crotch level after-all), I switched on my leery man blinkers – the same blinkers all women learn to operate when faced with wolf-whistling builders and those imbeciles who shout 'hey baby!' from the safety of their car. Blinkers on, I carried on with my workout.
As determined as I am to stay integrated with the boys in my gym, this incident did help me understand the demand for single-gender gyms.
I recently visited one small women's only gym in Altrincham called LadyZone. There are multiple stop signs reading 'NO MEN ALLOWED' on the doors. I was entering womantopia. There are a few machines, a nail area and a beauty treatment room. In LadyZone, a Muslim woman is able to remove her headscarf, while a few older women take turns on the weight machines. It's charming.
"I feel there's a lot of women sitting at home in the morning feeling like there's nowhere they can go. Nowhere that feels comfortable. And the thought of going to a big gym is just not an option," says LadyZone manager and trainer Stephanie Leese.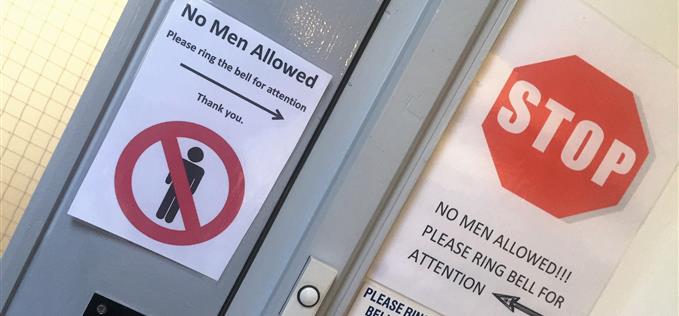 No men allowed at Ladyzone
So what does Leese believe are the main driver behind ladies only gyms?
"Our users don't feel comfortable around the gym bunnies – they're the sort of comments we get. They don't want to come into a place where they don't feel as confident as they should. They don't want to compare themselves or feel inadequate," says Leese.
It's downright frustrating to think that women are letting a lack of self confidence stop them from keeping fit. But that's the case; according to wsff.org.uk '80% of women aren't doing enough exercise to stay healthy.' This provokes an unhealthy cycle of feeling insecure, not doing anything about it and then feeling more insecure.
"When you're not in the zone, you're not doing things with conviction because you're not confident enough to do it," says Leese.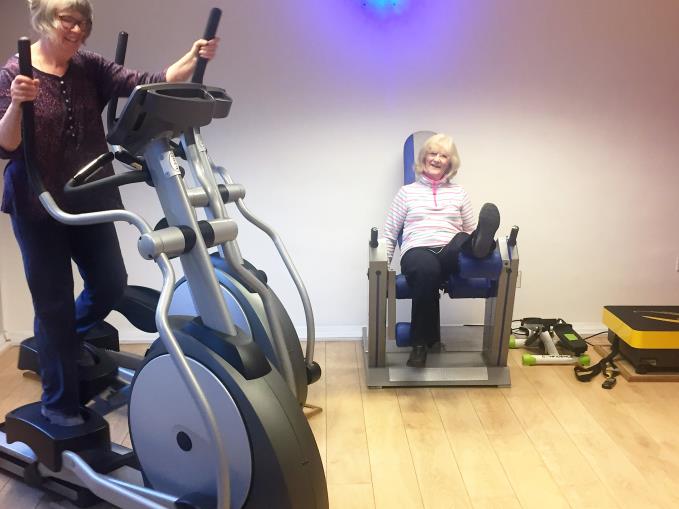 Ladyzone in Altrincham
"Instead in the back of your mind you're thinking 'are people looking at me?' Yet when you're in the zone, not distracted by self-doubt, you're doing every exercise with conviction because you're confident. You think, I'm going to go for it because I'm here for one reason. No distractions," she adds.
Yet – man flexing his six pack, aside – men don't have to be a distraction in the gym, do they? We're at risk of reducing all male gym-users to testosterone pumped predatory maniacs, enslaved by their primal urges. And it feels wrong to entirely blame men for the insecurities some women feel in the gym.
Three years ago, London-based journalist Peter Lloyd sued his gym for holding ladies-only sessions.
He said: "I'm suing the gym for gender bias. Not simply because their policy is unfair, but because it pathologises masculinity while simultaneously repressing it.'
They settled it out of court. While Lloyd is extreme, I wonder if other men feel that single-gender gyms are discriminatory – even if it's the 'positive' kind. Or are they nonplussed either way? After all, the TrainFitness research shows only 14% of men feel self-conscious in the gym.
Maybe women's 'gymtimidation' is not about men at all. As many women will likely concede, it's our competitiveness with each other that tends to fuel feelings of inadequacy.
With this in mind, it's appropriate to reflect on Sport England's amazing 2015 This Girl Can campaign and its ground-breaking commercial - 'the only advert to celebrate cellulite'. It was womanism at its finest. The campaign focused on regular women (no gym bunnies) and turned common fears about sweating, cellulite and not being fit enough into powerful feminine mantras.
This Girl Can highlighted a glaringly obvious need to encourage women specifically in sport and exercise. In many ways, women only gyms achieve this.
And I'd agree, woman-to-woman comradery is invaluable in and out of the gym. It's not necessarily competitive but supportive. You can feel confident that a women's only gym will have other women that feel just like you do. Instead, these gyms say let's forget about our issues, let's get in the zone and let's work.
While I'm happy to thrash it out with guys in the gym, just having the option of a women only gym could encourage more women - some vulnerable, others a tad insecure - to do just that.
Find out more about Ladyzone in Altrincham on the website
Follow @LOreal_B on Twitter
Powered by