TRENCH coats, trousers, shorter hemlines and looser silhouettes, the wartime fashions between 1914 and 1920 were borne of practicality, uniformity and ease, to match women's changing societal roles whilst working 'in munitions factories and on the buses, driving ambulances and even 'manning' the London Underground.'
Design inspiration is said to range from the 'yellow skin of TNT poisoning to women working for the first time.'
A century later, six leading fashion designers, including esteemed designers Vivienne Westwood and Roksanda Ilincic, are to unveil contemporary pieces inspired by the drastic changes that occurred to women during the First World War at Manchester Art Gallery.
Exhibited from 14 May - 27 November, Fashion and Freedom will share stories behind each contemporary fashion piece. Design inspiration is said to range from the 'yellow skin of TNT poisoning to women working for the first time.'
First, a film by luke snellin from Manchester Art Gallery on Vimeo.
The exhibition, co-commissioned by 14-18 NOW and Manchester Art Gallery and supported by the British Fashion Council, will also provide opportunity to showcase the next generation of fashion talent, with contributions from students at five British fashion colleges.
To complement the garments on display, specially commissioned films will be shown, including films by Nick Knight's award-winning SHOWstudio, alongside screenwriter, Luke Snellin, who has written and directed First, a reimagining of a young woman's first day at work as a bus conductor, with uniforms designed by Manchester fashion label Private White V.C. The films will be shown in the Gallery and across digital screens in Manchester, as well as online.
Together, the new designs, the films and the students' contributions will 'combine to bring a modern-day sensibility to the fashions of this landmark era in women's history.'
Speaking to Vogue, the exhibition's creative director, Darrell Vydelingum, said: "As men left home to fight on the frontline, women across the UK went to work for the first time, taking on jobs such as bus conductors, ambulance drivers and window cleaners, as well as in factories. This new responsibility gave women new freedom and led to a new look, as silhouettes changed and hemlines rose."
Entry to Fashion and Freedom at Manchester Art Gallery is free.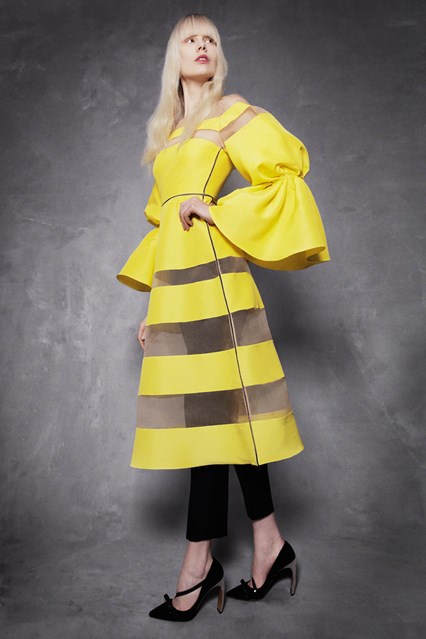 Designer Roksanda' Fashion and Freedom design