THE UK probably has no better advocate for plus-size fashion than Gemma Collins.
As one of ITV's The Only Way Is Essex original and most vocal cast members, the reality star is hell-bent on making fashionable plus-size trends accessible on the high-street (true TOWIE fans will remember Collins brandishing an 'If You're Thin You're Not Coming In' sign at her Essex clothing boutique). And contrary to all dated 'curvy styling' advice, she also refuses to shy away from a bold print...
It's about getting out there and not hiding back because you're plus-sized.
Evans, the leading fashion retailer for size 14-32 women in the UK, has enlisted 34-year-old Collins to revive its image and 'bring sexy back' with her own self-titled collection of evening and casual wear. The sizes range from sizes 16-26 and they're rolling out the collection in fifteen stores across the country.
On her stop to Evans at Manchester Arndale the vivacious blonde revealed her personal mission: to ensure curvier women feel confident.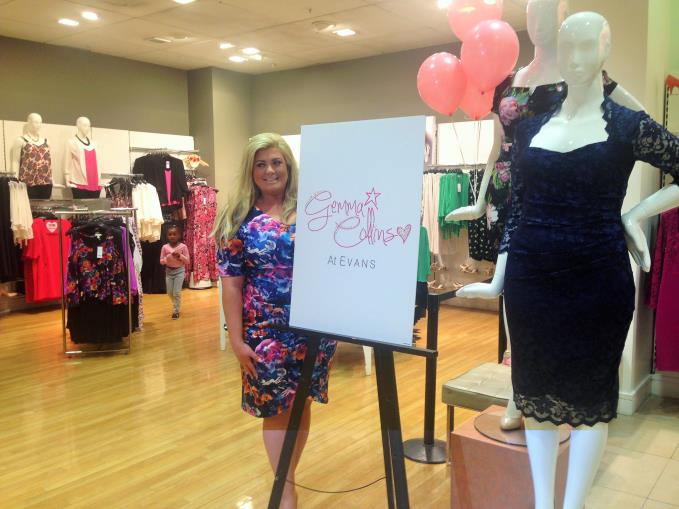 Gemma Collins launches her range at Evans, Manchester Arndale
"It was a shock getting the phone call from Evans, I'd just left the jungle and my management called me. It was just one of the most amazing moments in my life," shared Collins.
Her shock (or rather expected) early exit (72 hours) from the 'I'm A Celebrity Get Me Out Of Here' jungle lead to Collins achieving one of her dreams - beyond becoming Queen Of The Jungle. As she'd happily admit, she's far more suited to the glamour of fashion than the Australian outback anyway.
Revealing her hopes for the new range, she said: "The high-street definitely didn't cater to plus-sized women; that was the whole reason behind the collection. I had such a massive problem trying to launch the range because no one would take it seriously and no one wanted it. Three years on I'm in Evans. I've never given up my passion for bigger women."

The collection is true to Collins style; not too dissimilar to what we'd see her wear hopping between Essex and Marbella - it's far from understated but we wouldn't expect anything less.
"[The collection] is fun, fabulous and flirty; and at the end of the day that's what it's all about. It's about getting out there and not hiding back because you're plus-sized. It's saying I can wear on-trend prints, I can wear sexy dresses and that's why I'm doing it," said Collins.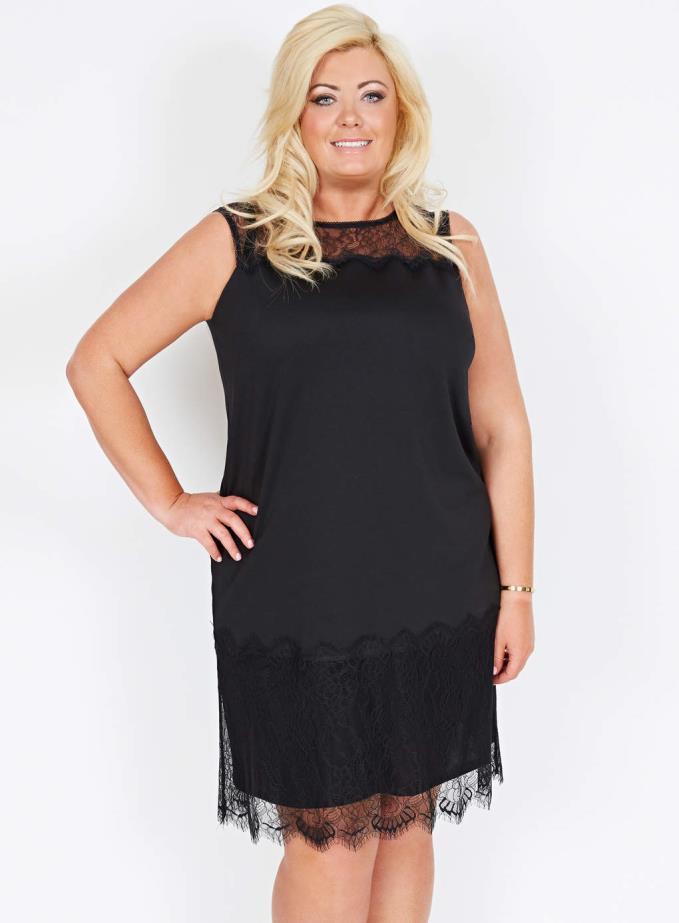 Black Poland dress (£59.5)
Personally, Collins has fluctuated between a size 14-22 and insists that she's happy in her skin. With a world of confidence, why does she feel the need to label herself as 'plus-sized'?
"I had hoped one-day we'd move away from it - but everyone has segregated sizes fashion. And I do ask myself: why do I have to keep saying plus-sized? It should just be about fabulous clothing, with no stigma behind being a curvier woman. Hopefully I'll be able to change that."
Don't shy away from prints (£54)
Collins is certainly passionate about the range and counts her own self-belief as the reason it's doing so well.
"I just believe in myself, I know all my dresses are designed really well, and will pull you in and flatter. So it's a no-brainer."
She added: "For me it's not about celebrities wearing my clothes - it's the mums, the aunts, the nans. Normal girls. That's who I want to reach out to."
Ready for Spring, the collection features kimonos, maxi-dresses and bodycon dresses. Prices range from £50 to £70.
Collins quality checks the range by trying on every garme to make sure it flatters; and all clothes are designed to both slim and accentuate fullers figues.
Confidence comes second nature to Collins (who will happily wear a bright floral two-piece); but what about the women who are not so bold?
"I would say get some lipgloss on, team it with one of my dresses, throw on some killer heels and wear it with confidence. Smile and strut. Definitely. It's so important."
You can find the Gemma Collins collection at Evans, Manchester Arndale and online.