IN the days of dial up modems, MSN, AOL and its ubiquitous "You've got mail" voice, blogging wasn't the thing of influence that it is today. Back then, over-sharers like me would empty their thoughts into what seemed like a bottomless vacuum, with little response from the audience.
Sara focuses on high street fashion, making her look modern and, most importantly, attainable. This girl shops in Primark.
These days, blogs have an unprecedented influence over people's opinions and tastes - no more so than the fashion blog. Far from just being considered as a hobby, fashion blogs have now transcended across multi-media platforms. If crafted well enough, a blog can catupult careers. The most well paid youtubers reportedly earn around $100,000 a year.
It seems everyone with a bit of 'Wordpress' know-how and what seems like an expendable shopping budget can become a fashion blogger. It's largely a vain exchange, with numerous 'look at me, I'm wonderfully fashionable' photos, yet some blogs can help the fashion conscious gain a little more fashion know-how, and it's much appreciated.
Everyone has their favourites, here's my list of personal favourites...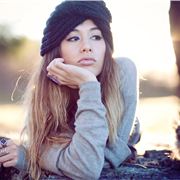 Front row straddler: Fashion toast
About the blog: Blogger Rumi Neely is part of an exclusive crowd that we're not invited to: the invite-only, guestlist only, front row, backstage pass crowd. Ranked as one of the best fashion bloggers in the 'business', Rumi champions that unattainable effortless cool.
Why we like it: It's any excuse to live vicariously through the cool and beautiful, really. Even if the over-arching pretentiousness makes me a little green...
Runner up: 5 Inch and UP
---
Vintage lover: Vintage Vixen
About the blog: There are people in this world so fashion forward they can look good wearing other people's hand me downs. People like Solannah, who could teach me and the rest of the over-spenders a thing or two about frugal fashion.
Why we like it: Macklemore and his song 'Thrift Shop' has made it even more acceptable to raid your local Oxfam. Let's pop some vintage tags...
Runner up: Ms Vintage Virgin
---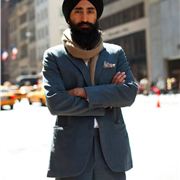 The street stalker: The Sartorialist
About the blog: There are bloggers who prefer to remain behind the camera than in front. Fashion photographer Scott Schuman of 'The Sartorialist' is one of those voyeur bloggers who likes to capture people having a 'fashion moment' on their day to day in the fashion capitals of the world.
Why we like it: The photos are beautiful and sometimes detail the coveted Brooklyn hipster life which includes coffee shops, bikes with baskets and great socks with loathers.
Runner up: Street Peeper
---
Men's fashion: Hypebeast
About the blog: Hype Beast cares just as much about autumn/winter fashion collections as the release of the new Assassin's Creed game. The blog is a taste-maker when it comes to urban fashion, with a focus on ridiculously expensive trainers.
Why we like it: Hypebeast could very well be responsible for the surge of fashionable males that seem to hover around the Northern Quarter.
Runner Up: Fashion Beans
---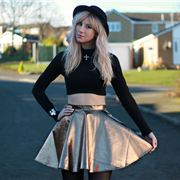 Manchester: Sara Luxe
About the blog: As you should know, Manchester has its own fashion identity – and I'm not talking tracksuit bottoms stuffed in your socks.
Sara Luxe, is a Manchester based stylist who works for the trend-tastic Missguided.com. Sara shows us how to work the alternative look that can be seen on those flashy adverts with a model cutting shapes to a popular dance track.
Why we like it: Sara focuses on high street fashion, making her look modern and, most importantly, attainable. This girl shops in Primark.
Runner Up: The Mancorialist
---
The professional: Anna Della Russo
About the blog: Anna Della Russo is a blogger who actual knows what she's doing. Russo knows fashion like Ramsey knows Beef Wellington and has worked with Vogue and the reportedly cut throat world of Conde Naste or 'Conde Nasty' for over 18 years. Now an Editor at Large at Vogue Japan, Dello Russo is a taste-maker we should all listen to.
Why we like it: How much time Russo invests in her blog personally, I don't know, yet it's a fun, bright take on the blogger trend. Also, let's just say, Russo isn't afraid to look like mutton dressed as lamb...
Runner up: Liberty London Girl
---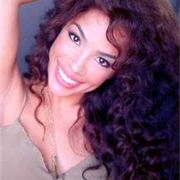 The vlogger: Andrea's Choice
About the blog: Andrea's Choice is one of the best beauty vloggers, or 'gurus' on the whole of Youtube. Fact. It's actually her full time job.
Andrea teaches us how to draw on our eyebrows and even lighten our armpits from the comfort of her living room. She's even made a video on her morning routine – just in case you don't know how to brush your teeth or wash your bits. Andrea's likability factor is that she's spunky, she likes animals, has a pet snake, is a vegan and is hot as hell. All likable qualities.
Why we like it: Because of Andrea I know how to successfully create a smoky eye look without looking like I have two black eyes and for that I thank her.
Runner up: Beauty Crush
---
It girl: Bip Ling
About the blog: I like Bip. Bip is a British 'It' Girl and DJ whose blog caught the eye of the fashion circuit. Bip, unlike some bloggers, doesn't take her blog too seriously – instead of the samey-samey crossed leg pose, looking off into the distance, Bip prefers to create her own gifs and graffiti her pictures with what looks like a Windows 5 version of paint.
Why we like it: Bip's a little nuts but she sure does know how to dress.
Runner up: Ring My Bell
---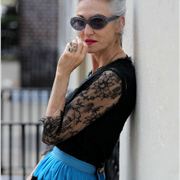 The older woman: Advanced Style
About the blog: I don't know about you, but when I'm older, gracefully entering my 60s, I want to look as fabulous as Joan Collins and Tina Turner. Despite their age they refuse to give up sequins and stilettos.
'Advanced Style' is run by a young man named Ari who takes respecting your elders very seriously. He roams the streets of New York to find stylish older people, to show that style doesn't have to become a last priority when you're older.
Why we like it: Fashion has no age limit.
Runner up: Ava Grace's Closet
---
Plus size: Gabi Fresh
About the blog: Gabi Fresh is just a girl who likes fashion, yet found there are limited resources for plus sized girls. Her personal style blog breaks 'fashion rules', with no constant emphasis on slimming stripes.
Why we like it: We like a girl who challenges the status quo in fashion.
Runner up: Vipxo
---
Alternative: Tavi Gevinson
About the blog: Tavi Gevinson is scarily advanced for her age. She started her blog, Style Rookie, when she was 11 years old , drummed up around 300,000 page views and subsequently was invited to attend every major fashion week.
Now 17, she has set up her own magazine for teenage girls, 'Rookie Magazine' and still showcases her refreshingly kooky, angsty and awkward style on her blog.
Why we like it: At 11 I made my own magazine using printer paper and a stapler, so we're 'exactly' alike.
Runner up: Frou Frouu