MUSLIM women are forging their way in the fashion stakes with turban-style headscarves, sleek silhouettes, and bold patterns: black burkhas exit, stage left.
Is it because Islam and the circus-resembling model circuit are fundamentally incompatible
Enter Mariah Idrissi and her 7000 Instagram followers. Half Moroccan and half Pakistani, she has become the first hijabi woman to feature in H&M's latest campaign.
Is Idrissi right when she says 'it always feels like women who wear hijab are ignored when it comes to fashion'?
Islam is the second-largest world religion after Christianity, plus Muslims are projected to spend £319 billion on clothing and footwear by 2019: an increase on the £175 billion spent in 2013, add that with your stereotypes about rich Saudi Arabian sheikhs with planes full of Louis Vuitton luggage and their several wives, it seems bizarre that the fashion world would ignore the Muslim consumer.
So why has it taken 60 years and until 2015 for the world's second largest global retailer to showcase the modern Muslim woman?
As always, it's a classic case of our fashion models not representing the multicultural make-up of our society. We don't look like mannequins with turgid nipples, 1 ft eyelashes, and bald heads. Muslim models can be a la mode, with floor-length hemlines and full sleeves. And Mariah Idrissi is proof of that.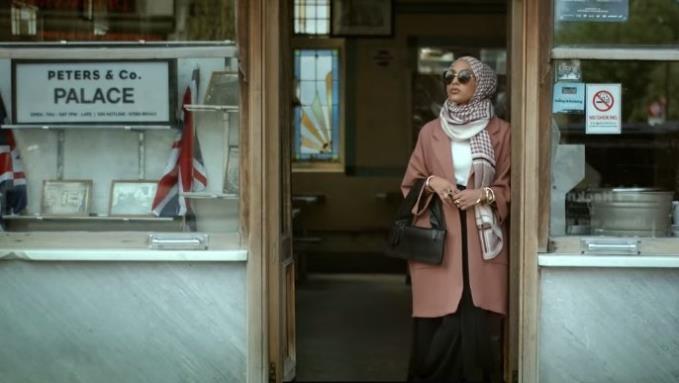 Mariah Idrissi
Is it because Islam and the circus-resembling model circuit are fundamentally incompatible? A model is a scantily-clad party prop with a liquor habit. For a young Muslim woman, a fashion circle where nakedness is normalised, and men are vying at you through a camera lens can be a scary prospect. But Idrissi didn't let that put her off.
'Some people think it's great women can be beautiful and wear a hijab, and others think they're forced to wear it. I'm quite thick-skinned though,' says Idrissi.
23-year-old Idrissi doesn't see beauty as incompatible with her faith and runs a Moroccan-inspired beauty salon in London where henna tattoos and halal nail polish are on the beauty menu, and not just for the religious clientele.
After being recruited by a model scout in London, she sought her parents' permission to star in their advertising campaign as she saw the shoot as an opportunity to showcase a good cause: the campaign centres around ethical fashion and encouraging shoppers to recycle clothes.
For H&M's first Hijabi model there were some other considerations during the shooting process.
On set, when Idrissi's clothing or accessories needed to be adjusted on-set, rather than the photographer just waltz up and wrestle with her watch, he sent another female assistant. H&M also asked questions around how much of her neck she would be willing to show, and she explained that they were 'honest and very respectful'.
It's about respect for the models overall. Muslim or not.
As much as the industry has to embrace women that represent the true make-up of our society, it also means religious groups and other ethnic minorities need to reimagine themselves in different circles. Women of different cultures and creeds need to see themselves in the industries where they are under-represented. It's a valid point for fashion, but it extends way beyond that.
Think of how often you see ethnic minorities featured in Fortune 500 lists, or women in typically male industries such as engineering and IT. Luckily for Idrissi, her parents allowed her to pursue a field traditionally regarded as closed-off to Muslim women. Within every religion, you have varying degrees of religious practice and parents with different backgrounds and cultures don't always have the same ideas of what is acceptable for their children.
What's important is for women, ethnic minority or not and irrespective of their belief system, to pursue their dreams and to break through the barriers that seem to preclude them from closed-off circles. Only then will they become the norm instead of the exception.
Follow @MissAmeerkat on Twitter