WRINKLES are the bane of every woman's existence, including mine.
If there's not somebody wailing about them, there's somebody claiming to cure them, there are even the few that squeeze your arm and whisper about embracing them, "They're a sign of a life well-lived," they say emphatically.
No ta. Not buying it. Not even a little bit.
I did listen, I promise, but I was also staring intensely at her poreless porcelain skin that appeared to have never seen a frown, wrinkle or crease in its life.
I don't live well. I live hedonistically and my life is already showing on my face. I'm 22 and can already see the faint frown lines from cutting it too close to deadline day one too many times. Not to mention the creases on my eyes from vainly refusing to wear glasses and squinting to see anything beyond the end of my nose. Oh and laughter lines are beginning to show too, the little buggers.
I might love my life but I don't want it to be shown across my face. I'm not alone. Last year the British Association of Aesthetic Plastic Surgeons, or BAAPS for short, reported a double-digit rise in the number of anti-ageing procedures given out. Skint we may be, but it seems we're quite happy to hand over cash to wind back the years.
No I don't like wrinkles either.
Everyone in the beauty industry has tapped into the anti-ageing market. It's a sure fire way to make money. In Manchester there is a wide range of salons, spas and doctors all willing to hand back our youth in exchange for a small fee. One such place is the Skin Health Spa in St James's Square.
They have a variety of treatments designed to battle aging, from facials and peels for the softly softly to botox and derma fillers for those of us determined to fight back hard. Being only 22 the first signs of a life lived to excess are only just creeping in, so I went for a softer approach with the facial. But not just any facial, I chose the ultimate facial (has that old Marks and Spencer joke worn thin yet?) with a three pronged approach to tackling the signs of age.
The treatment offered 'the complete answer to spring skin rejuvenation needs, promoting healthy facial skin within a matter of weeks, to provide a renewed glow for the warmer months.' Yep, that one please.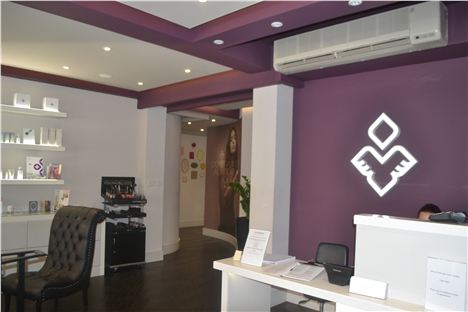 Purple and grey, purple and grey, purple and grey.
But rejuvenated healthy facial skin does come at a cost, £245 for a single treatment or £655 for a course of three. Still nobody said reclaiming youth was going to be a bargain. However, results are 'promised', even with a single treatment.
Stepping into Skin Health Spa, I was met with that familiar decor of purple and grey designed to be calming and relaxing. I met Sophie, a smiley and flawlessly skinned beauty therapist who talked me through the three steps of my treatment. I did listen, I promise, but I was also staring intensely at her poreless porcelain skin that appeared to have never seen a frown, wrinkle or crease in its life.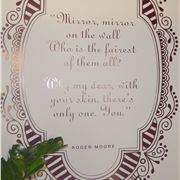 Mirror, mirror...Once inside the treatment room (more purple and more grey) and laid out on the bed Sophie set to work. The first step involved a microdermabrasion, which for those unfamiliar is essentially a step up from your usual exfoliatory scrub. To see the healthy new skin underneath and regain that youthful glow, you first have to get rid of all those tired skin cells that have fought through the hardest days of winter.
Having someone scrub away bits of your skin is surprisingly relaxing. Sophie chatted to me throughout and my only difficulty was trying to answer her as she massaged and manipulated my facial muscles.
Next step to making my skin look all fresh, new and hiding away all those sins (caffeine and alcohol are not my friends according to Sophie, even if they are my coping mechanisms) is the 'balancing enzyme facial'. Enzyme might make your brain hark back to GCSE Biology and the study of the human digestive system, but in terms of the face, enzymes are good and helpful things, I'm told. My enzyme facial promised to make my skin work properly and indicate that I am 22, and not approaching 30 as one man recently suggested. The git.
The final step is the best. The one that will erase the signs of a life hard-lived, or well-lived, depending on how you view it. The Transderm treatment is a well-recognised name in the cosmetics industry, even if it isn't so famous outside of it. Even if you've never heard of it, trust in the fact it's been on 10 Years Younger, so you know, it must be good. Channel 4 says so.
The Transderm bit was odd, but then most beauty treatments are. A clear cooling gel is applied across the skin and a little device using electrical impulses pushes it deeply into the skin. It's not painful but more uncomfortable, your muscles twitch even when you don't want them too. Trying to appear calm whilst your eyebrows twitch furiously and the corners of your mouth droop and then jump is a difficult task.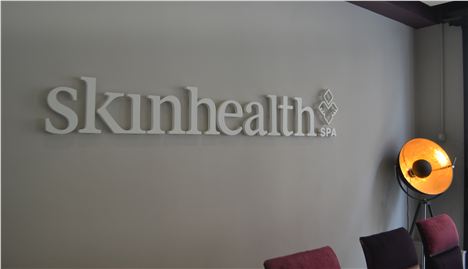 Skin Health Spa
It's the final Transderm step that gives skin back it's youth, boosting collagen and making it appear plumped and young again. "It's definitely addictive," says Sophie. I smile a drooping lopsided smile of confirmation as I surreptitiously eye her perfect doll-like skin.
"So, what suncream do you use?" Sophie fixes me with a knowingly warning stare. Uh oh.
"None," I reply meekly.
"You need to," replies Sophie. "Especially with new skin cells. Even on grey days. Lots of foundations have SPF in them but it's not usually strong enough."
Two weeks on and my skin is already looking healthier, a better reflection of my age. Age and youth might come at a price, but it's one I'd be happy to pay, should it be within my means. If only to avoid the "what are you doing for your thirtieth?" questions.
Skin Health Spa can be found at 7 St James's Square, Manchester, M2 6DN. Tel: 0161 833 4224
Or visit the website: www.skinhealthspa.com/manchester-clinic
Find them on Twitter: @skinhealthspa
Follow Niamh Spence at @missnspence