PORRIDGE. The word conjures up a warm, substantial bowl of goodness that will set you up for the day.
All in all I'd lost a full stone, which was what I'd wanted to achieve. From a measurements point of view I was pleased with those results too.

The Cambridge Weight Plan (CWP) substitute I kicked off with was a passable apple and cinnamon flavour, but mixed with water this was more like Angel Delight without the fun.
A thick paste at best, I was instructed to eat it within 15 minutes of making, before it self-destructed into a lumpy, slightly skinned mulch. Clocking in at 140 calories its companion was a full mug of hot semi skimmed milk from my daily allowance with a spoonful of coffee. I'd a feeling I'd need the caffeine kick-start to the coming days.
PorridgeUpon starting any 'eating plan' my panic psychology sets in. Faced with limitation, my brain obsesses about every other wild possibility. Within two hours I already had my eye on the next eating slot.
On a normal day it could easily get to 3pm and if I hadn't had lunch I didn't fear for my life.  The lemon yoghurt bar was next up and was delicious. I could see these were going to be a handy handbag companion. On past plans, eating on the go was often problematic if you hadn't prepared something in advance. Tick.
By the time it was mid afternoon I'd successfully thought myself into a false state of starvation. Salvation came in the form of vegetable soup. Eagerly setting out my bowl I realised this was hugely ambitious as once I'd added water it was clear there would be no spoon required. An afternoon hug in a mug it was. Wow. Wasn't I glad I was in the upper height bracket allowing three rather than two packet rations throughout the day.
I found myself clock watching so I could head home and make some food. Pleasingly the protein portions were generous. Two large fillets of white fish with 80g of spinach made up dinner. Herbs and spices could be added to tickle the taste buds a bit more however I wasn't left feeling satisfied. More water it was then. Lots of water is prescribed to give you that false full feeling in the absence of solids.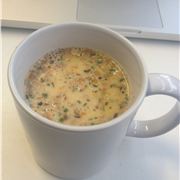 Hug In A MugThe next few days were much the same but I mixed things up by trying a few of the other products. I started making the porridge with milk from the allowance and this was a definite improvement.
I discovered the shakes were awesome mixed with hot milk and the pre-made shakes were also great on the go. Artificially flavoured sparkling water added some much needed taste to my days. By day four I was feeling tired and found myself heading home at the end of the working day for a nana nap. I'd trialled different options at tea time finding that two tins of tuna mixed with cucumber and spring onions provided a large portion of food that was more satisfying but being someone that prefers hot food to cold, braising chicken in an oxo cube was becoming a firm favourite.
Asparagus was preferable to spinach as it just felt like it had more substance; I think it was just down to the ability to actually chew something. In the midst of the first week I'd had the joy of going on a corporate afternoon to the cricket, having the pleasure of watching everyone else gorge themselves on the sumptuous buffet and steadily drink themselves into a stupor. I'd demolished my entire intake by 5pm that day, socialising with food around was hard and I resolved to minimise it going forward.
Weekend landed and I switched the meal element to breakfast. This made a marked difference. Having food early doors fuelled me for the day. I made a mental note to try eating at lunchtimes the week ensuing. Sunday lunch at my parents was difficult. With lovely luscious food in abundance they'd made me an off menu, diet compliant portion and I sat there with pure envy. Week one was done.
Weigh in day came and this day I made sure my food meal would be after I'd seen Jemma, my nominated Cambridge consultant. Every pound would count. I was delighted when I'd lost six pounds. Renewed with cheery, supportive chat I headed home with the impetus to fully embrace the second week.
Preparing food the evening before and eating at lunch times made a huge difference. This helped dispel the dark cloud 'food mood' I realised had been hanging over me and my business partner remarked I was much nicer to be around too. Winner.
It was boring from a social point of view. I realised a lot of my leisure time involved gathering with food as a focal point. Another downside was the prohibition of partaking in exercise. On 800-odd calories a day this is on the ban list too. You simply wouldn't have the energy. That meant my obsessive compulsive TV series disorder was born as I tried to lose myself in something other than thoughts of food. I spanked my Netflix subscription a lot.
This made me realise how exceptionally well seriously obese people, who have lost stones and stones of weigh, have done on this plan. This could see them going for three months at a time on the Sole Source Plan with only 440 calories a day of power. Hats off to them.
On the upside, sheer convenience shone through for me.
Choice is often my Achilles' heel when it comes to food, being a foodie I easily get led off onto choices that are more naughty. The fact that you have set packs for the majority of your 'meals' takes this element away and added to my success rate.
The thing I did find hard was the absence of a periodic treat event. Past plans have incorporated a weekly treat meal or day which works for me personally as it's enough to reward the recent efforts and refocus on the next stint. Similar to carrot/stick mentality, only substitute the carrot for chocolate.
As the weeks rolled on I'd ventured out into eating my food meal whilst dining out, simply asking for an off menu choice of plain chicken or fish with greens. It was good to release myself back into restaurant society as this was something I was missing, although locking myself down in the early weeks was the only way I could have done it.
The other weigh ins saw me lose another two pounds in the second week, the third another five pounds and the final weigh in was another pound. All in all I'd lost a full stone, which was what I'd wanted to achieve. From a measurements point of view I was pleased with those results too:
| | | | | | |
| --- | --- | --- | --- | --- | --- |
|   | Waist | Hips | Chest/Bust | Arms | Thighs |
| Start | 37.5 | 44.5 | 38.5 | 14 | 25.6 |
| Finish | 34.5 | 41.5 | 37 | 12.5 | 23.5 |
A healthy shift in my BMI from a starting point of 26.7 which put me in the overweight category, finished at 24.8 in the normal category. Hurrah.
The Cambridge Weigh Plan worked for me on a short-term basis. I had wanted something that would kick start me into getting fit and healthy again but I'd also wanted something that would give me dramatic results at the outset to keep my mojo motivated. It did that.  
There are plenty of other plans that promise 14 pounds in 14 days and I'd started a few of these in the past, but with a busy life I'd always fallen at the first extensive food preparation hurdle. As an alternative this was easy and simple to follow. I didn't feel amazing on it at the time but having set myself a manageable time period of four weeks there was an encouraging light at the end of the tunnel throughout.
Want to know more about the six steps of Helen's plan? Read part one of the Cambridge Weight Plan Diary here.
Contact Jemma Smart to find out more on 07787 544 804 or email on jem@smartweightloss.co.uk
Follow Helen on Twitter @helenrambo