FROM the reaction I received in the changing rooms at Stretford Leisure Centre, Abu Akujee is sitting on a goldmine. To say I was mobbed by adoring fans of my new swimsuit would be an overstatement. But not a huge one. 
Abu Akujee is the local boy and businessman behind AA Secrets - not clandestine alcoholics, as Google suggests - but an online clothes store that has been up and running for around a year. Things have really taken off in the last six months or so, mainly down to Akujee's new line of burkinis.
For those of you not au fait with the Burkini (and that includes most of the staff in Manchester's leisure centres, but more of that later), it is a form of swimwear whose name is a blend of the words bikini and burka. Think of it like a wetsuit with a built-in hood or balaclava. While that is the general idea, the burkini is made from the same material as swimming costumes rather than neoprene so it is lighter and it usually comes in two parts – a pair of trousers and a hooded dress.
It looks like this: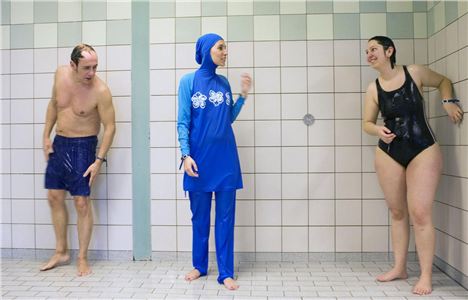 Modest women's Muslim Islamic full cover swimwear
If you search for burkinis on Akujee's site (here), you won't have much luck though. Search instead for 'Modest women's Muslim Islamic full cover swimwear' (or just go to the swimwear section). I know, it doesn't exactly slip off the tongue but the word burkini has been copyrighted to such an extent that you're probably going to be charged for reading the word.
Much like calling a hoover a Hoover (when we should say vacuum), the burkini refers to the original line of Burkinis created by Aheda Zanetti.
Zanetti was inspired to design the garment after watching her niece struggling to play netball in a hijab. I know some of you are thinking, 'just buy a track suit', but if there is an absence of suitable clothing that allows Muslim women to practise both sport and religion, then the burkini can only be a good thing.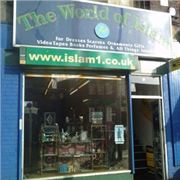 World of Islam on Wilmslow Rd
You'd expect that in a cosmopolitan melting pot of a city such as Manchester, the shops would be swimming (sorry) with options, but the burkini proved to be as elusive as the Loch Ness Monster. I tried Rusholme, Longsight, you name it, I tried it. The only place (apart from online, obviously) I could find a burkini was World of Islam on Wilmslow Road.
Not only did most shops not have any idea what I was talking about, but on more than one occasion, there was a bit of a misunderstanding. My North East accent, coupled with the proprietors' lack of burkini knowledge, made it seem I was trying to purchase a standard bikini in a traditional Islamic clothes shop. An itsy-bitsy-teeny-weeny bit culturally insensitive, perhaps.
It's a good job Akujee's extensive marketing for his burkinis caught my eye. Saatchi and Saatchi have nothing on this ad campaign – there is a poster in the barber's shop at the end of my street and another one in the post office down the road. Despite this modest approach, Akujee could have the last laugh.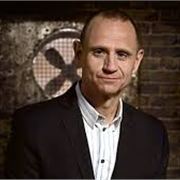 And our new Dragon is...
He already has plans for expansion – he's going to get his relatives to put posters up around where they live too. While Akujee is unlikely to be sat alongside Duncan Bannatyne and Deborah Meaden on Dragon's Den, his strategy seems to be working. Every day his phone buzzes with another request, and that's just with posters and word of mouth. That's only a small piece of the pie – most sales are over the internet anyway.
Akujee should stop sitting on his burkini goldmine and start mining it for all it's worth. Somehow I doubt he will. This is a businessman with a conscience (if such a contradiction exists) and he doesn't want his customers to feel ripped off. Not everyone has such qualms. I saw the same design on the internet for £45 whilst Akujee sells his for £25 excluding postage over the phone and £31 on eBay because of the charges. Although larger ladies, be warned - Size XXL is £3 more expensive.
So who buys these burkinis?
Well obviously it is mainly Muslim women – but not entirely. It protects the skin so pasty-faced types like me are also potential customers. But it is clear that the people who buy these burkinis are satisfied customers. Despite having sold well over 100 burkinis, Akujee has only had one complaint: the colour ran. It can't have run very much because they didn't want to send it back.
So was I a satisfied customer?
I admit that I donned my burkini with some trepidation. Burkinis in the press never seem to be reported in a favourable light: from Nigella Lawson's mauling for her resemblance a 'hippo' to a lady being ejected from a David Lloyd's gym in Oxford for wearing the item, I just felt so visible. I've actually felt much more comfortable on a nudist beach because although everything is hanging out, you are not alone. The indignity of cellulite and rippling flesh is a shared one, and almost acquires a strange sort of dignity in the collective disregard of such things.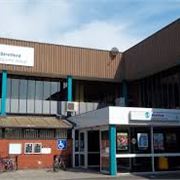 Lovely Place, Lovely People
I didn't fancy being forcibly ejected from my local pool so I did a bit of research to make sure me and my burkini would be welcomed with open arms. Thank you Stretford Leisure Centre – full marks for your inclusive and friendly policies.  
Admittedly, Manchester's policies are just as inclusive and friendly, it's just that someone has forgotten to pass this on to the staff who actually work at the leisure centres. Serco, who run Manchester's leisure facilities, told me to bring on the burkini, no problem at all. Read on to find out which of Manchester's leisure centres actually uphold these policies:
The Good Guys 
Abraham Moss Leisure Centre – No problem, I was even reassured that a number of the ladies there wore a burkini
Broadway Leisure Centre – No problem
Chorlton Leisure Centre – Again, no problem
Moss Side Leisure Centre – No problem
North City Leisure Centre – No problem, once I'd explained what a burkini was
Withington Leisure Centre – No problem
Oh Dear
Levenshulme leisure centre – I needed to explain the concept of a burkini and initially the response was a flat no. Then, upon consideration, it became a maybe. I was told that it was unlikely I'd be allowed but if I really wanted I could go along and show the pool attendant my costume and see what they thought.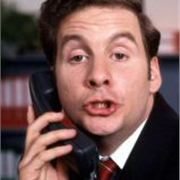 Hello, Miles Platting Baths here..
Miles Platting Leisure Centre – Again I needed to explain what a burkini actually was. Once I'd described it, the receptionist can't have been very taken with the idea because she looked for a reason, any reason, to ban me and my burkini. The reason she came up was: "You're not allowed anything that covers the hair." This, despite the photo on the leisure centre website of a smiling granny, resplendent in a blue swimming cap and matching cozzie. Presumably, this was taken before she was frogmarched from the facilities.
Anyway, once I had found somewhere that would actually let me in, I was set. The costume itself is actually quite flattering, it skims over places rather than sticking to them. It may be billed as modest swimwear, but I found it quite immodest in some respects. In a swimming costume, everything is engineered to hold you in place. Most of your body is on show, but at least the bits under the costume are hidden.
In my burkini, the lack of engineering meant it was just like wearing quite a tight dress made out of thin fabric. Not tight enough to offer any support however. Every jiggle was not only as plain as the nose on your face, it was also as plain as the nipples on my chest.
Once in the water, I felt less exposed and nobody batted an eyelid that I was wearing more fabric than the rest of the swimmers put together. I had made a fundamental error though. In all my changing room nerves, I had forgotten to fasten the trousers of the burkini to the top half. As I doggy paddled down my first length I felt the trousers head south whilst the top began to balloon up. Before I could be escorted out of the pool for public indecency, I waddled back to the shallow end to readjust.
Fastening the two halves is a tricky process as the button holes are miniscule and located on a strip of the world's least stretchy elastic.
Once my wardrobe malfunction had been rectified, I was off, ploughing through the water like Rebecca Adlington. Except of course I wasn't. It's like swimming in your clothes – not exactly streamlined. I gave up the doggy paddle after a while and opted for the easy option of backstroke but without the arm movements. Floating, to all intents and purposes. I was exhausted afterwards and when I eventually climbed out of the baths it felt like the weight of all that sodden fabric was dragging me down, deep into the earth's core.
It is fine if you're just doing a few lengths but I can't see the burkini taking off at the Olympics, where everything comes down to that hundredth of a second.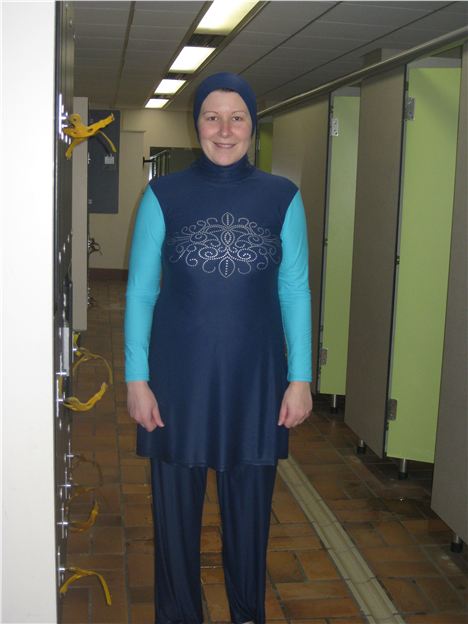 A fashion hit
It was when I headed for the changing rooms that the hullaballoo really kicked off. The women-only swimming lessons in the other pool had just finished and when they saw my burkini they could not get enough of it. There's definitely a market out there because I must have been asked a dozen times where I got my swimming costume from. The ladies were all in homespun burkinis which consisted of leggings and t-shirts so my turquoise and purple bobbly dazzler was quite an eye-opener. I have never before had so many compliments about how I look in swimwear, and I imagine I never will again.
Abu, if anyone mentions Stretford Leisure Centre when they're buying a burkini, I want a cut.
To buy one of Abu Akujee's burkinis on eBay click here or to buy direct call or text: 07779 434579.