FOR years the supermarkets have been trying to convince us that they're fashionable.
Whether it's with funky adverts set to popular songs or high profile celebrity endorsements (remember when Naomi Campbell modelled for F&F at Tesco? That didn't last long...), they've continually tried to drum home that it's cool to pick up an outfit on aisle seven.
Can we look good for under £50?
But how many of us believe them?
Both Tesco and Asda have well established clothing collections that are intended to serve as budget but wearable fashion lines. Still, with Primark flying the flag for high street fast-fashion the supermarkets tend to get overlooked.
So, Body Confidential editor L'Oréal Blackett and prominent Manchester fashion blogger Lauren Cokgúler set F&F at Tesco and George at Asda a challenge: could they make us look good for under £50?
F&F AT TESCO | TOTAL SPEND £34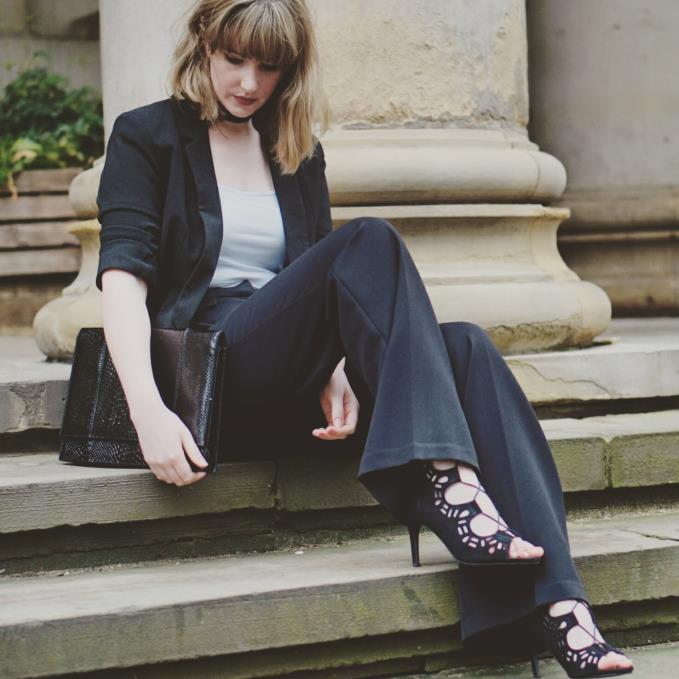 Lauren wearing her Tesco suit
"I definitely take after my Dad when it comes to bargain hunting. I delight in finding cheaper options of anything and everything; Mum may call us 'tight' but I call us 'sensible'. In particular, there's nothing I love more than finding a bargain outfit.
"So I was prepped and ready to see what I could grab when I picked up my groceries at Tesco. Their F&F range consists of largely 'mumsy' items, including your basics jeans and t-shirt kinda thing. However, in recent years, they have stepped up their game in terms of on-trend pieces, so I was certain I could find something worthy for under £50.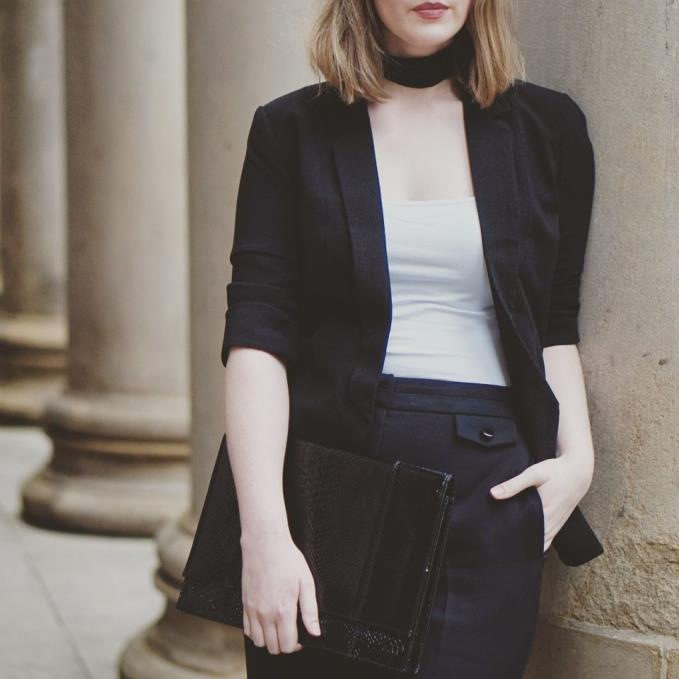 "I already had the 'suit' in mind before I'd looked online (disclaimer: their online range is much better than their in store collection - it's also delivered free to your local store). I'm loving the wide-legged, 'all black everything' feel, plus it's a total classic. I had no problem in finding some wide legged trousers, and even better, I could get them in a tall length. They turned out to be better than I had imagined. At £14, they hang beautifully and sat just on my waist which is super flattering.
"I chose a ruched sleeve basic blazer for the second half of my suit. This was just £20 and you could tell. It's crepe material, thin and didn't have much of a shape. However, there were a few more expensive options (around £30) that looked better but didn't fit into my budget. To be fair, if this outfit was for a one off occasion, and you didn't want to make an investment in a more tailored fit, then it would do. At £20 you can't complain, and it is cheaper than the ones in Primark."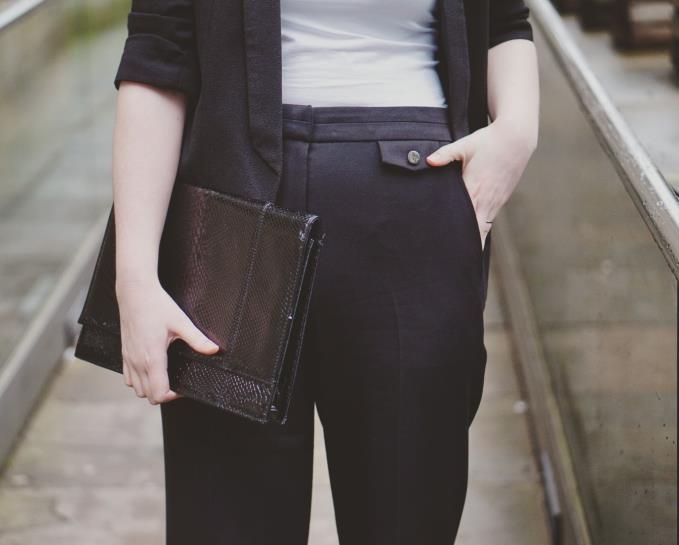 "I wore a vest top underneath which was simple enough. I finished the outfit with my favourite shoes and made it more on trend with a £3 neck tie from New Look, which is totally Kimmy K.
"I was impressed with the quality of the clothes for the price, and I must admit, they did have some very SS16 pieces, including some gorgeous pleated wide leg trousers. I'd definitely recommend a peruse on their website, or a quick look when you're picking up your weekly shop." Lauren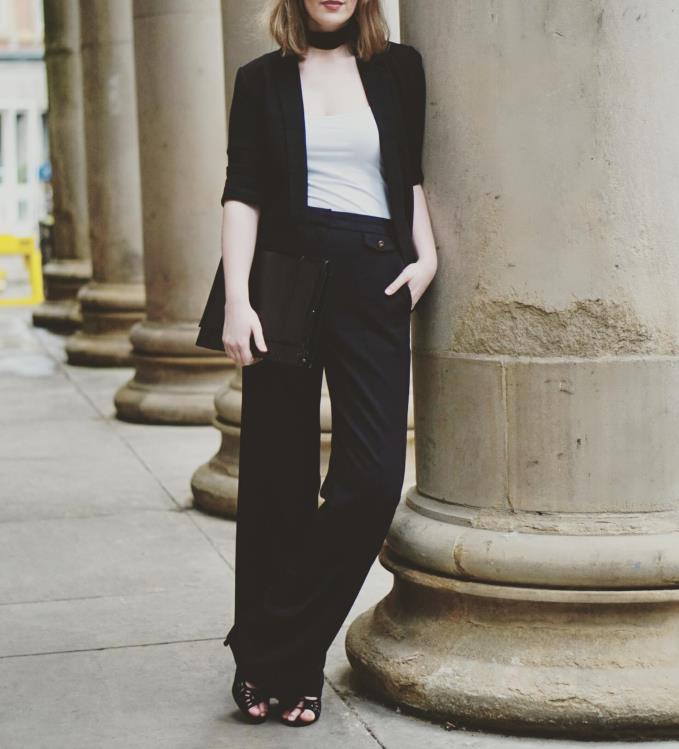 Lauren's finished look - does this suit look like Tesco?
BUY THE OUTFIT HERE: TROUSERS (£14), BLAZER (£20)
---
GEORGE AT ASDA | TOTAL SPEND £18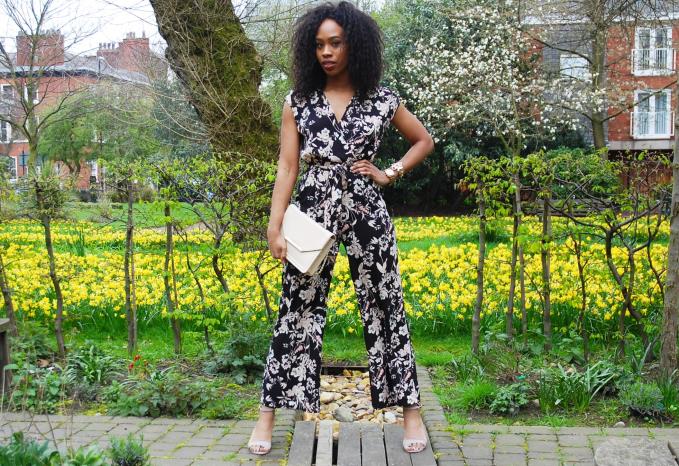 "Budgets and I don't usually get along. I'm the type of girl who pops to the shops for some socks and somehow returns with a sequin ball gown and a tiara (and I always forget the damn socks). Without this sounding like a shopaholic confessional, it's true that I'm single-handedly keeping Zara in business.
"More shopping trips means more reason to learn how to seek out bargains. My personal tips include: only shopping during sales seasons, finding online bargains, visiting vintage fairs and browsing budget stores for fleeting fashion trends.
"But Asda, really? Not my usual haunt.
"Call me uppity, but there's something quite passé about buying an outfit in the same place you'd buy raw fish. But Asda serves its purpose. After all, my bank balance is more People Like Us than Made In Chelsea - I can't afford to be choosey."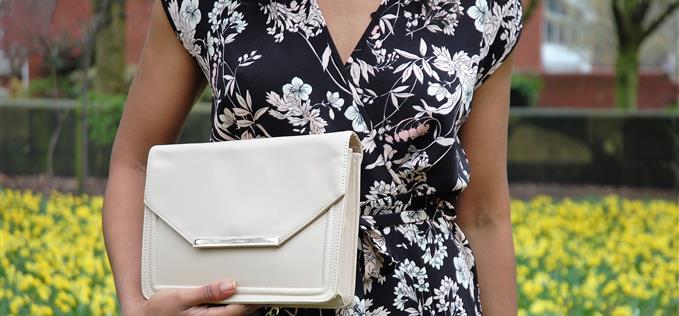 "On my first browse online, I could see that I wasn't George at Asda's main clientele. The outfits are more school-run chic than on trendy-wendy.
"For the sake of a challenge, I've picked something I wouldn't normally wear (I don't do florals) but is appropriate for the season. The printed jumpsuit was selling for just £10 (down from £20) so there was no debate whether to purchase or not. The floral pattern is a very chaotic (I screamed 'my eyes!' when I first saw it) but works as a good distractor from wobbly bits. Jumpsuits tend to work for a lot of body types and I can see a lot of women wearing similar prints at the height of spring and summer.
"One problem though: there's no zip. I nearly dislocated my shoulder putting on this jumpsuit and wouldn't like to have to wrestle out of this when desperate for wee. I guess zips would have bumped the price up."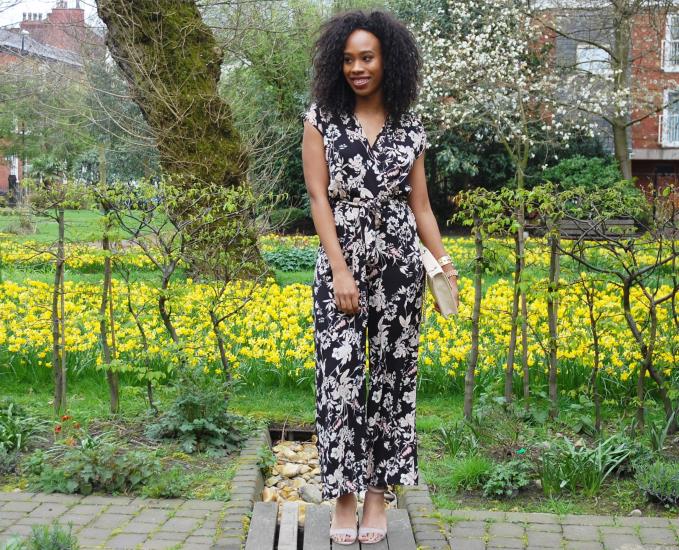 "I've accessorised with a cute purse which came in at just £8. I paired them with my own strappy sandals to create a sophisticated, feminine and bargain of an outfit.
"What I've learned from this challenge is, with most outfits, it's how you wear it rather than how much it costs. Sure the 'you get what you pay for' adage still rings true, but if you can make a tenner look like fifty quid then you've mastered the art of fashion and dressing. Turn down your nose and seek a bargain in the supermarket aisle. You might be surprised." L'Oréal
BUY THE LOOK HERE: FLORAL JUMPSUIT (£10), CLUTCH BAG (£8)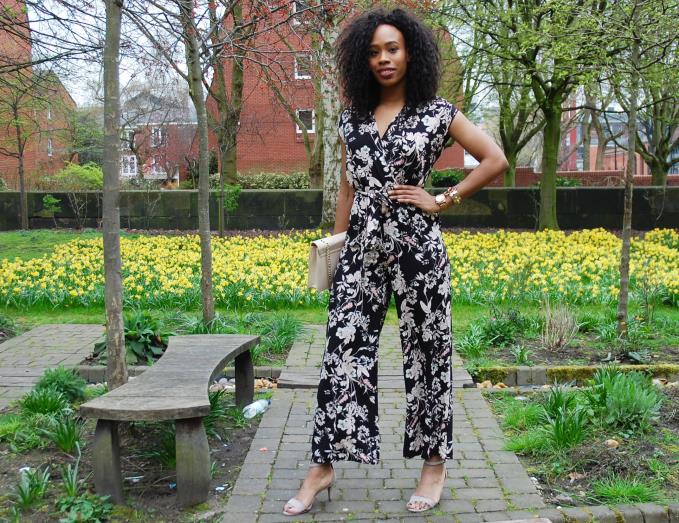 L'Oréal wears Asda jumpsuit and purse for just £18
Follow L'Oréal Blackett and Lauren Cokguler on Instagram for more fashion pics.
Powered by