Style psychologist, Kate Nightingale, had never met me, seen me and until recently, even heard of me. Yet, she could quite accurately reveal a great deal about me just by looking at a picture of my favourite shoes.
It's impressive, and unlike mediums, wizards, Derren Brown and what-not, Nightingale's 'reading' is far more scientific than magical.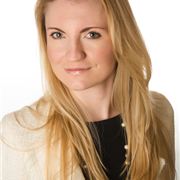 Nightingale, Style Psychologist"You are most likely a well organised, meticulous and professional person," she said after I sent a picture of my black suede lace-up boots.
"At work you are very reliable, trustworthy and rarely miss a deadline. And although it looks like you put a tough and professional facade up, you're most likely quite soft, delicate and modest. However, there is a timid aspect of sensuality and mystery to wearing black suede boots."
Correct. I am a softie. 
How efficient I am may be up for debate, but Kate Nightingale provided a far more accurate personal analysis than the Metro star-signs I'd read earlier that morning.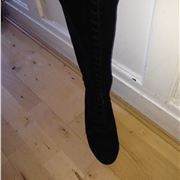 What's this all a bootIt's impressive, and unlike mediums, wizards, Derren Brown and what-not, Nightingale's 'reading' is far more scientific than magical. Or so she says. 
Nightingale studied psychology and economics before going on to the London College of Fashion. She combined the two disciplines and managed to carve out a career working as a style consultant for major brands.
This week Kate will be heading to Trafford Centre's week-long shoe event which will see her alongside shoe brands such as Schuh, Aldo and LK Bennett, giving shoppers a 'personal diagnosis' and a heads up on the newest shoe trends.
There's also a shoe illustrator on board to draw a picture of your favourite pair. You can find it by the giant pink shoe...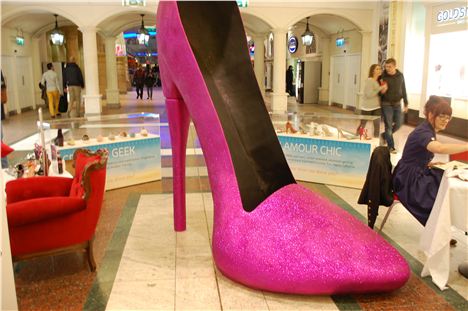 Cinderella was a big girl...
Meeting Kate in person, she explained to me and a small group of style conscious fashion bloggers how the varied styles that are to hit the high street can influence how you're perceived.
For instance, women who wear masculine style brogues come across as professional and modest, yet ladies who opt for red stilletoes can be perceived as passionate, dynamic, strong and a tad aggressive.
Men are not exempt from Nightingale's analysis either, she explained that men who opt for bright and shiny textures should probably be avoided in bars. Only in bars? Catch them in Aldi and they're fine.
A shoe psychology lesson with Kate Nightingale
"Reading shoes is a very small aspect of my consultancy," said Nightingale.
"My analysis is not flippant, it's based on thorough research in non-verbal communication. More than just the style of footwear I take into account whether your favourite shoes are clean, well-kept and the fabric you choose. This can tell me a lot about you."
Given that, reportedly, 60% of women own twenty pairs of shoes or more, and 38% of women say they would happily spend £300 on the right pair of shoes, it seems only right that we should take the opportunity to understand our extravagances.
Nightingale said: "Of course there's the facades we put up by just copying trends, but even if you have a varied selection of styles, you'll still see consistent elements. The colours, textures and how they're kept."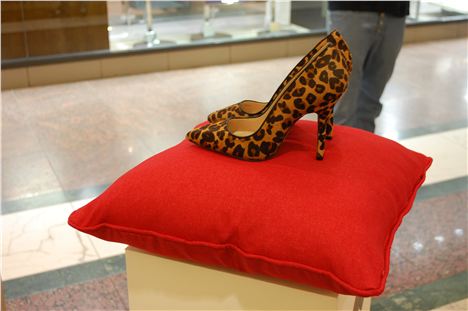 What has a leopard print stilleto got to say?
It's interesting to know that our style choices can be so revealing of our true selves. After all, aren't we taught not to judge a book by its cover?
Nightingale explained: "The way you dress and present yourself is more crucial than people allow themselves to think.
"We are not consciously aware of this but we make a judgement in the first three seconds of an introduction. It's evolutionary – we used this snap judgement as a way to determine whether someone or something was dangerous. Unfortunately this is where stereotypes derive from and we do it subconsciously.
"But even more than your physical attributes, what you're wearing provides a great deal of information about you, without you needing to say a thing."
It's quite a fascinating and intimidating concept. Those worn out loafers you've had for years could be shouting 'she's given up on her appearance' rather than 'busy multi-tasker with no time for shopping'.
So how can shoe psychology and this event at the Trafford Centre help?
"Of course there's always more to that than meets the eye, yet what I do is make sure that what you have bought and what you are wearing is the true representation of you."
Trafford Centre continues its Shoe Event from 3-9 March between 2-10pm in the Orient. Find out more and book here.
Learn more about style psychology on the website.
Follow @LOreal_B on Twitter.