WE'VE been given more than enough reason to quit the major coffee corporations of late. There was the damning Starbucks tax controversy, for one. Then there's the expense of our daily fix. Plus the rise of the independent coffee shop and growing support for the little man with their artisan beans and love of decorative coffee art.
Regardless, the lure of chains such as Starbucks, Pret and Costa, be it for convenience or trend, endures.
But what if we told you they're making us fat?
Coffee shop chains must immediately reduce the amount of sugar in these hot drinks
It's time to wake up and really smell the coffee, because it's recently been revealed that those mocha-choca-venti-macchiatos with the cream on top are shockingly high in sugar and could be contributing to our escalating obesity crisis.
A recent study by Action On Sugar (the charity which also revealed the hidden sugars in popular cereals) analysed 131 hot flavoured drinks on the high street and discovered 98% would receive a 'red' (high) label for excessive levels of sugar.
And of all the drinks analysed, Starbucks serves up the biggest offenders.
Starbuck's Hot Mulled Fruit - Grape with Chai, Orange and Cinnamon Venti (extra-large) – contains 25 teaspoons of sugar, the equivalent of five muffins. Similarly high was Costa Coffee's large Chai Latte with a massive twenty teaspoons of sugar. Caffé Nero was not out of the bad books either with its Caramalatte measuring 50.6g of sugar – thirteen teaspoons.
Let's put this in perspective:
35% of the hot flavoured drinks listed contain the same amount or more sugar per serving than Coca Cola, which contains nine teaspoons of sugar per can. Also, given that the recommended amount of added sugar an adult should consume each day is only 30 grams, consuming one or more of these drinks a day is tipping most people over the edge and on the road to a bigger waistline.
TOP TWENTY UNHEALTHIEST HOT DRINKS

Kawther Hashem, Registered Nutritionist and Researcher for Action on Sugar says: "Coffee shop chains must immediately reduce the amount of sugar in these hot drinks, improve their labelling and stop selling the extra-large serving sizes.
"These hot flavoured drinks should be an occasional treat, not an 'everyday' drink. They are laden with an unbelievable amount sugar and calories and are often accompanied by a high sugar and fat snack.
"It is not surprising that we have the highest rate of obesity in Europe. Our advice to consumers is to have a plain hot drink or ask for your drink to contain a minimal amount of syrup, preferably sugar free, in the smallest serving size available."
Staying away from these hot drinks on a daily basis isn't easy - what with the major chains multiplying like bunnies on every high-street. And more chains, comes more opportunity to sin.
The figures show 1.7 billion cups of the hot stuff are sold each year in the UK, with one in five of the population visiting a coffee shop daily.
Surely, with so many people indulging in these drinks on a daily basis, it's time for the major chains to fess-up on sugar content.
A Starbucks spokesperson said: "Earlier this year we committed to reduce added sugar in our indulgent drinks by 25% by the end of 2020. We also offer a wide variety of lighter options, sugar-free syrups and sugar-free natural sweetener and we display all nutritional information in-store and online."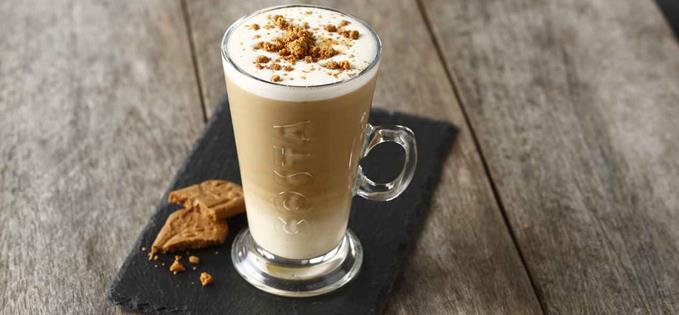 Costa's Chai Latte contains a whopping 20 teaspoons of sugar
Action On Sugar is calling on the major chains to 'rectify the situation' and 'reduce sugar ladened drinks from their menus.' It would be a start, but responsibilty also falls at the feet of the drinker. Let's start by making smarter choices. First off by bypassing those extra large cups. Nobody needs that much coffee.
It also begs the question, if we did give up our frothy coffees, how much weight could we lose?
It's estimated that by skipping sugary hot drinks (as well as other fruit juices and fizzy drinks) and drinking only water (or fluids that contain no calories), we could lose one pound of fat in nine days - the equivalent of a 30 minute run at 5mph.
Now if that's not incentive enough...
Find out more on the Action On Sugar website.
Powered by