IT'S THAT time of year where we can forget all about Christmas, winter and look ahead optimistically to a bright and sunny (and hopefully dry) summer. Hey, a girl can dream.
It's also time to buy all new make-up and spring clean your cosmetic bags according to beauty companies, magazines and make-up artists. I don't need telling twice.
The heavy creams, concealers and super strength formulas that battled through the harshest winter weather just don't cut it when the sun begins to shine through the clouds. Those shades of red, burgundy, berry and deep purple that seem to suit in winter don't fit our summer wardrobes and that only leaves us with one option; shopping.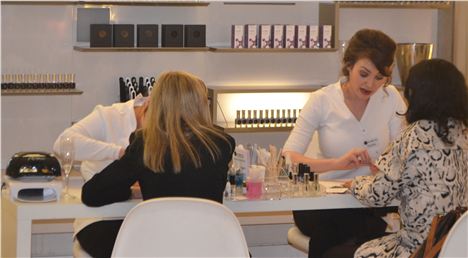 Manicures at Harvey Nichols
And where better to do it than at the Harvey Nichols beauty hall?
Housing everything from fake tan to make-up to the top hair removal tools to products to keep the hair on your head looking lustrous and shiny, it's an emporium of beauty products.
Plus when there's a DJ, experts on hand and free drinks it's the perfect excuse to overhaul your beauty routine.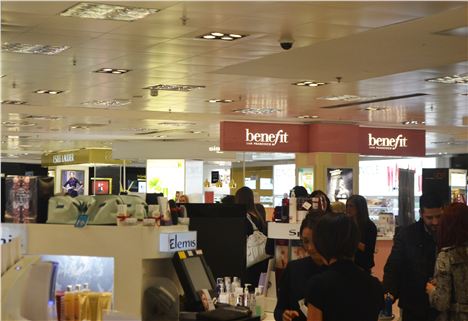 Shoppers at the Harvey Nichols beauty counters
So what do the Harvey Nichols beauty lot think we should put on our beauty shopping list this summer?
Bright colours and florals are top of the list, especially from long-standing high street brand Clinique. Celebrating their tenth year of 'Kiss it Better' raising money for the Great Ormond Street Hospital Children's Charity to help fund research into the causes and treatment of childhood cancer, the brand has released their limited edition pink collection. 
Clinique Chubby setWorking alongside fashion designer Lulu Guinness, famous for her lipstick designs, Clinique have released a limited edition coin purse, Chubby stick (lipstick to you and me) and nail polish. The brand have also released ten Lulu Guinness handbags with a full selection of the Chubby lipsticks available for £550 with the full retail price being given to charity, available online. 
Also on hand with their new springtime selection was haircare brand Umberto Giannini. With hair stylists on hand to make over shoppers' hair on the night and show those of us not so handy with a hair straightener how to get this season's looks, it was all about looking natural and undone.
"It's not a pressed curl," as one stylist told me. "More just a flick and a bit of bounce." It's back to that looking like we've only taken ten minutes to get ready when actually it's taken hours.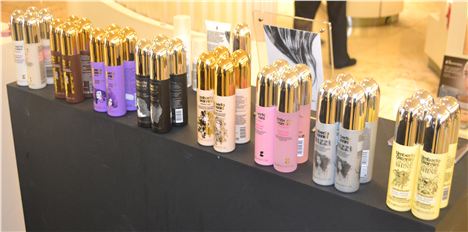 Umberto Giannini Products
So bright colours and bouncy hair for spring from the beauty staff at Harvey Nichols. Knowing our Manchester weather it might be wise to pack an umbrella just in case. Summer doesn't come without showers for this city.
Harvey Nichols Beauty Hall can be found at:
Harvey Nichols,
21 Cathedral Approach,
Manchester,
M1 1AD
Follow Niamh Spence on Twitter at @missnspence