BRITAIN spends approximately £35 million a year on fake tanning products, it was estimated in 2012.
I am not one of those Brits.
Mainly due to that overtly blatant and glaringly obvious reason: I am black.
Through melanin and genetics alone, I've already reached my optimum level of brown.
I had so many questions as I stripped off into a paper thong and shoved my afro into a hair net.

Will I look like a freshly varnished coffee table?

Will it even show up on my skin? Yet my first and foremost question was: why would a Black person spray tan at all?
Self tanning and the culture championed by a collective of over-indulgent tanning enthusiasts (From Essex to the Italian stallions in Jersey, New York) is completely foreign to me. I've felt fortunate to live a life without the plight of streaky hands and oompa-loompa orange skin mishaps.
I've never had to endure a fake tan oompa loompa mishap
It was only when fake tanning gurus, St Tropez, dropped me an email to come and try out its Finishing Studio Selfridges, Trafford Centre did the idea occur to me. 
Admittedly, my immediate response to the invitation was to snort loudly, snigger and tell all my friends and colleagues  -  all who thought the concept hilarious and above all, unnecessary.
Even so, St Tropez wanted to welcome me into the unknown and offer me a spray tan experience with celebrity and self proclaimed 'go-to spray tanner', Jules Heptonstall.
Celebrity spray tanner, Jules Heptonstall
Jules, a former resident of Manchester, is an expert on tanning. He's been responsible for the summer glows of Sienna Miller and Blake Lively. He's sprayed down contestants of Strictly Come Dancing and X Factor. He also adds a little colour to the alabaster skinned models in London Fashion Week, including model of the moment Cara Delevigne. Interestingly, he's tanned a lot of dark skin tones, including black supermodel, Jourdan Dunn.
So I am not, by any means, the first darker skinned girl to get one. In fact, spray tanning on darker skins is a supposed inside beauty secret used by stars such as Rihanna and Beyoncé.
 "So this is your first time?" Jules exclaimed with genuine surprise.
Showing me to the small studio at the back of Selfridges and introducing me to the sci-fi looking tanning-pod, Jules seemed confident that he was going to have a future tanorexic on his hands.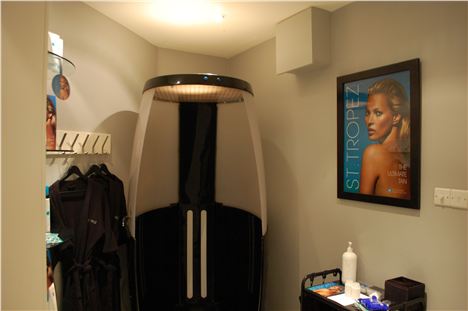 St Tropez Finishing Studio, Selfridges, Trafford Centre.
"I love spray tanning black skin, it responds so well." said Jules.
I had so many questions as I stripped off into a paper thong and shoved my afro into a hair net.
Will I look like a freshly varnished coffee table?
Will it even show up on my skin?
Yet my first and foremost question was: why would a Black person spray tan at all?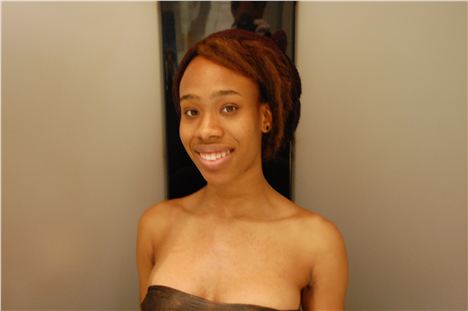 Before
"It's not necessarily about becoming darker, it's about replicating the glow everyone gets when they've been on holiday. With spray tanning you get an even complexion, we can contour the body and make you look slimmer and hide stretch marks," encouraged Jules.
He chose to use The Dark Secret St Tropez finishing treatment. It's St Tropez's deepest and darkest spray tan that adapts to your individual skin tone.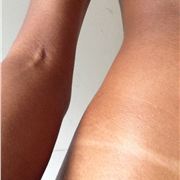 Stretch marks unnoticeableAs I got into all sorts of curious positions, it became clear that spray tanning on darker skin is less about becoming browner but about covering up a collection of pigmentation irregularities.  The stretch marks on my hips and backs of my legs began to blend into my skin and my freckles and acne scars became less noticeable.
 "What we've seen is how important tanning has become to the average women's beauty routine. There's four factors now: make-up, hair, eyelashes, tan," said Jules.
Not for everyone.
Sure, self tanning in the UK is big business, but the worldwide picture shows another skin care competitor.
Across Asia and Africa cosmetic brands such as L'Oréal and Nivea focus on skin whitening creams. The reality is much like tanning, skin whitening is a multi-billion dollar business, so it seems unlikely tanning on darker skins would become just as popular.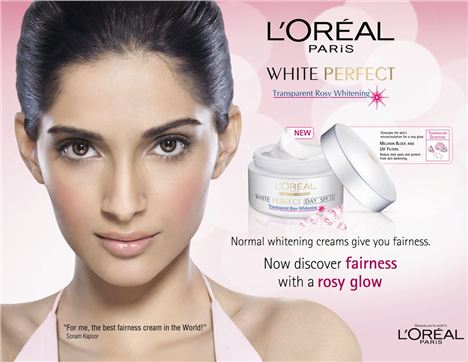 Skin whitening creams are bigger business in Asia and Africa
Becoming darker when you're already dark, is like a blonde dyeing her hair blonder, a tall girl wearing platform heels, a DD cup getting surgery to become a FF, botox before wrinkles. All these beauty treatments aren't necessary, but they are all done nonetheless.
So what will I look like?
Jules explained: "You will get about two to three shades darker. The microbeads in the tanning solution react differently on individual skin types. Even if I used the dark tan, we wouldn't both have the same finished result.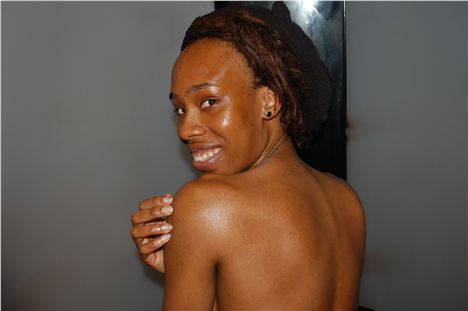 After
People will comment on how healthy you look, your clothes will look better, you'll open up your wardrobe to brighter colours and soon as the tan wears off you'll realise it's the tan that makes you look and feel better about yourself. You'll be back."
And I did look like I'd been on holiday.
I was considerably and noticeably darker, plus I was shiny enough to be confused for a flashing amber light.
Family and friends reactions were mixed.
 Colleagues noticed immediately and gushed about how "healthy" and "radiant" I looked. Parents weren't so keen, and although they liked the evenness of my skin tone, they didn't understand the purpose of "blackening myself". My best friend said she preferred my natural look.
Two showers later and the spray tan looked much more subtle and natural. I liked the new radiance of my skin. I truly glowed.
Still, I wouldn't rush to get it done again. While the St Tropez spray tan leaves an even, golden and non-streaky finish, in the grand scheme of things my skin tone is the least of my beauty concerns.
I like and embrace my skin tone the way it is.
Why fix what ain't broke? 
All St Tropez spray tan treatments cost £25. You can find the Finishing Studios in Selfridges, Trafford Centre and Selfridges, Manchester Exhange Square.
Follow @LOreal_B on twitter.