IN times of personal austerity Primark provides certain salvations.
Say you need socks: there's Primark. If you want to rock a trend you know is fleeting but don't want to spend Armani prices: there's 'Primarni'. If you can't be arsed to wash your underwear: there's Primark - to buy seventeen pairs of knickers for under £10.
It made me think, why do we pay more for the same beauty procedures elsewhere?
Yet I wouldn't usually trust the 'fast-fashion' budget brand with my face, (my visage is reserved for Yves St Laurent, darling).
In fact, I don't like to spend too much of my time there. I deplore shuffling about amongst the masses on a stuffy Saturday, wrestling with some woman over the last size ten t-shirt (with some curious slogan on it - it probably says 'HOT STUFF'). Sure, Primark has its place on the high street, it's just not where I'd like to sit and be beautified.
Last September, Primark launched its own brow and nail bar within Primark on Manchester's high street, following an extensive refurbishment. It's a bright, welcoming spot and sits next to Costa Coffee on the upstairs floor (who knew?) and offers a large range of budget beauty services: from threading, to manicures, to eyelashes.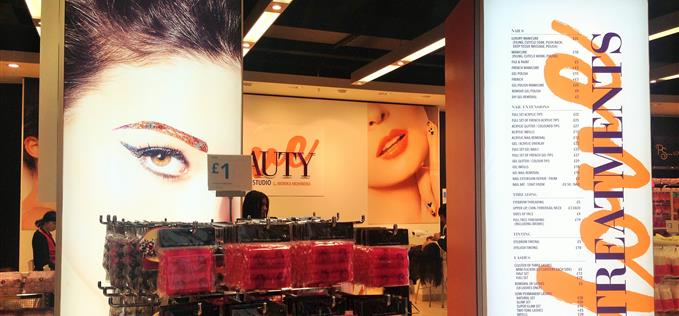 The LOVE Nail and Brow bar is led by Monika Mohindra, sister to 'brow guru' Shavata Singh whose own successful brow concession was rolled out in House Of Fraser, Harrods and Harvey Nichols department store's across the country. Shavata charges £17 for a brow shape, whereas sister Monika's brow thread is a cheap-as-chips £5. They both use the ancient technique of threading. So what's the quality difference here?
Not much.
Sat in the threader's chair in Primark, I instructed my threader to keep my brows thick and arched.
My threader said nothing but smiled. She had a quiet confidence this one.
She went to work with her thread, pulling at the root (I learned threading hurts no matter where you get it done or how much I spend). Turns out my quietly confident eyebrow threader had decided to go against my wishes and do her own thing; she knew best and presented me with two nicely arched but thin eyebrows. They looked nice, but they weren't in Vogue.
Given I was spending £5 for a brow shape I didn't, and felt I shouldn't, complain.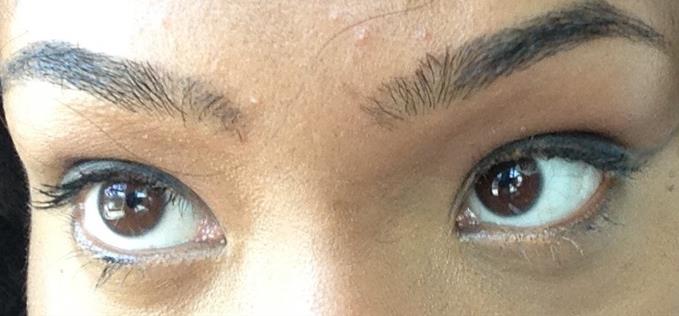 Eyebrows
Next, I went for a manicure. This cost a neat £10. The menu also claimed to offer nail art, but my manicurist shook her head, "no nail art today".
They're not a chatty bunch this lot but she was a good manicurist. At Primark, there is have nothing too dissimilar to any other nail bar. And the result looked pretty.
Yet I'd soon find, much like Primark's clothes, not to expect longjeivity. My good-looking manicure lasted a record ten minutes. Compared to premiere nail salons, Primark's nail polishes are flimsy and not fast drying. But again, should I expect more? Here, within epicentre of all things fast, cheap and throwaway, you're still getting money's worth.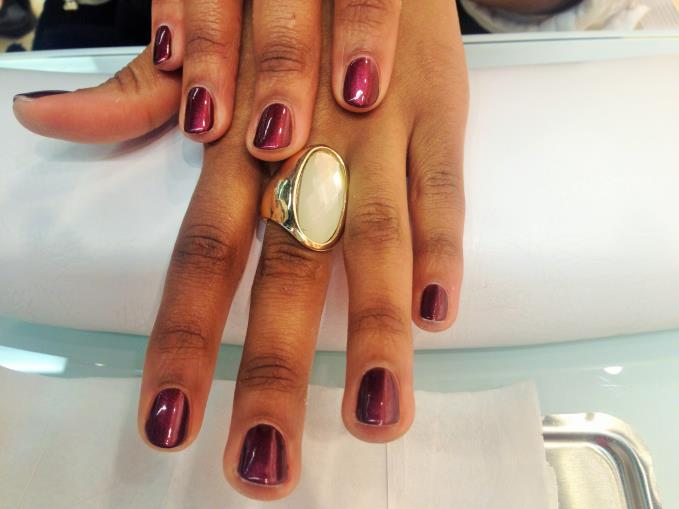 Finished manicure- lasted ten minutes
Primark is cashing in on budget beauty tenfold. They've branched out offering make-up and toiletries at Poundland prices. With a generous saving, it's safe to say I filled my boots. For under £10 I bagged an eyeshadow kit, mascara, concealer brush, fake eyelashes, a dual sided eyebrow pencil, fat eyebrow pencil with wax. See below.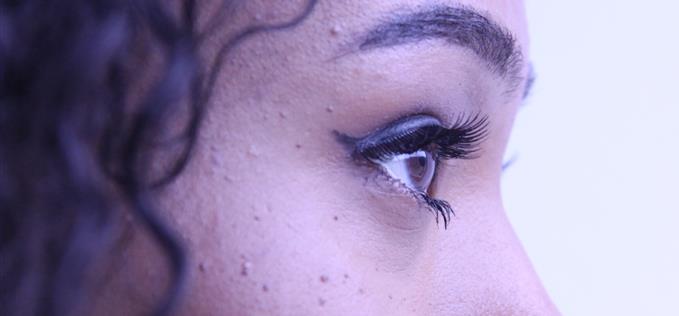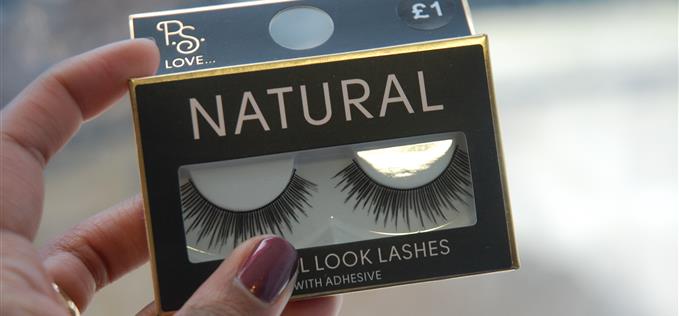 Natural eyelashes £2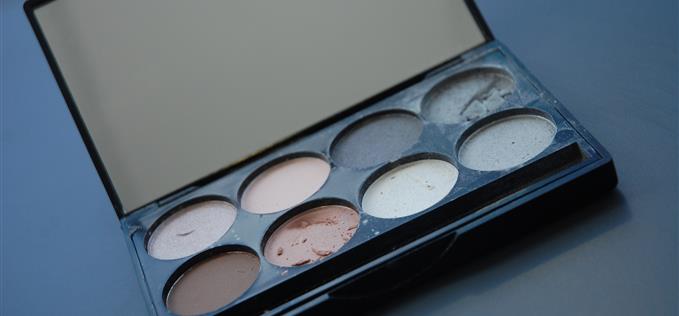 Eyeshadow palette £2
I dressed my face with my cheap and cheerful new kit. In short, the eye pencils were suprisingly good, the fake eyelashes flattered as well as fluttered, but the mascara was, well, crap. Primark's beauty products are hit and miss, but with plenty more hits than I had anticipated. It made me think, why do we pay more for the same beauty procedures elsewhere?
I liked this salon. Primark isn't just for the cash-strapped shopper but the cash-savvy. There's nothing wrong with spreading your loyalty with both higher priced salons and lower priced. Unlike fashion, when it comes to beauty you can see no labels. My bank account may say I'm cheap but at least my face doesn't look it.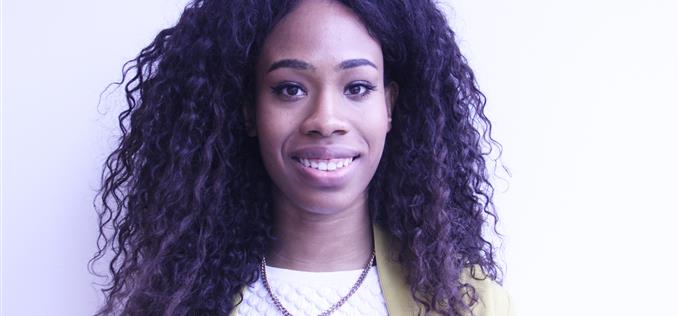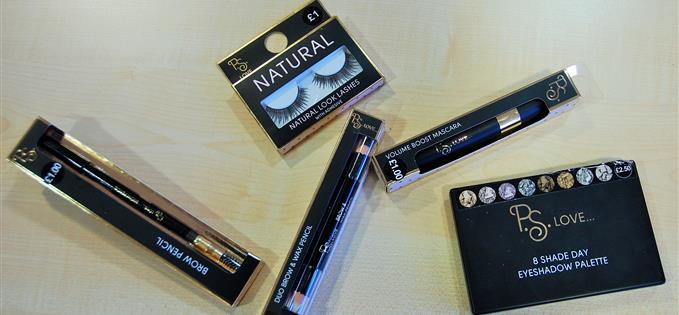 All scored reviews are unannounced, impartial, paid for by Confidential and completely independent of any commerical relationship.
Primark | 106-122 Market Street | Manchester | M1 1WA
PLEASE NOTE: Venues are rated against the best examples of their kind.
SCORE 15.5/30
PRODUCT : (6/10) It's an extensive, great value for money menu (yet didn't provide nail art although states). Score boosted by make-up products.
EFFECTIVENESS (5.5/10) Eyebrows are a great shape, however a file and polish will only last you the evening (10 minutes if you're me).
SERVICE: (4/10) Although skillful, staff could do with more personality - and listen to clients requests.