MANCHESTER'S fashion scene is not just a wave of outlandish street style, progressive photographers and upcoming designers determined to leave their mark on the industry. Fashion in this city goes back years.
"My great grandfather was awarded the Victoria Cross for bravery in the First World War. But when he came back to Manchester he still needed a job. It was common then as a local lad to go work in your local raincoat factory."
The cotton and industrial factory days have given style in Manchester the solid base on which it has flourished. Manufacturing and work within the cotton industry have been integral in shaping the city, forming much of the history and background of the thriving fashion scene that Manchester is fast becoming known for. It's becoming an overplayed record, but the Vogue Fashion Night Out coming to Manchester last October is proof of the city's growing fashion stock.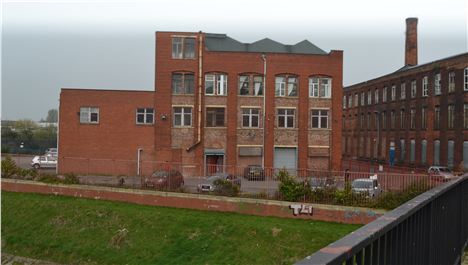 Cottenham House
The cotton industry near covered Manchester in a cloud of smoke in the 1800s, earning the city the moniker Cottonopolis. One factory that is still in operation since its beginnings over a hundred years ago is Cottenham House, based in Salford. The latest venture there, producing their own label Private White V.C., has seen them open their doors to the public via a new showroom and factory shop. 
The term factory shop can sometimes breed negative connotations, thoughts turn to faulty and weirdly fitting items that don't fit the standard of regular shops. "Our shop is current season stock," explains James Eden, the Managing Director and the great grandson of Private White V.C.'s founder Jack White. "People assume as a factory shop it will be seconds and it's not. We can do bespoke and accommodate, even if you have very long arms or very short arms."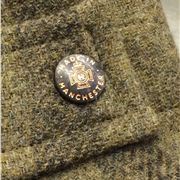 Made in ManchesterInitially open by appointment only from this April onwards, the team behind Private White V.C. aren't just interested in getting you in to buy. "Visitors will get a full tour of the factory too. They'll meet us, see the whole factory and the team here and every stage our garments go through. It's a full customer service experience."
"Our factory is not for everyone though, it's for those who appreciate and respect beautifully crafted products."
With knitwear starting around £100, trousers £120, shoes £200 and jackets beginning in the region of £250, it's most certainly not for everyone.
Whilst keeping the new showroom-cum-shop in the same red brick building as the factory is clearly a money-smart move, but is it business savvy? Based off Bury New Road and away from the city centre doesn't bode well for traffic and footfall. "The more people that come to this area the better. It's great to see something doing well here other than scumbags robbing cars."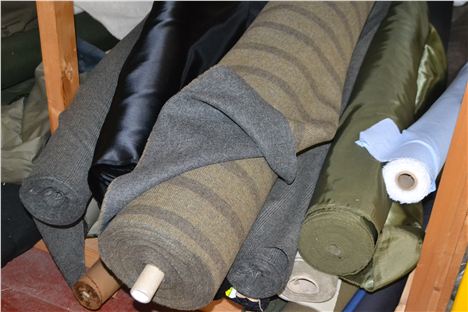 Striped fabric inspired by one of Jack White's army blankets
The Northern Quarter would have been the obvious choice for a new shop, every other day welcomes a new venture. So why not open the new showroom in the hubub of the city's fashion and style? "Costs," Eden answers matter of factly, after all, business is business. "Why pay for it when we have such a big space here? Here we can take people through our process."
"At the moment we're an island," describes Eden. "We're the only operational factory in this area." He's right. What was once a busy, bustling working area has now fallen by the wayside with lone carparks, apartment blocks and half-hearted business ventures.
"This area used to be the Las Vegas of factories," jokes Eden. It's true, this stretch along the River Irwell used to be full of factories working hard to supply most of the UK's shops and clothing. "It was the Monte Carlo of Manchester. We were a product-making city based along this river." 
"We can trace the history of this garment factory back by almost a hundred years, back to when it was an old steel mill," says Eden. "My great grandfather was awarded the Victoria Cross for bravery in the First World War but when he came back to Manchester he still needed a job. It was common then as a local lad to go work in your local raincoat factory."
And so it began.
Private White V.C., a menswear and now womenswear brand born in Cottenham House, has a historic tale behind the name.
After being awarded the prestigious honour of the Victoria Cross for saving fellow soldier's lives when under attack in WW1, Jack White returned to Manchester and started work as a pattern cutting apprentice in a local factory. He rose through the ranks to become General Manager and then owner of Cottenham House. Even to this day, his influence can be felt within the factory, right down to the fabric. "This is inspired by my great grandfather's army blanket," Eden gestures to a roll of striped fabric in the pattern cutting room.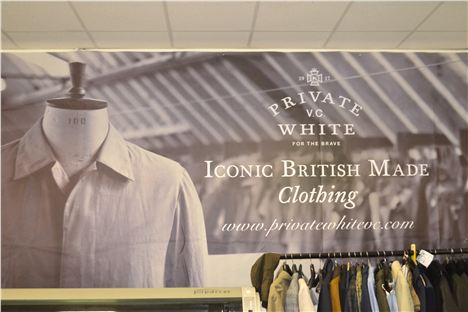 'Iconic British made clothing'
Eden describes the journey of Cottenham House and Private White V.C. as being one of "extra aggravation and perserverance", and the factory has grown from only supplying notable names with garments to producing their own label. "We've worked with Aquascutum, Burberry, Margaret Howell. But we found that our fate was very much in the hands of buyers, and they can make or break you."
"We did lots of business with Burberry for example. But you find that you're all best of friends on the Friday and by the Monday it's a different story. Emails get ignored and phones aren't answered."
"That's why we came out with our own label. It's the history, the provenance and the soul of us. That's difficult to pursue when you have to be the whipping boy for a big label. The majority of what we produce now is our own label that we've built up over five years. We've always been really fortunate that we know a lot of high profile designers."
Brutus, the brand's mascotThe brand is on the up, but keeping it local is their ideology. 

With every stage of the process done within the building, from pattern cutting on the top floor down to the machinists and then onto the designers and through the warehouse and delivery staff, nothing is outsourced here. As the industry farms out work to cheap labour intensive factories in India and Indonesia, the team at Private White V.C. are determined to keep it in-house. "We don't outsource at all. All the pattern cutting, the machine work, everything, it's all done here. It's very unique for the UK. It's something I believe in and I believe we're good at." 
Even most of the fabrics and chosen components are British. If that wasn't enough to earn their homegrown stripes, stamps of 'Made in Manchester' on the clothing's copper hardware will hammer home the point.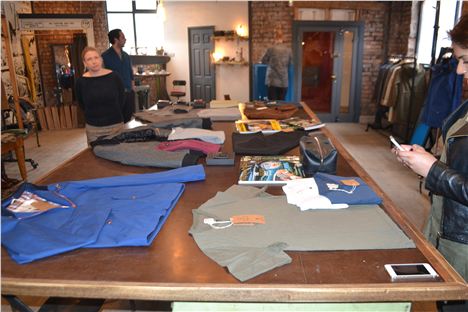 The new showroom, available by appointment
The factory stands proudly looking out towards the city centre. Standing equally as proud are the workforce who clearly love the brand and the team they're part of. "We have an older workforce and a young workforce. The perception of working in a factory has changed. It's gone from this grim and grotty idea to something that is glorious and Dickensian.
"We've had a wave of youth come into us, including apprentices and interns, who are all keen to see the sexy side of manufacturing," explains Eden. Whilst I struggle to find putting together a jacket or coat sexual, it's good news to hear the workforce is growing. "You either stay here for three months, or thirty years."
Judging by some of the long standing staff members, including smiley Hazel upstairs in the pattern cutting room, the team are like a family, and once you're in, you're in. There's even Brutus, Eden's British bulldog sitting proudly on a union jack cushion with a Harris Tweed blanket. "The CEO of Private White," laughs Eden.
The Private White V.C. brand and Cottenham House are an excellent example of the 'Best of British' tag, a tag too readily thrown about these days. As Manchester continues to showcase great fashion, great design and great style, Private White V.C. are leading the way forward, a bastion of British manufacturing with classic designs and finely crafted pieces.
Follow Niamh Spence at @missnspence
Private White V.C., Cottenham House, Cottenham Lane, Salford. M3 7LJ.
To find out more, or to arrange an appointment, check out their website: www.privatewhitevc.com
Or follow them on Twitter: @PrivateWhiteVC