SCANDINAVIANS are the epitome of cool when it comes to fashion.
That effortless approach to style, the outfit thrown together in five minutes that looks infinitely better than the one that took you five days to choose. They learn cool and collected while the rest of us are still struggling to piece together our own name from alphabetti spaghetti.
"It's good quality and a really good price for what it is, especially compared with other brands on the high street."
This cool and sleek Scandinavian approach to fashion, the Danish in particular, has infiltrated the catwalks as of late. And where the catwalk leads, the high street is sure to follow.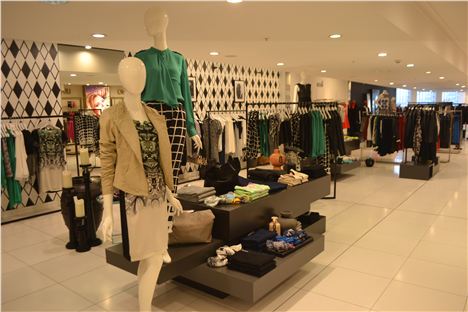 NORR on the first floor of House of Fraser
NORR is the latest Danish fashion concept to hit Manchester, moving into the first floor of House of Fraser (or Kendals if you prefer) and offering the shoppers of Manchester four brands within the concession.
"We're already getting lots of repeat customers," explains Amelia Hall, the concession manager for NORR. "There's only four concessions within the UK at the moment and we're the only one in the North West."
Similar to All SaintsAnd yes, we got it before London. Vogue didn't come up here for nothing. Manchester's fashion stock continues to rise.
"It's good quality and a really good price for what it is, especially compared with other brands on the high street."
Another high street comparable is of course, fellow Scandinavian company H&M. Profiting from bringing Swedish style to the masses, it's no wonder Danish-born NORR has followed suit.


Well, if we're going to compare brands, NORR (and the four labels housed within it) is not dissimilar to All Saints. The high street brand beloved by many for its jagged hemlines, asymmetric designs and grainy jersey fabrics comes at a high price. One which the concessions within NORR are already challenging.
"It's great too as it can be washed in the washing machine despite it being silk, so it doesn't need dry cleaning," Hall has a point. It might sound like a boring and sensible thing to consider (and something my mother would say) but investing in key pieces doesn't seem like such a sound idea when your dry cleaning bill empties your pocket.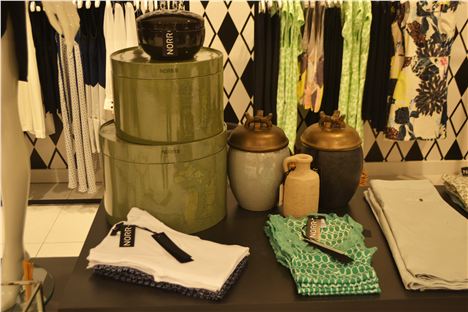 NORR is getting in on the homeware action too
"There's four different brands within NORR," Hall explains to me. "There's St Martins, Six Ames, Suit and S'NOB de NOBLESSE, so there's a lot to choose from." Four Nordic brands with four different styles to keep any shopper and any budget happy.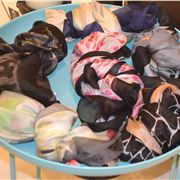 Silk scarves start at £20Key pieces include the Cora coat from Six Ames which Hall picks out to show me. Already featured in HELLO! magazine and a favourite with celebrities, it costs £149. "It's got popper detailing and a great shape, as well as handy pockets."
Next up is the St. Martins check collection. On trend and reminiscient of Christopher Kane's designs last year, the monochrome palette and high quality silk are why many of the fashion elite are embracing Scandinavian labels. My eye for wearing black on black with a hint of black has already picked a few favourites.
"Lots of people have been liking these, and they're 100 percent silk as well as being properly lined." Something you don't usually get on the high street, fast fashion usually leads to cutting corners somewhere. The trousers will set you back £119, but compared to the prices of Christopher Kane or ACNE (a similar Nordic fashion house) it's nowhere near as damaging on your finances.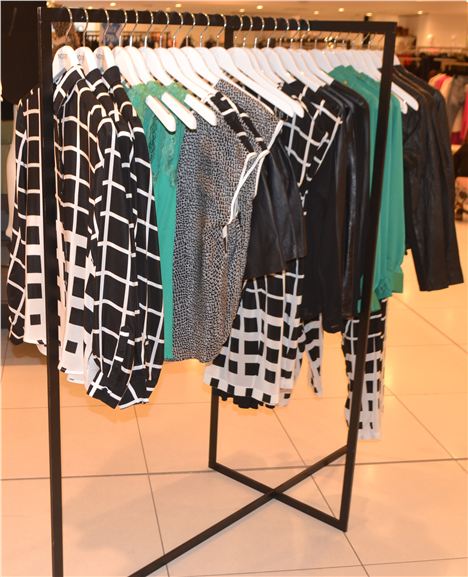 St Martins check collection
"We've got jewellery too. Lots of people come in just for that, it's really different and people have been saying how it doesn't leave marks or turn their skin green." Good start.
NORR isn't just clothing, accessories and jewellery either. The oversized homeware items amidst the garments are also on sale. Seems you can't just leave home decor to the flat-pack Swedes, the Danes are in on it too.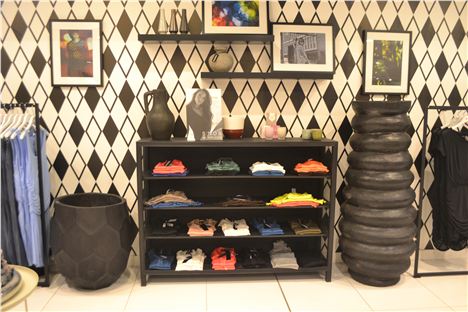 Colours and patterns are set to be big this summer
The concession has been quietly building up its fanbase since it moved to the Deansgate department store last August, Hall tells me. "We've had Deidre Barlow off Coronation Street in, she's really stylish in real life." Not the most famous or typically fashionable example of clientele but certainly shows that NORR is not just one for the twenty-somethings.
So what can the labels at NORR give us for this summer? Wind is boring now, just ask those three fence panels that blew down in 'The Great Storm' of February.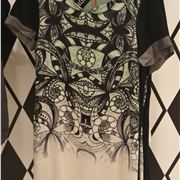 Unusual colour combinationsLots of different prints and colours is the answer.
Pastels are clearly a key trend from Six Ames and S'NOB de NOBLESSE.

Pairing up unusual colours is another summer trend from all four of the labels within NORR. Hall says, "I wouldn't have even thought of putting green and pink together but it works." Well if it works for the watermelon.
So whilst you can't buy the nonchalant style attitude the Scandinavians exude when it comes to dressing, you can at least buy their clothes and try your best.
Admittedly it's going to cost you more than Primark and Topshop, but as my mother would say (yes, her again) 'you get what you pay for'. NORR is offering quality pieces that will last longer than a few weekend nights out.
NORR, House of Fraser (first floor), 98-116 Deansgate, Manchester, M3 2QG. 0844 800 3744.
Opening times are Mon-Sat 9am-8pm and Sun 10:30am-5pm.
Follow NORR on Twitter at: @NORR_uk
Follow Niamh Spence at @missnspence