THE first time I met Zara Khalique she was painting the faces of drunk people in Antwerp Mansion, a neglected Victorian mansion-turned-club down a backstreet in Rusholme. She was dressed in a Pikachu onesie. We soon clicked after she painted a rainbow across my forehead. It was then I'd learn about Keep It Bright, her then fledgling online fashion brand and positivity movement – the face painting was just another way to spread her own personal brand of cheer. I've bumped into her a few times since and each time she's self-expressing; covered in glitter, jewels and positive slogans.
Clearly enamoured by her glitter-speckled positivity, I wrote about Khalique the 'pint-sized, Rapunzel haired beam of light' and her brand back in 2013. Things have changed considerably in the years that followed.
They thought I was from LA because my Instagram page is all bright and sunny but I'm just a local girl from Manchester
These days her clothes, self-help books, charity work and sunny disposition have taken her brand worldwide – she has bagged some high profile customers too. Scroll down the Keep It Bright Instagram page and you'll find Miley Cyrus practicing yoga in Keep It Bright leggings; the LA-based Wrecking Ball singer is continually papped in Zara's unique denim blazers emblazoned in cute, positive slogans. Our personal favourite: Miley Cyrus in a head to toe smiley-faced crop top and leggings as she dined out with a member of The Flaming Lips. The Daily Mail headline was 'Smiley Miley'.
"We talk over social media sometimes," giggles 25-year-old Khalique. Today she's wearing giant shades and her signature denim jacket, similar to the one Miley Cyrus wears regularly. It's hot out, so she ends up changing into two t-shirt dresses during our interview – one reads 'blessed', the other proclaims her love for 'nachos' and 'palm trees'.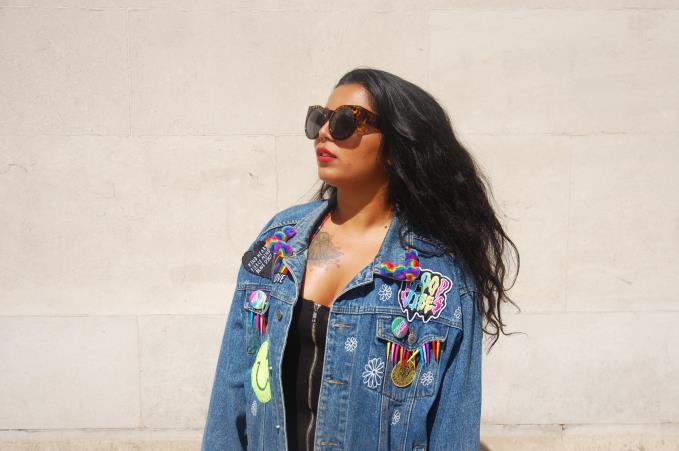 Zara Khalique
"I respect what she stands for, she has a good heart and has a great message," she continues, matter-of-factly. "Even if people don't like how she chooses to communicate her message she still stands for what she believes in. I think she could tell that my brand was not a gimmick or simply a money-making business model.
"It's great to see her wearing my stuff," she adds, "you know, you have to remember this is a girl who's great friends with Jeremy Scott. She could wear anything she wants."
Miley Cyrus isn't the only celebrity who has taken to Zara Khalique and Keep It Bright. Supermodel Miranda Kerr carries Khalique's Keep It Bright book in her handbag; as does Caitlyn Jenner and It-Girl Bella Hadid who have also been seen carrying the same little book of uplifting affirmations. Ed Sheeran, Ella Eyre and more have been seen in her t-shirts, hats, jackets and jewellery.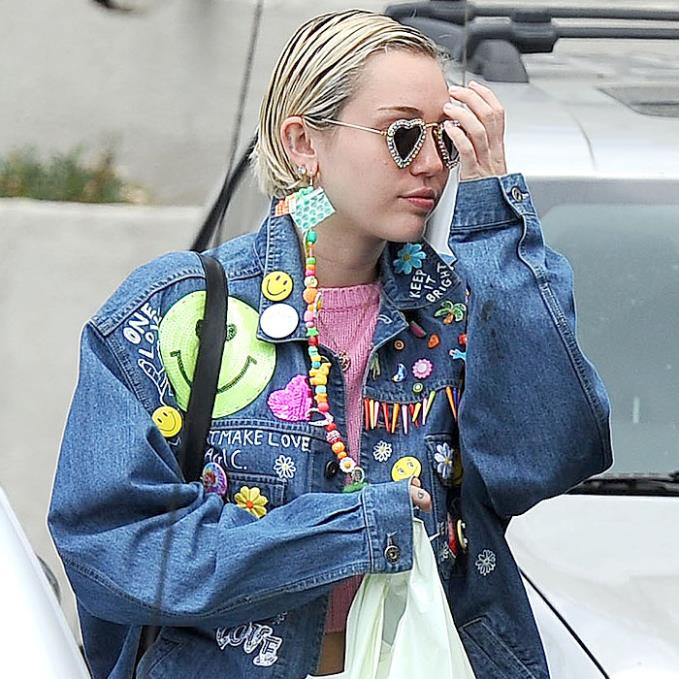 Miley wearing Keep It Bright
"I recently went to London to be interviewed by ASOS. They thought I was from LA because my Instagram page is all bright and sunny but I'm just a local girl from Manchester," she giggles.
From a teenager creating things in her bedrooms in South Manchester, she's come a hell of a long way. Although she stresses she's definitely not living the high life just yet. "I'm still in my bedroom, mate," she laughs, "I have no factory, no warehouse, no office, it's just me."
I wondered if her over-arching positive attitude has helped her sustain longevity and increasing popularity (as of now she has been spotted by Teen Vogue). Maybe she's the recipient of some well-earned good karma.
"I really live it," she tells me. "I try to be as authentic as possible, so I practice what I preach. People tend to think that my optimism is naïve. I get it. Yet I'm fully aware that it's impossible to be buzzing every day, I've been through enough struggles to know that. My life isn't all glitter and rainbows, so I add the glitter and rainbows in where possible. I just want people to know that happiness is attainable.
"Life doesn't have to be perfect for you to be happy. Don't wait for the moment – whether it's losing weight or getting a new job - to be happy. Choose happy now," she adds.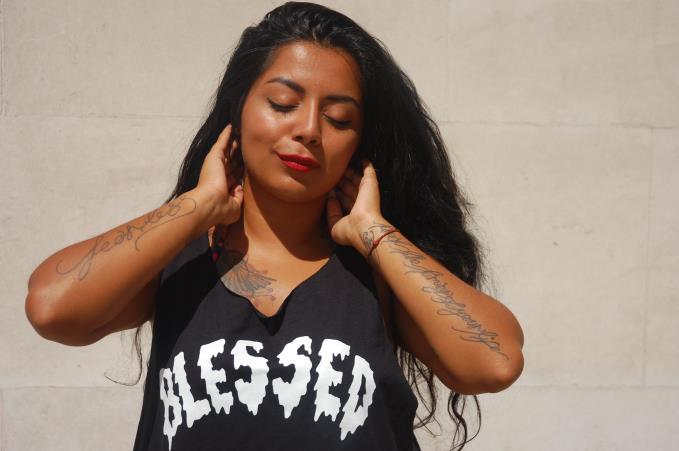 Blessed
Any doubts concerning Zara's intentions and authenticity (not that there would be) are soon quashed when you notice the mantras brandished on her designs are the same ones she has tattooed all over her body. That's a serious commitment to the cause.
Khalique says that she's aiming for a general state of contentment. Me too, I think. Positive energy really is infectious. It's probably why the Keep It Brand has grown so organically, without nifty and expensive marketing tools. Like many young budding entrepreneurs, Khalique is a dab hand with social media and her marketing plans involve good Instagram photos.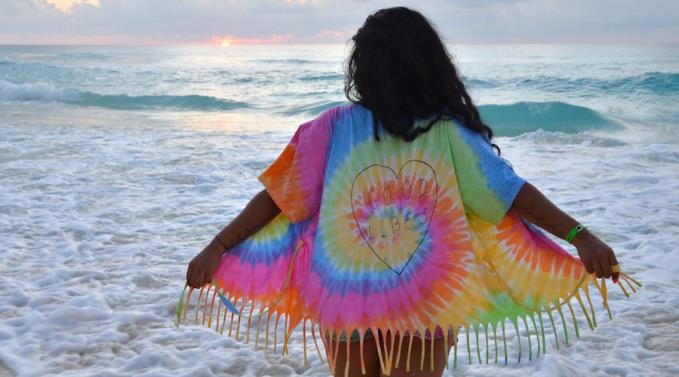 Keep It Bright
Khalique sees her clothing line just as much about empowerment as it is about looking cool, if not more so. People send Khalique messages and she provides advice. It's a lot of work.
"Inspire, empower and uplift," she says, "That's the mantra. I work hard, I love what I do and I live it 24/7."
As a local independent designer, Khalique's decade-long trajectory to establish her brand internationally is an admirable one. Call it Manchester bias, but it's good to see a local business do well, especially on the difficult path of fashion design. It also incredibly refreshing to learn of a brand built solely on good intention and good deeds. Yet you almost wonder how something so genuine and noble could possibly survive in this narcissistic, cut-throat industry.
"It's because it's real and not forced," she says assuredly. "The people and celebrities that are wearing the t shirts are not doing it because they've been paid too, but because they like the message."
The girl that I first met in the Pikachu onesie years ago is just the same now, even with the celebrity kudos. Seizing a photo op, we take snaps in a dessert cafe. Soon enough she jumps into a pink shopping cart to take some action shots and she encourages me to do the same. She teaches me a few sassy moves and leaves me with two of her new books. I read them every day, just so I can keep it bright too.
She leaves me with one last message:
"We have so much power. All of us. We have power to make our lives literally anything we want it to be. That can be overwhelming to comprehend. It's mega. Why live a mediocre life if you don't have to?"
Find the Keep It Bright store online.
Follow @LOreal_B on Twitter