JAIMIE strides into the salon wearing dark shades with long, brown locks cascading to one side. She appears mysterious and aloof. She's statuesque in heels, easily towering above the six-foot mark without shoes. The sunglasses are whipped off to reveal sultry blue smokey eyes. She'd made an entrance without even trying. But then I hadn't expected anything less than this brazen show of confidence from Jaimie, a regular winner on the beauty pageant scene.
...she's built like a brick shit house and pulls out a crop top. She'll say 'it's sexy', I'll say 'not on you'
Jaimie is a proud transgender woman, having made her much-deliberated transition in January 2014. I'd soon come to understand that staging show-stopping entrances, turning heads and sparking curiosity has become part and parcel of her journey.
"It's quite easy to be confident when wearing sunglasses. You can pretend you don't see the stares," she tells me. "There's no real way of dealing with it so I put up a good front.
"I don't like passing kids on the street – most of the time they don't even say anything but I worry. I push myself to be confident. A lot of trans people spend twenty years indoors and never leave the house."
We're at The Beauty Guru salon in MediaCityUK to talk about make-up and the pivotal role it can play in the journey of a transitioning woman. Sam Marshall, the owner of the salon, has been working with transgender women for two decades. Sam is a member of Born UK, a Manchester-based makeup and styling studio, specialising in trans beauty, confidence and self-esteem.
Based on Sackville Street in the city's Gay Village, Born UK is an all-encompassing service – from voice training to relationship advice - designed to better the lives of the city's transgender people. Eyebrow reshaping also plays its part in the process and that's where wax-specialist Sam Marshall comes in: "I remember seeing Jaimie for the first time and thinking 'Wow she's pretty, who is she?'
Sam says she's been enamoured by trans women ever since a part-time trans woman volunteered for a live male waxing tutorial. "Michelle would turn up to the male waxing tutorials as Steve, go in the toilets get changed and come out as Michelle. We'd wax her in stockings and suspenders. I had to say 'her penis' throughout – which I never once faltered on," she explains.
"I just feel a warmth towards them," she adds, "I just felt I could help them."
For me, it's complex attempting to understand and absorb the intricacies that make up the transgender experience, as well as those who identify as 'non-binary' or 'gender fluid'. Here, the correct use of pronouns is just as important as the titles.
"I know a non-binary person called Tom - I think 'they' is the correct pronoun," says Sam.
We talk frankly, and my concerns about my own ignorances are soon squashed. It quickly becomes clear that more open conversation about transgender issues is strongly needed. We don't hold back; discussing everything from fetishists to the tricky public transition of former boxing manager, Kellie Maloney.
You could be forgiven (or perhaps not) for thinking transgenderism - and the increasing visibility of trans people across media platforms – first began when a certain Vanity Fair cover hit shelves last year. The name Caitlyn Jenner has become synonymous with transgender issues and she has been hailed as not only an ambassador but a hero. In many ways, Jenner's public transition has pushed transgender rights to the forefront of public discussion.
"I don't believe you can say she's a hero," says Jaimie. "She's never had to travel on the bus for two hours every morning while people are throwing crap at her and calling her names. She gets in a limo and goes home - that doesn't make you a hero.
"Trans is currently what gay was twenty years ago," she adds. "There are some people who still believe that if you're trans you're a prostitute. Or you'll do the dirtiest things possible. There's no in-between."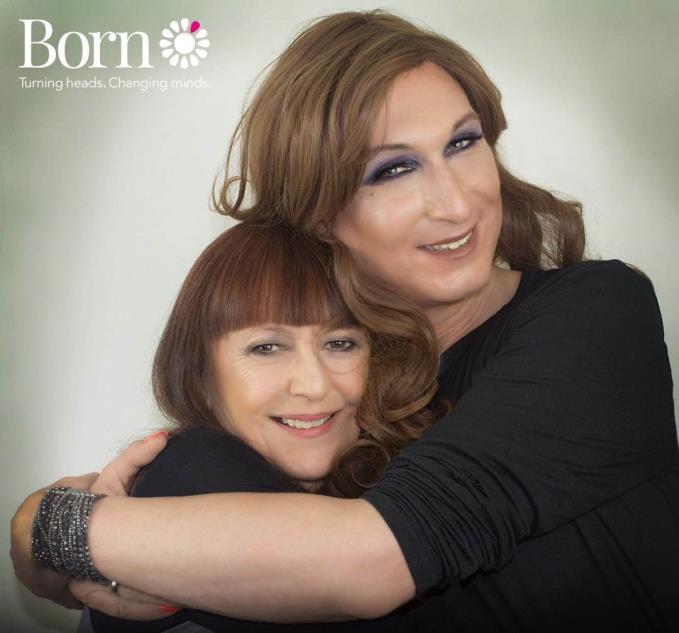 Jaimie with her mum: "Trans is currently what gay was twenty years ago."
Dealing with an intolerant society, from the stares to outright hate crimes, is a regular hurdle for most trans people. It's what makes 'passing' as their chosen gender such an integral part of the transition. Specifically for a trans woman, there's the whole issue of feminising their appearance (it's best to expect a lot of trials and a lot of error).
"I wouldn't go out without make-up. Especially at the moment where I'm still doing laser hair removal," says Jaimie. She tells me she is currently awaiting her first silicone wig made of real 'Virgin Russian' hair. It will be stuck down with 'industrial glue' and could last up to three years. It costs in the region of £1000.
"The only thing I'm scared about is when I go out and someone might tug it off... but I think it's quite sturdy," she says.
After the hair, make-up and all over body waxing (which Jaimie swears she'll never do again), next it's on to personal styling – a minefield in itself.
"Often trans ladies begin dressing like we had in our teens. We dressed like whores, basically," says Sam.
Jaimie chimes in with poker-faced humour: "Or it's the total opposite and some start dressing like Doris Day because they're 'girls now'. I have one friend and we have the biggest rows about clothes. She'll say she wants to look passable, yet she's built like a brick shit house and pulls out a crop top. She'll say 'it's sexy', I'll say 'not on you'. I'm cruel to be kind.
"She also likes to wear sky-high, patent fetish heels when shopping. I said fine, but no woman, unless she's going to a sex party, would wear those to go shopping."
It's easy to laugh with Jaimie. But hiding behind her humour is a real story of self-acceptance. Born UK is vital part of that story. I'd come to learn that Born UK are both the masters of 'trans-formations' and champions of trans empowerment.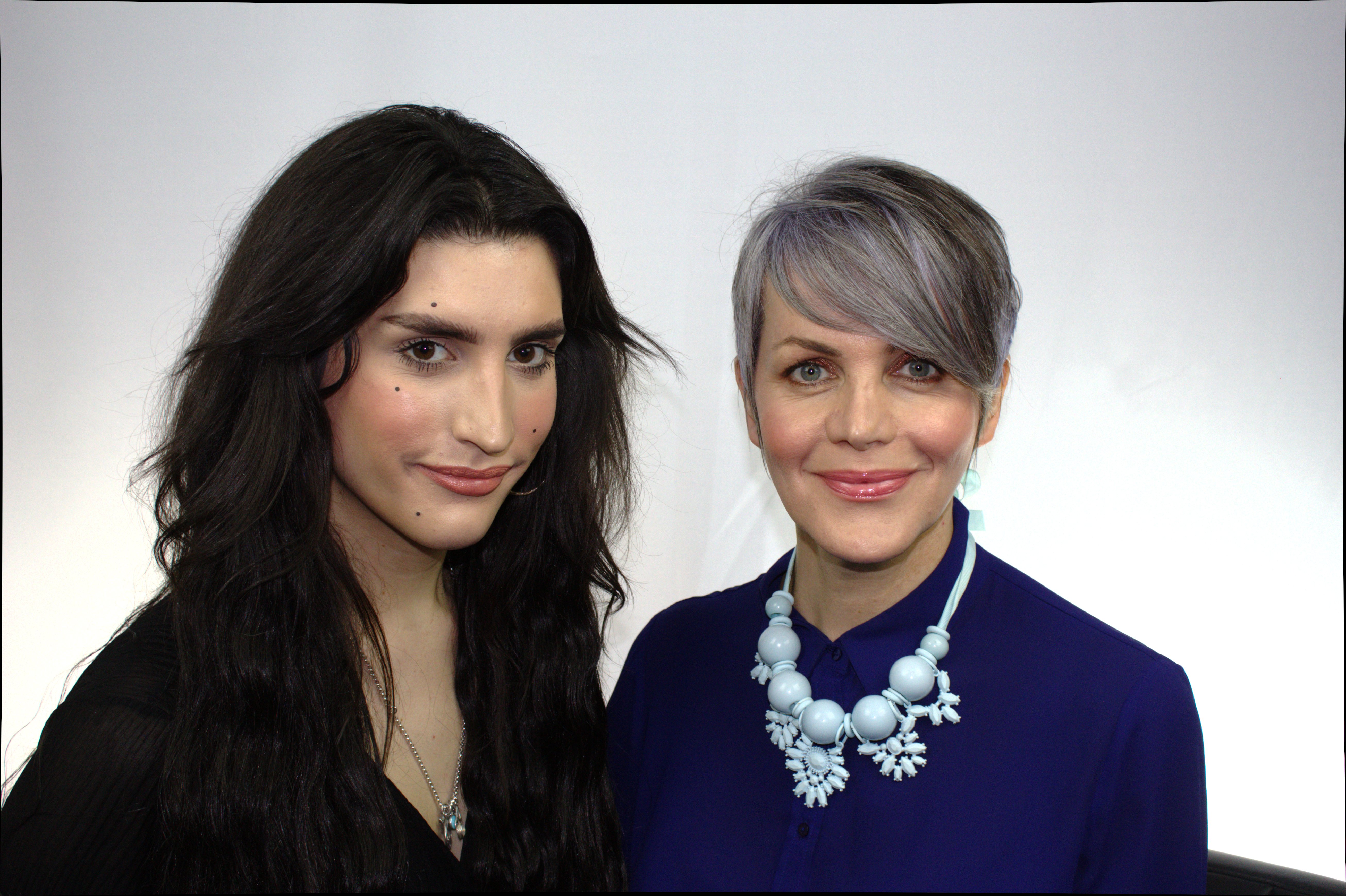 The Born UK team: Grace and Kate are both trans
Born's managing director, Paul Heaton, is a graphic designer, marketer and a make-up artist. He introduced the Born UK studio as a classy and holistic alternative to seedy dressing studios which he says can feel 'under-the-counter' and 'a bit sex shopey.'
So what are the main challenges in trans beauty?
"It's very much like the female world and there are different challenges for different faces. Yet there are common threads when feminising a male face to female," says Paul. "Firstly you'd need a lot of contouring to soften the jawline.
"If you've not had electrolysis then foundation can come out as blue on top of a beard. Of course, if you're presenting as a woman the last thing you want is a face full of stubble. In order to counteract that we'll use orange to colour-correct the colour of the beard. Then put foundation on top of that."
Interestingly, Born UK uses gender-based research to help perfect their makeup techniques.
Paul explains: "The gap between the nose and the lips is smaller on a lady than it is on a man, for example. Even if you don't know this, this is what you'll naturally look for to identify whether the person in front of you is male or female. It's an instinct we're born with. So, with make-up, we'll counteract that by over-drawing lips. It's about our clients looking and feeling as feminine as they want to feel."
Paul stresses that make-up is just one aspect of Born UK and reveals plans to take the business into the charity field. "A good percentage of trans people are very much on the breadline," he says, "and we'd like to help them by setting up a charity to deliver necessary help to these people.
"Society makes trans people feel like they're second to everybody else. We want the people that come to us to go away feeling better about themselves. It's about making people feel proud of who they are."
Jaimie slips her shades back on as we leave. We laugh some more and discuss outfits for future pageants. I'm happy that Born UK can help women like Jaimie embrace their authentic self - inside and out.
Find out more about the Born UK styling studio services here, and the Beauty Guru at MediaCityUK here.