"HAVE you ever done an interview with a man wearing only a robe and Calvin Kleins?"
"Awwwww hell, L'Oréal! You've come to work
I had to admit to Shaun T - face of multi-million dollar fitness empire Beachbody and creator of America's most popular DVD program, Insanity - that this would be an absolute first.
This was my second meeting with the famous muscle-ripped fitness guru. The first time was back in 2014, when hundreds of people took part in a live demonstration of his gruelling workout at Trafford's Event City. Shaun T, pumped on endorphins, had grabbed my sweaty arm, looked me dead in the eye and said "Keep going, home-girl!"
And boy, did I keep going - read here
This next encounter would be a more intimate téte-a-téte at the Hale Spa and Country Club, where Mr T was taking a much deserved fifteen minute break by the infinity pool – hence the robe and the boxers.
Leaping up and flashing me a smile, we hugged like old friends and he immediately compliments me on my shoes.
"I notice these little things," he laughs. "You know, it's not about what you wear, it's how you wear it," he says, falling into a soliloquy.
"It's the same thing for your body. It's not about what you look like, it's about how you rock your body – because right now it's the only thing you have to work with. If you have twenty pounds on your body, still try to be confident on your walk to the finish line."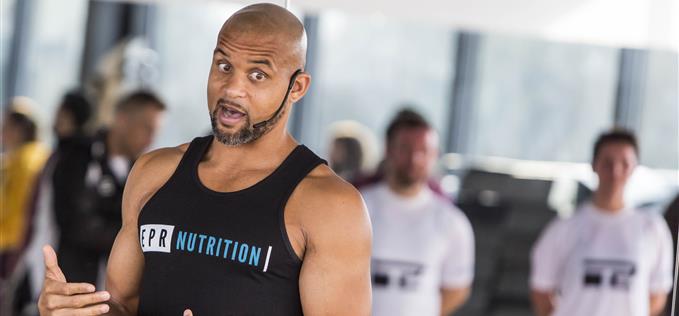 Shaun T
The former dancer to Mariah Carey is as motivating as Oprah and is as much as a fitness icon as, well, Mr Motivator. He smiles a lot, he always says thank you, and he's not afraid to hug – sweaty pits and all. He will also naturally roll into a motivational monologue without much prompt.
He is the same character in person you build a love-hate relationship with during his workout DVDs – the character that kicks your butt but does it because he loves you. I felt, very quickly, that I might actually be his home-girl. I'd still like to believe so.
Though sometimes it's hard to see where the regular human starts and where the fitness persona begins. He's relentlessly enthusiastic. I wondered if being this figurehead of positive energy and motivation was exhausting. Call me a typical Brit, but how could anyone be that full of zest all the time? Was he ever grumpy?
"Let me tell you something, there are days when I can't even do a push up. I just don't want to do it. But it's about who you surround yourself with. If I'm surrounded by negative people I am not going to get through this day or even the weeks and years ahead."
His husband, Scott Blokker, who was keeping close watch along with Shaun's team throughout, is one of the people that keeps him lifted. He counts his grandfather as one of his first inspirations to get into fitness, and counts 'powerhouse' Serena Williams as one of his biggest 'fitspirations'.
Still, for the millions of people he's inspired, he's still no.1.
SHAUNTERVENTION CANADA - Shaun T LIVE in Toronto from Shaun T on Vimeo.
Back in Manchester to once again kick arses at Event City, this year he was also promoting EPR nutrition - a Manchester-made company he chose to brand his personal performance and recovery drinks. And Shaun is always keen to preach the importance of nutrition:
"Someone asked me the other day if abs were made in the kitchen and they definitely are," he says.
"People forget to stretch after they work out and they forget to eat immediately after, then you eat the first thing you see and you're eating out of emotion rather than logical thinking. That's what we're trying to change. You have to eat logical."
So what does the man with a set of killer abs eat after he works out?
"It sounds silly but it's a sweet potato. I cut it, keep it in the skin and add a tiny bit of cinnamon. If you get organic, salt free butter then add that and mix it up. Let me tell you something, it's so good. Sweet potato is a powerhouse food so it's great."
Speaking of powerhouses, Shaun T has created one of the most effective home workouts since those tapes by Jane Fonda. The most famous from his large catalogue, Insanity, which has sold tens of millions of copies across the globe, is gruelling and (from personal experience) a little cruel. Did he always mean for it to be so damn hard?
"The oldest person that's done Insanity is 80-years-old, the youngest was two," he laughs. "Insanity is an equal opportunity workout."
"I give you a certain amount of time to do your best - we all have the same amount of time to do our best. I'm not giving you this workout so you can try keep up with the next person."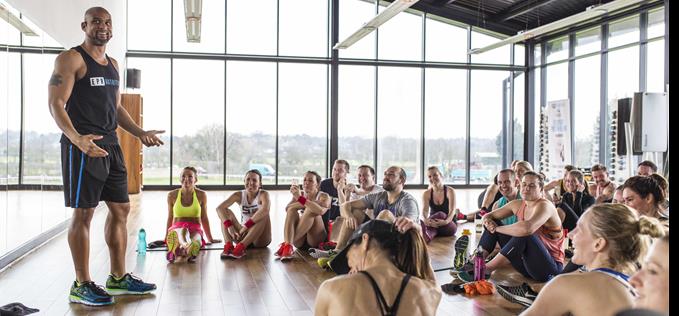 Shaun T at Hale Spa and Country club
I meet Shaun T again (I can't get enough) back in the mix at Event City. Again I'd be privy to the Shaun T hysteria of rock god proportions – minus the knicker throwing.
After taking our relationship to the next level (I have talked to him in his undies, after all) this time he looks out for me in the 1000-strong crowd and pushes me a bit further.
"Awwwww hell, L'Oreal! You've come to work," he yells in encouragement as I throw jabs, squat and do other excruciating things to my body.
He refuses to let me slip. Calling from the stage, he yells into the mic: "You better get back in L'Oréal, I can see you."
Like the rest of the crowd grappling for selfies, trying to touch him whilst emotionally sharing stories of weight loss success, I felt overwhelmed by the positive energy at the event. It's infectious. I felt like a baptised member of the Shaun T congregation. I clapped, I yelled, I did the burpees like a champ and when Shaun T shouted I love you, I shouted I love you back. Call it the abs, the endorphins, or the Calvin Klein boxers, but I genuinely believe I do. Just don't ask me to do another rep, Shaun. Honestly.
EPR-Nutrition – The Shaun T Range is available to pre-order at www.eprnutrition.co.uk.
Photo credit: Chris Bull Photography.