WHEN businesswoman and 'Eyebrow Queen', Nilam Holmes Patel, first introduced the celebrated HD Brow treatment to the UK back in 2008, she quite literally changed the face of the British beauty industry.
So what does a woman look like in high definition?
Think about it: since eyebrows became big business (and bigger generally), women are reportedly spending up to £200 a year on brow grooming alone. That's a lot of money on just facial hair, but not entirely surprising. After all, we've come a long, long way since the days of over-plucking, tadpole brows and waxing mishaps.
We're now far more shrewd when it comes to brow shaping and maintenance, and HD (high definition) Brows has much to do with our growing brow obsession, having become synonymous with the expertly groomed, perfectly arched brow many of us covet (although, we can't vouch for those who paint their brows on with Sharpies).
Now, the High Definition Beauty Group has opened its first northern boutique in Manchester, bringing their famed HD brow technique with them. They've set up shop on Police Street, next to Nailista nail salon, with a chic, minimalist, monochrome studio.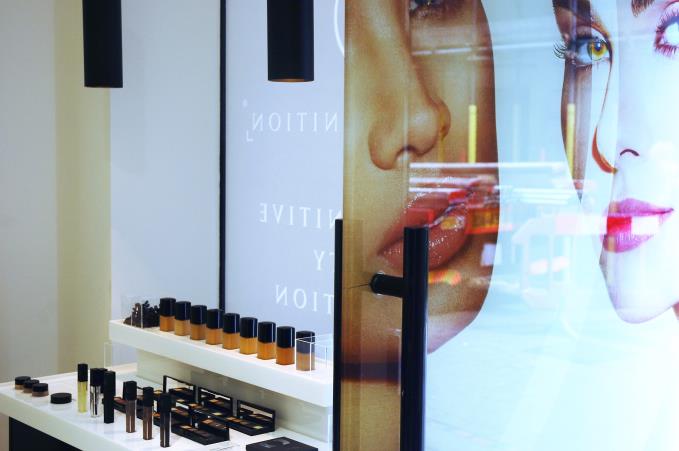 The Manchester salon is spread over two floors and run by Sarah Jayne Dunn, a former Hollyoaks actress and trained make-up artist. Alongside the HD Brows, comes high definition lash lifts and extensions, high definition waxing, as well as nails and skin treatments. They're also offering collagen wave facials that tighten the skin using 'radio frequency energy'. This is 'pampering with results', I'm told.
All the salon's therapists have immaculate eyebrows, great nails and stunning make-up. I, on the other hand, enter with two untamed bushes growing wildly out of my forehead, accompanied by near non-existent lashes. I was clearly in need of a major upgrade, so myself and a colleague decided to get the works.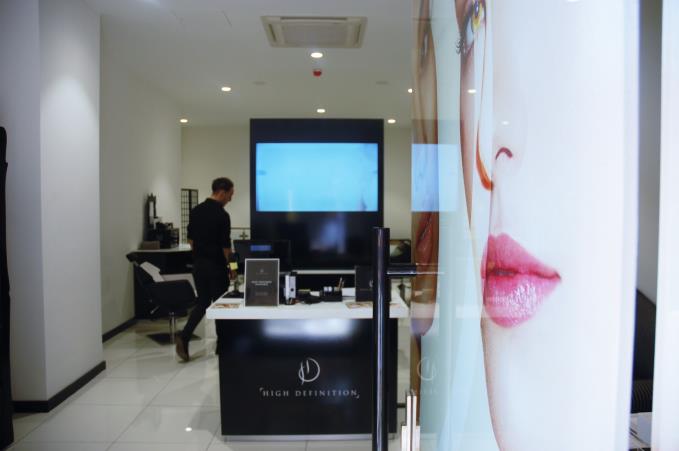 Unlike other department store conveyor belt services or £5 threads from moody beauticians in Superdrug, this was clearly no in-and-out job - the entire process (Signature HD Brows and a lash lift) would take two hours. After filling out multiple wavers and release forms we laid back in the chairs for some time, telling the therapists our likes and dislikes. Did we want a high arch or a flat arch? A natural or glamourous eyebrow? And how about tinting, did we require ombred (dark on the ends to lighter in the middle)?
With so much choice comes a more tailored look... this was never going to be a one-size-fits-all job.
HD BROWS
To achieve my glamourous, ombred, thick with a high arch new brows, my beauty therapist used both waxing and threading techniques (double the ouch). Plucking, tweezing and trimming were involved too. This is a seriously intensive treatment. Firstly, my brows were tinted (they should always be tinted first), before being measured, sanitised and waxed into their new shape. They were then continually threaded and plucked on rotation until my therapist was happy. This takes a good hour. She's a perfectionist.
For a £40 treatment I was happy she paid so much attention to detail. Later on she'd apply make-up to get the finishing, super-polished look. Phew.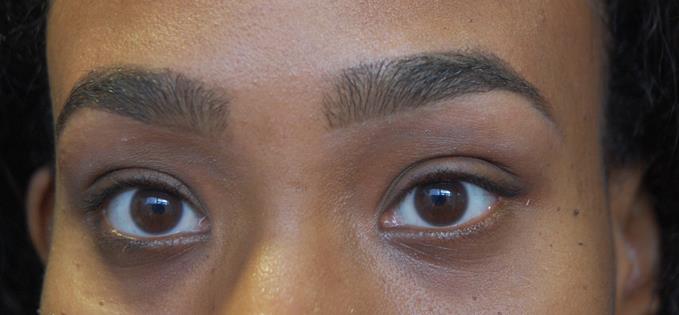 L'Oréal's 'big but arched ombred' brows
LASH LIFT
I also got a lash lift at the same time. It's an intensive eyelash perming and tinting technique. I was warned that my eyes would have to remain closed for about an hour while my eyelashes were glued to a lash tray and the lash perming solution applied. Out of nowhere I developed an irrational fear of having my eyelashes glued down (the rebel in me also wanted to open my eyes whilst the perming solution was applied - simply because I was told not to). The strong chemical smell makes me panic even more. I now begin to worry about losing my sight. I flap about a bit. Thankfully, I was reassured throughout and eventually calm down 30 minutes in. Clearly it's not an entirely comfortable treatment (see the photo below), there's some stinging sensations and the urge to open your eyes does not go away. Plus, if you're not good with eye-drops, you'll struggle with the eye bath afterwards.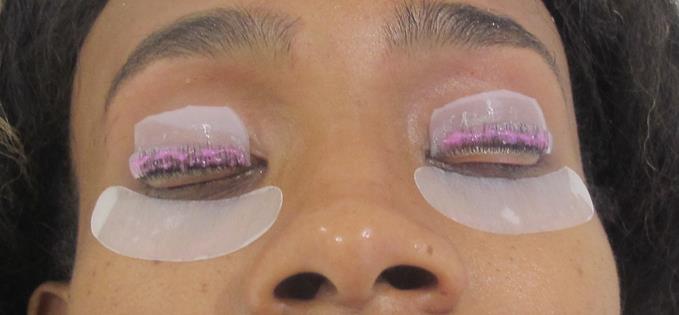 The Lash Lift - L'Oréal panics
Overall the time spent on the chair is entirely worth it, though. My eyebrows look fantastic. I've had them done in various establishments over the years and can hand on heart confirm that these are the best they've looked. Without make-up on they're even better. Unfortunately, the lash lift didn't take on my lashes too well – though with mascara I can see a great deal of difference to the length and curl. My colleague's eyelashes, on the other hand, have curled so much they are now touching her eyebrows. If she blinks too fast she may take flight...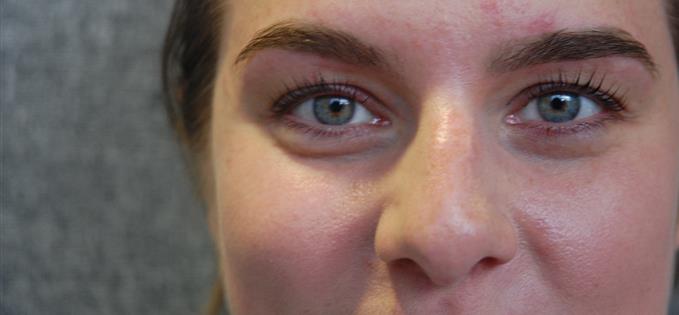 Helen's amazing 'Lash Lift' result
After my eyelashes have been curled and the last few hairs plucked, I'm taught a bit more about eyebrow maintenance. The High Definition salon also has a full make-up range to choose from, whilst the team offer makeovers. I'm tempted into buying an eyebrow pencil (£18.50) to help create the fully defined look I'm now accustomed to.
As the first High Definition boutique in the North – with two other salons in Notting Hill and Milton Keynes - this salon seems suited to the beauty-driven folk in Manchester and the nearby shiny Spinningfield's clientele. This is a results-driven salon - which helps somewhat to ease the potential damage to your bank balance. It costs £40 for the brows and another £65 for a lash lift and tint. It's worth the price tag, though. Much like HD TV, you don't think you'll notice the quality difference, but once you have you can't go back.
What's more, I won't need to attend the salon again for another four to six weeks, and I'll definitely return before my beautiful HD Brows revert back to plain old VHS.
You can find the High Definition boutique on Police Street.
Follow @LOreal_B on Twitter