EACH and every year, supermodel Heidi Klum wins at Halloween with her imaginative and painstakingly detailed costume choices; from transforming herself into an old woman complete with varicose veins, to her hand-painted 'skinned alive' body suit.
The blood redder the better
The rest of us are less likely to go to such lengths this coming Halloween (unless you have access to Hollywood make-up artists). Still, the scary season provides ample opportunity to express ourselves with outrageous make-up.
Below, I've picked five of my favourite Halloween make-up looks using some of my favourite cosmetic brands: MAC, Anastasia Beverly Hills and Sleek.
'YOU'RE SO VEIN-Y'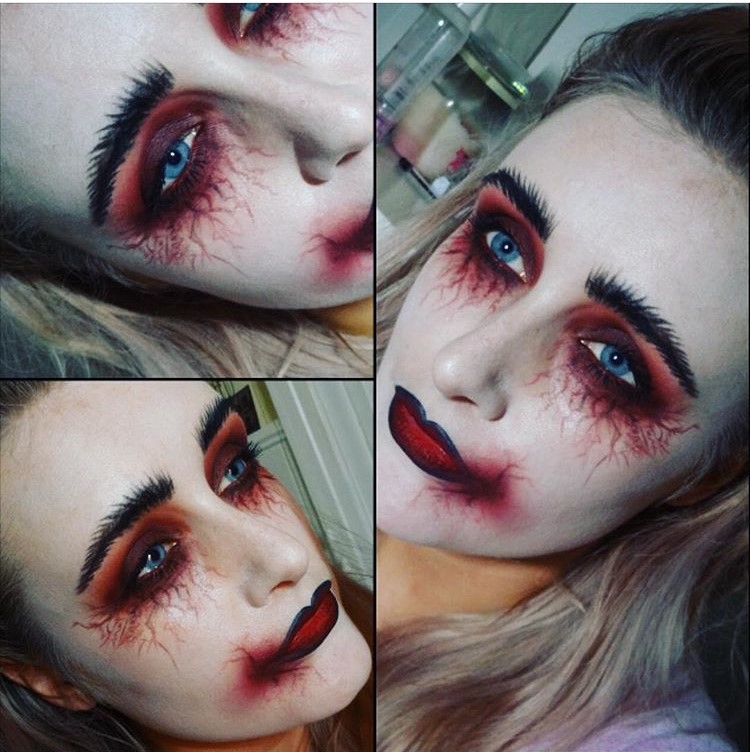 I look like I need a good sleep, here.
BASE: I created a pale, withdrawn face using MAC full coverage foundation in 'White'.
EYES: I used melt cosmetics eyeshadow, Lovesick Stack, blended with Anastasia Beverly Hills 'Noir' black eyeshadow - but any pigmented Black shadow will do. Transform yourself into a lifeless, blood drained Zombie by applying thin spidery lines to underneath your eyes. Using a skinny eyeliner brush, wet the Lovesick eyeshadow so it becomes a bit like a paste, and lightly draw on veins. For brows I used Sleek gel liner in 'Dominatrix' and a 263 angle brush MAC to create bold, jagged lines.
LIPS: I created ombre lips using Sleek, Eau La La liner in 'Noir' with Ruby Woo lipstick (MAC) in the centre.
CRYING BLOOD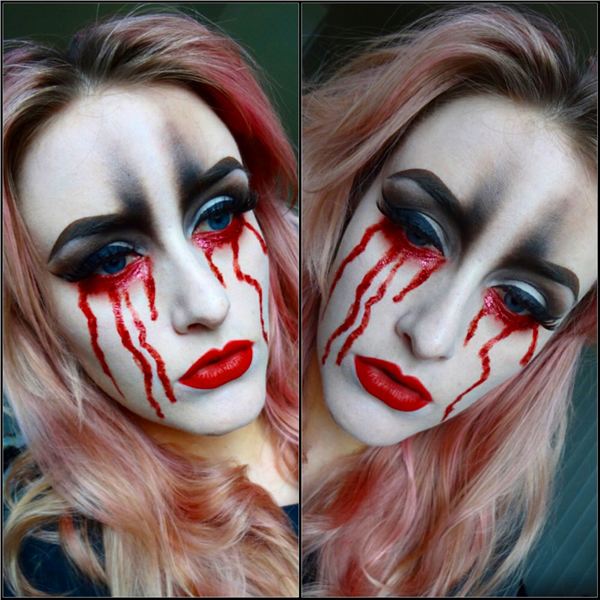 I had to bring back one of my favourite looks from last Halloween.
BASE: Again, I used MAC full coverage in 'White'. Dust a black or dark grey matte shadow over the nose bridge and eyebrows to add definition.
EYES: Buy cheap supermarket fake blood. Colour in the area where you want the blood first with red lipliner, then apply blood. Stays longer and looks more red.
LIPS: The blood redder the better.
'GO GLITTER'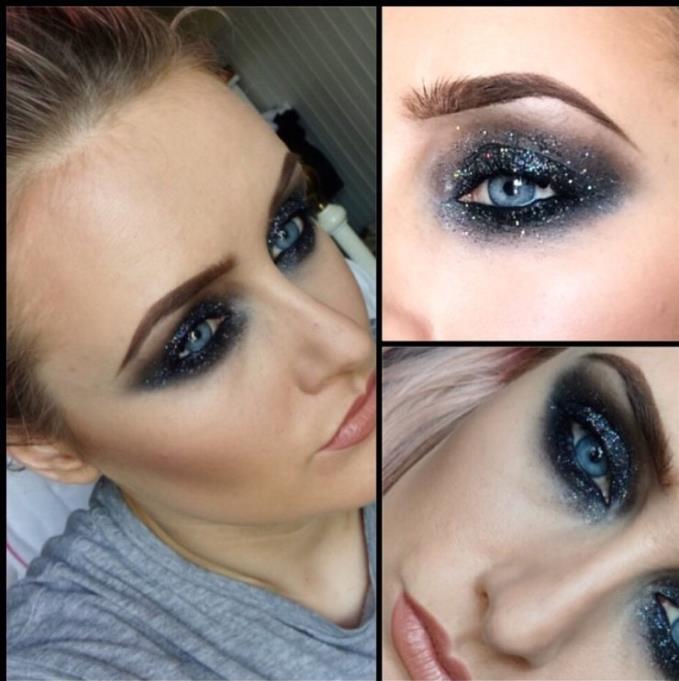 Don't know what to go as? Just do a massive black smokey eye and roll yourself in glitter.
EYES: This glitter is '3D Black' by MAC, its even more amazing in real life. Make sure to take underneath the water line and extend in the corners to add more drama.
LIPS: I've gone for a simple nude lip, yet alternatively add a black lip for more drama.
'BLACK FLICKS AND LIPS'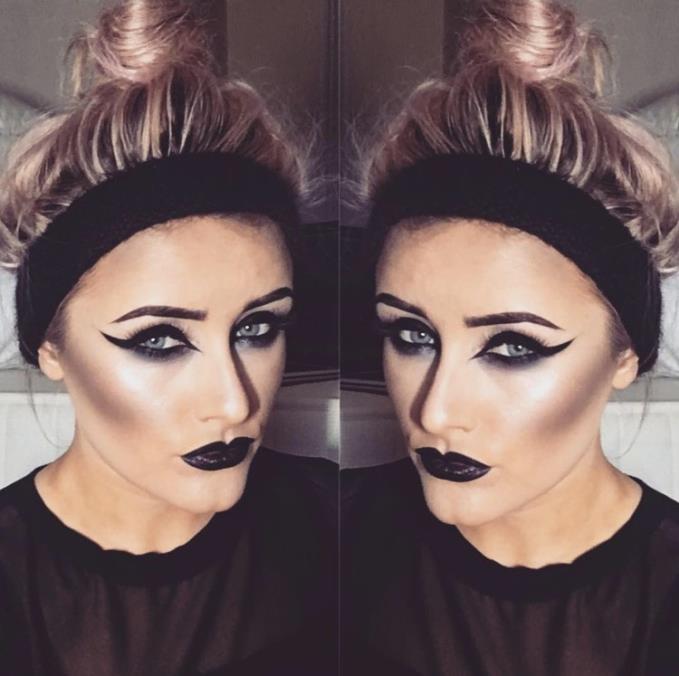 If you don't want to go too scary for Halloween and still want to look kinda pretty, try this.
All the aspects of the makeup are beautiful, flawless skin, nice liner, lip shape, contour and brows but by using greys and blacks, you've got the Halloween edge. I'm all for as scary as possible on Halloween, but I cant lie, I loved wearing this makeup.
EYES: Liner - Sleek gel liner in 'Dominatrix' - add to the inner corner for a feline edge. Add MAC 'Feline' pencil to the waterline and smudged under the eye with 'Print' eyeshadow.
BASE: Contour using the cool grey tones from the Anastasia Beverly Hills Brow Palette (Don't be afraid to experiment with products that are meant to be for a different bit of your face).
LIPS: Many brands have a black lippie on the market in time for Halloween. Best to line lips beforehand to create shape.
'CRACKED'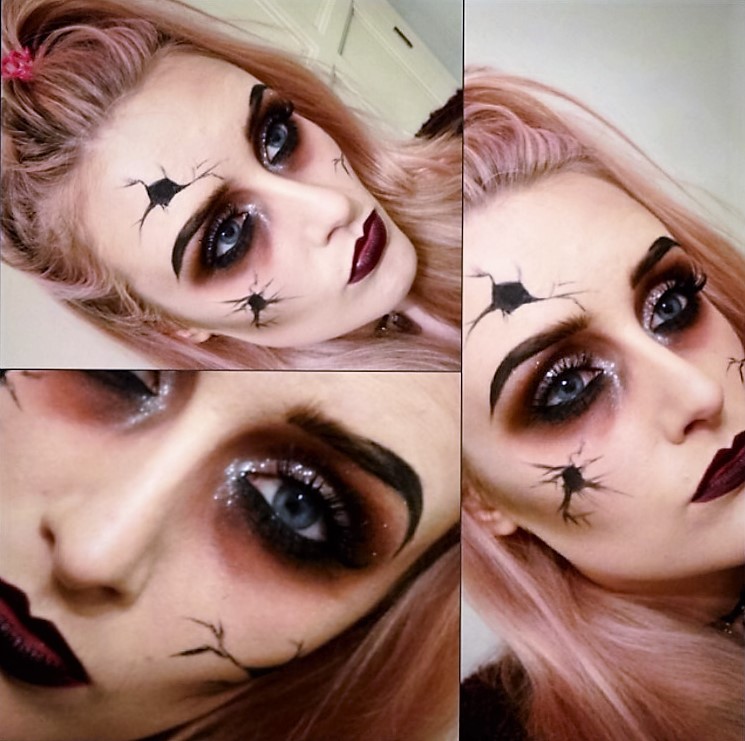 You can find more make-up tips by Frankie Noone on her website.
Facebook: Makeup By Frankie. Instagram: @frankienoone