THEY say 'good judgment comes with experience, and experience comes from bad judgment', so after a disastrous intimate wax experience I thought I'd made the right judgement call to never have it done again.
Typically to how most bad beauty treatments begin, I had opted for a cheap wax from a back-street beauty salon.
I was attended to by a therapist who was lovely enough but had hands like baseball mitts. My first 'Hollywood' resulted in a tug and war battle with my, umm, ...strong afro-Caribbean genes. My skin was left quite literally bleeding and bruised.
Even though I knew I was in the hands of an expert, I was so scared I briefly considered the possibility of going bush.
Sure, the hair was gone but the mental scars remained. Ever since I have been twisting myself into a pretzel and jousting with a Gillette razor.
Reliving this experience to Intimate Waxing specialist and owner of City Spa Escapes in Spinningfields, Ashleigh Guthrie, was like talking to a vegan about a meat platter: Ashleigh was horrified. 
Ashleigh City Spa Escapes ManchesterShaking her head she exclaimed, "Your first mistake was getting a wax for £12 – you get what you pay for!  You're not the only one with horror stories. My aim is to make what could be an unpleasant procedure something you'll want to do regularly.  You'll be back, I assure you."
Count me reassured.
Even more comforting, as a therapist for six years, she's been trusted with the delicate areas of celebrities including Coronation Street's Catherine Tyldesley. An evident pro and dab hand, Ashleigh introduced 'Boyzillian' waxes to her service and has seen an influx of men getting the back, sack and crack.
In Ashleigh's world 4 packs of BIC razor blades do not exist.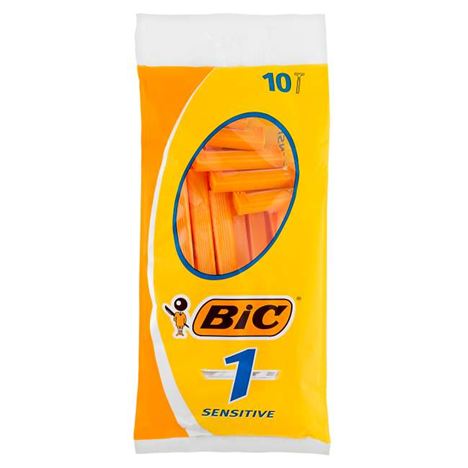 Bye Bye BIC
While waxing is rarely ever painless, Ashleigh reiterated that intimate waxing shouldn't ever have to be the embarrassing and traumatic ordeal it was with the large handed lady. To my relief, it could be quick – 30 minutes max.
The pain, however, is hard to avoid but can be reduced. 
Taking me under her professional wing, Ashleigh explained that the evil strip wax my first therapist had used would not be coming anywhere near my bikini line.
Instead Lycon Hot Wax would be used. It promises to give clients a 'virtually pain free' experience. Plus, it can be used on short hairs. Overall, you're left with a clean, smooth and less plucked chicken appearance on your nu-nu.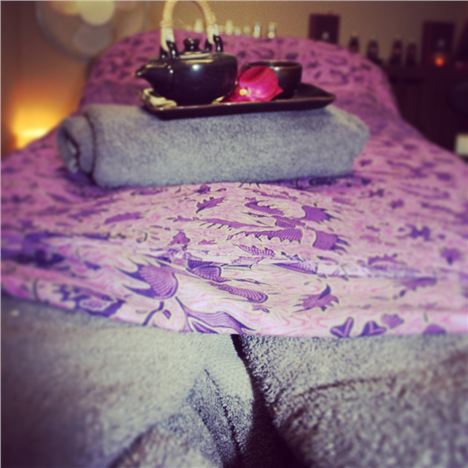 City Spa Escapes Manchester
As my wax date approached this was all good to hear. Although, the thought of Ashleigh getting an eyeful of down there did make me cringe. Given City Spa Escapes is a stone's throw away from the Confidential office, I wondered if I would be able to look Ashleigh in the face afterwards. I did burst into a fit of giggles as I soon remembered there's the whole debacle of 'parting cheeks'.
"I've seen it all." said Ashleigh.
"Even in my early training days, I watched a live tutorial on how to wax men's pubic areas and had to add diamantes– a 'pe-jazzle'. I've seen a lot in my time and I'm rarely fazed by what I see." 
"Will I have to get on all fours and part cheek?" I cringed.
"Well, there's no getting on all fours, I prefer the more graceful method of getting you to lie on your front and part your own cheeks." Ashleigh laughed.
Relief.
Time for the wax.
I was told to undress from the bottom down, lie on the bed and wait for her to return.
Looking up to the ceiling, twiddling my thumbs and listening to an ambient spa mix CD, fear ensued. Even though I knew I was in the hands of an expert, I was so scared I briefly considered the possibility of going bush.
Recently, it has been widely reported that Cameron Diaz and Gwyneth Paltrow are champions of the 70s bush. Pro-natural clothing chain, American Apparel have even given its mannequins a bushy pubes makeover - and they seem happy enough. I could turn back now. Waxing pain, or the fear of it, would never bother me again.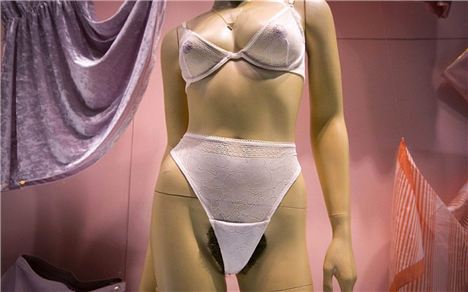 American Apparel. Go for bush?
My panic attack was short lived.
Ashleigh asked me whether I wanted the Brazilian or the Hollywood.
Please take a look at the diagram below, so I don't have to go into the intricacies of how much hair is removed from your orifices. I chose the Hollywood. The whole she-bang.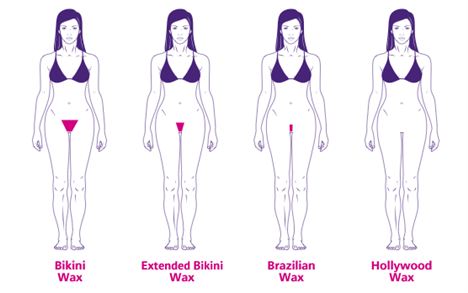 From bush to not much. 
Wiping down my, ahem, area and then adding some pre-oil to protect my skin from any hair-pulling trauma, Ashleigh chatted with me to calm me down.
Then she spread on the Lycon Wax and I braced myself for pain.
Yet all I got was a sting. I propped up and shouted, "Is that it?!"
Sure, there were moments in particular tender areas where I shouted for mercy but all in all it was bearable. I spent most of it nervous giggling.
In a 30 minute blur, we were done. Ashleigh had pointed out some problem areas and gave me some ingrown hair solution.  Looking down I was extremely pleased with the results and happy to see everything was still intact and in working order.
My two waxing experiences have been vastly different. Last time I hobbled out of a back-street spa like a veteran cowboy, yet after the Lycon wax at City Spa Escapes I felt like a new woman. In fact, I felt like I had conquered a massive fear of mine. 
So am I convert? Yes. Ashleigh, I'll see you in a month.
Click here to get 2 for 1 on intimate waxing at City Spa Escapes.
City Spa Escapes offer intimate waxing along with facials, massages, tanning and more. Take a look on the website or find City Spa Escapes at Quay House, Quay Street, Spinningfields, Manchester City Centre, M3 3JE
Follow @LOreal_B on Twitter.