I WAS asked to pop down to Selfridges, Exchange Square, to 'revitalise my lunch break' with promise I'd feel 'revitalised and radiant' during the afternoon. This was all part of the department store's 'Work it' event which is based in the beauty hall and runs until Saturday 9 May 1 – 4pm.
I felt like a kid in a candy store when I was shown to the bowl of full size lipsticks, blushers and face care products.
If you are in town over the next couple of days, then I can promise you, you will not miss the 'Work It' event. I arrived to Ellie Goulding blasting out of two giant speakers, loud enough to be heard from Picadilly Gardens - a bit of ambush marketing, if you will. The upbeat mood continued inside where I was greeted by two very enthusiastic members of staff, who very kindly explained the event in more detail and pointed me in the right direction for the action.
Enthusiastic hosts in Selfridges
The premise behind 'Work it' is to introduce you to beauty brands, their products and services, in a quick lunch break. The idea is great, as I am often overwhelmed by the sheer amount of bronzers, highlighters, mascaras and every other new product that is constantly being promoted. 'Work It' is free and gives you the perfect opportunity to indulge in a bit of 'you time', with genuinely no pushy sales attempts.
I had been booked in with the lovely Helen from Clinique. With Helen's help I could choose between five 'experiences'; pick your pout - introducing lip products , eye do's - for the smokey eye effect, flawless fast - finding your perfect foundation, healthy skin -an intro to the skin care range and insta glow - a guide to their face mask range.
There is also an option for gents with an 'introduction to the men's range', which included shaving, grooming and everyday essentials.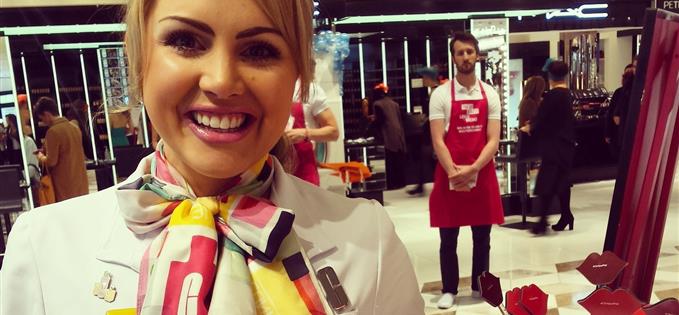 Helen from Clinique
I went for the lip intro.
Helen introduced me to brand new lipstick Clinique Pop, which at £16 is one of their cheaper products. I could then choose from the genius lip shaped colour sticks, which I could hold up to my skin to see if it looked suitable for my skin tone. It's always very unnerving when choosing a lip shade, I get the urge to just go for the prettiest colour, so Helen guided me towards the shades she thought were more 'me'.
I have used Clinique lip products before, but I must admit the new pop stick felt very different, almost like a lip balm. It's designed to be primer, colour and gloss all in one handy product. It felt incredibly silky, not sticky at all. I had the night time look first, which I have to admit was slightly too much for me in a bright fuchsia pink. The day time look however, was a perfect match; Melon Pop, a punchy peachy shade great for every day. The colour has stayed on all day and my lips still feel hydrated.
At the end of the 'experience' I given a choice of a free product to take with me, and I felt like a kid in a candy store when I was shown to the bowl of full size lipsticks, blushers and face care products.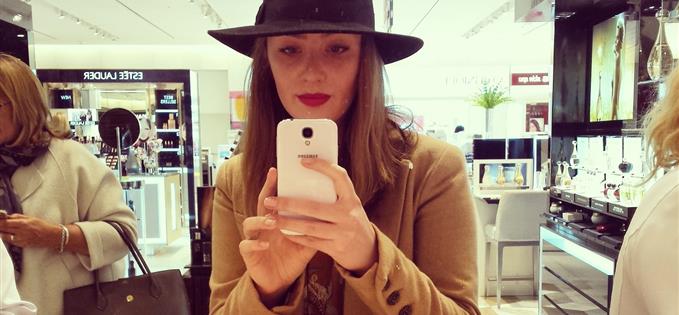 Lauren tries a Clinique Pop lipstick
Although there is one particular brand spotlighted on each of the three days, the other beauty counters are also offering quick beauty fixes and introductions. MAC, who never do things quietly, had a wonderful display, with a hunky male model ironing in his underwear. Although I can't say I worked out what the purpose of this was, I certainly wasn't going to complain, and I'm sure it made many people have an extra special lunch hour.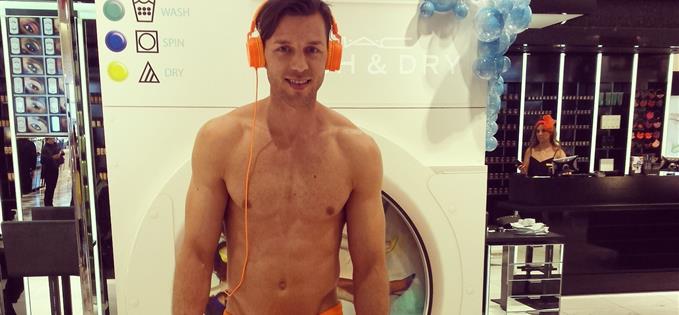 The event continues Saturday with Yves Saint Laurent and their makeover experts as the main event. I'd definitely recommend popping down if you're in need of a Spring makeover, advice on a product or if you just fancy a look at the male models, it's definitely a nice way to spend your lunch break.
Selfridges 'Work It' event continues on Saturday within Exchange Square and Trafford Centre.
Lauren runs fashion blog Fashion Panic, you can take a look at all her style guides here
Follow Lauren on Twitter @fashion_panic00