SNEAKERHEAD is not a word I find in my vocabulary.
A quick look up on Urban Dictionary gives us this: 'A person who collects limited, rare, original, or flat-out exclusive kicks.' So a trainer addict, a sneaker hoarder or a kicks obessive. Whatever your terminology it's the footwear that counts and sneakerheads are clearly on the rise.
"Sneakers are massive, it's very niche for sneakerheads but in general everyone has got an interest in it."
And Manchester is full of them. Or so it would seem, according to Nathan Massiah, the man behind trainer-focused London-based brand Fresh Laces 
The founder of the Fresh Laces brand, which offers pop-up events and sells its own trainer-related merchandise, is excited to be bringing his latest event to the city.
"Instagram is one of the biggest feeds for meeting other sneakerheads and there are a lot in Manchester, there's quite a few people who came down to the London events that are excited to see it coming here," explains Nathan Massiah.
Trainers galore...
Massiah can still pinpoint when his love of sneakers first began. A family holiday to New York back in 1994 was the moment when he acquired his first pair of Nike Air Hurache. He's never looked back. An ever-expanding collection that at last count boasted over 100 trainers, he's constantly on the look out for his next pair and his Instagram account is a shrine to all things sneakers.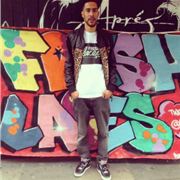 Fresh Laces' Nathan MassiahAfter the success of the first Fresh Laces event held in a small London wine bar, Harvey Nichols has snapped up the sneaker culture Massiah loves and is bringing the trainer movement and Fresh Laces up north. "The first event was amazing," says Massiah. "We did it just through Instagram with local sneakerheads that I know. We built it through a sneakerhead's perspective and it worked really well, we got about 500 people through the door." 
With celebrities including Professor Green, Tinie Tempah and BBC's Reggie Yates showing up at past events, Massiah is hoping the Manchester event will prove just as popular.
Trainers are hardly a new thing though, so why are they suddenly at the forefront of fashion?
"A lot more designers are using sneakers and a lot of them are coming out with their own sort of sneaker line," Massiah explains. Karl Lagerfeld sent Cara Delevingne down his most recent bridal catwalk with a pair of white hi-tops for one, and where Lagerfeld leads, most of the fashion pack tend to follow.
"Sneakers are massive, it's very niche for sneakerheads but in general everyone has got an interest in it. There's even a lot of people who don't consider themselves collectors but still love trainers and buy them regularly. They just don't go to the lengths that sneakerheads do."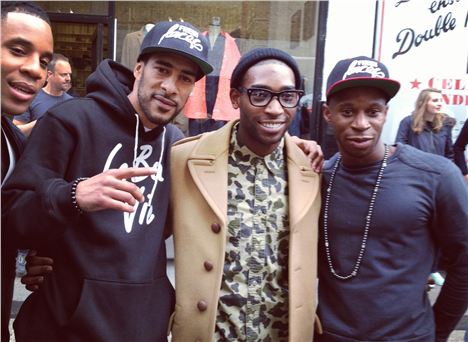 Massiah with celebrity fans of Fresh Laces
So what can Manchester expect from a Fresh Laces event?
"Sellers, sneaker designers and trainer boutiques will be there. As well as drummer Nathstar, he'll be playing alongside the DJ's (Dickson Brothers from Kiss FM). In the evening there will be a pop-up bar too to give a bit more of a chilled out atmosphere for those that come down."
Alcohol, beats and trainers... sounds like the perfect event for a hardcore sneakerhead, or even for those curious about what sneaks should meet their feet to beat the street. Watch out Tinie.
Fresh Laces pop-up shop is at the menswear department, Harvey Nichols, Cathedral Approach on Friday 21 February 12-8pm.
Follow Fresh Laces on Twitter at @FreshLaces_
Follow Niamh Spence at @missnspence