WE'RE deciding whether to have a box of salted caramel donuts after a relatively sin-free sea bass dinner.
It's not necessarily the exercise that's the hard part, it's motivating yourself to get there
For two fitness enthusiasts on our first meet, the decision to go both full-carb and all-sugar is one that's met with both guilt and gleeful disobedience.
But why go for the fruit salad? If you're going to do dessert, you should do it right, surely? Decision made.
"That's the thing about willpower - your friends can both help and hinder it," I say, two caramel donuts deep.
Joining me in dessert deliberations was Joshua Uwadiae, a young 22-year-old entrepreneur who aims to solve the issue of staying motivated by helping people find a gym-buddy locally with his phone-app WeGym.
WeGym works much like a dating app, just with less awkward small talk and a lot more physical activity (well, depending how well your date goes, I suppose).
Originally from Hackney, Joshua and business partner, Jack Woodward, launched WeGym in London before rolling it out here in Manchester where they're currently based.
At least 21 gyms in Manchester city centre - from Pure Gym to local CrossFit centres - are listed, creating ample opportunity for people of all abilities to find their perfect gym partner, whether needing a spotter, a sparring partner or your very own Karate Kid style Sensei.
As it continues to grow, the duo aim to have a whole database of people - ranging in abilities and personal goals - ready at the touch of a button.
WeGym is all about connected comradery, an idea that could only have come from young 'millenial' business minds, from those who've become accustomed to using digital doo-das and widgets for even the most rudimentary everyday tasks. With this app, Uwadiae and Woodward join countless apps attempting to solve our lack of tangible connections outside the sphere of social media, via our most treasured possession... the mobile phone, naturally.
"We know there's a lot of knowledge about exercise out there on the internet, so the average gym user knows what they're doing, but we want to solve the problem of willpower. It's not necessarily the exercise that's the hard part, it's motivating yourself to get there."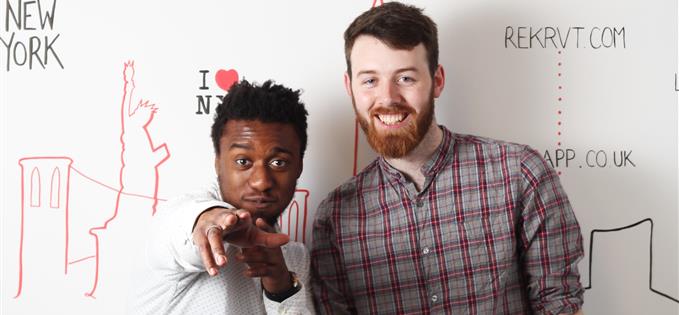 (L-R) Joshua Uwadiae and Jack Woodward
Joshua created the app out of the notion that your journey to becoming fitter could be helped by sharing your journey with somebody else.
"When you work out with someone else, get into a routine or a schedule, you're less likely to not turn up to the gym as there's now added accountability," he says.
Joshua claims that '97% of people who train with a buddy achieve their goals, as opposed to the 47% who succeed alone'. He claims to be living proof of the theory.
As a young Microsoft apprentice on the verge of a promising career in technology, he found himself at the mercy of long working hours and a lack of motivation – the inevitable result was weight gain.
"I was getting chubbier and chubbier," he laughs. "Then I asked one of my colleagues if I could go to the gym with him. We got ourselves into a routine – around three times a week. There was a lot of healthy competition, I wanted to be stronger than he was and vice-versa. I soon got on track, my body changed, my outlook changed."
"Then I changed jobs, and that's when it became difficult. I left my gym, my gym-buddy and my routine and I couldn't find someone else to train with me. I soon realised that working out alone just doesn't cut it, that's how WeGym was born."
Personally, the gym has always been a solitary activity as I find the typical gym-gangs hard to infiltrate; the chatty girl gangs (who always take up the elliptical machines) have an iron-tight clique, the buff guy-gangs grunting loudly by the weight machines I wouldn't dare approach, and then there's the one guy who straps a 16kg kettlebell to a face harness (to make his neck stronger we assume?), he's far too hard-core for me. So I gym solo, relying on myself to stay self-motivated. I wonder if by using WeGym I could start a gym-gang of my very own?
"We're not in the business of fast results and unrealistic training plans – sure you can lose weight in twelve weeks by working out continuously and eating super clean," says Joshua, "but this is very hard to sustain long term. With WeGym we believe finding a gym-buddy can realistically help make healthy living a lifestyle... and help you ignore the call of chocolate muffins."
"Or not," I say, four donuts deep.
"It's about balance," replies Joshua.
As the saying goes, 'united we're strong, divided we fall off the wagon, eat ten packs of biscuits and hibernate'... or something like that.
Download the WeGym app here.
Powered by Wakelet