IT'S the era of the smart shopper.
To be both fashion forward and in the throes of an economic crisis comes a need to be clued up about budget buying. Gone is the stigma of bargain purchases and the word 'vintage' has become a welcome and widely used synonym for 'second hand'.
Elite Dressing Agency provides a cleverly cultivated collection of just that - second hand designer and high street pieces for the discerning shopper living a champagne lifestyle on a lemonade budget.
The discounted designer discoveries become a fun game of 'can I afford it and can I fit in it.' More often than not it's a no, but occassionally luck strikes. 
Based on King Street West, Deansgate, Elite's neighbours are big brand department stores House of Fraser and The Avenue. Comparatively in this small independent you can find the same high-end labels just a little out of season and yes, worn previously.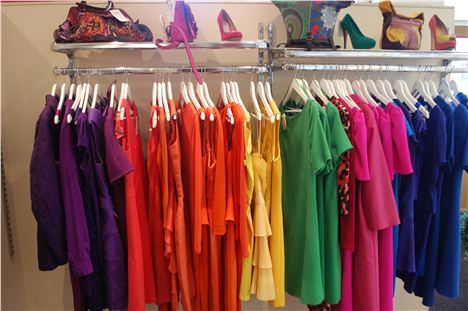 Elite Dress Agency prepares its S/S finds.
"We tend not to take things that are more than eighteen months old. Sure, if it's a fantastic vintage fur or something of a similar worth we'll take it," explained store manager Leslie Jones.
The Elite Dress Agency receives clothes, bags, coats, jewellery and more each and every day, all day. It can vary and the Elite ladies are often surprised with what turns up on the shop floor.
"We have an extremely fast turn-around. The bags especially fly off the shelves. We can get a Mulberry handbag in and before we've had a chance to price ticket it someone is ready to buy it," said Leslie.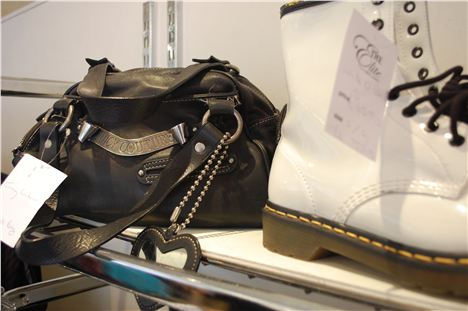 Juicy Couture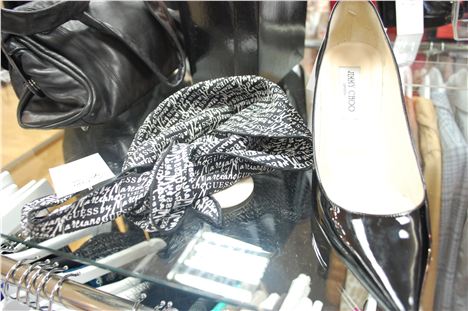 Patent Jimmy Choo. Unfortunately not in my size. 
The store works on a commission basis. Suppliers can bring in items, the store agree on a price and they both walk away with 50/50 of the profit when sold.
"We have to be smart and find a happy medium between those that sell the clothes and the people that shop here. We take in account the original price, but we also understand that people come here looking for a bargain," said Leslie.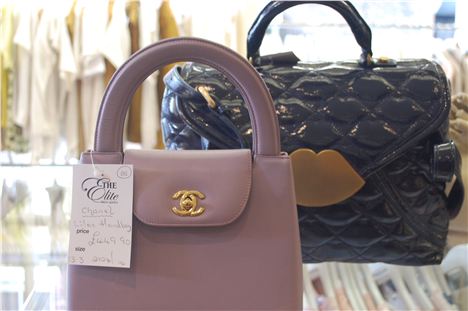 A genuine Chanel. Half the price but still pricey.
And there's a colourful array of bargains at Elite and the discounted designer discoveries become a fun game of 'can I afford it and can I fit in it?' More often than not it's a no, but occassionally luck strikes. 
Shopping at Elite is not a case of digging through a heap of musty worn clothes, instead you swan leisurely through a well organised set up.  My eagle eye spotted a classic patent Jimmy Choo, an on-trend Vivienne Westwood tartan blazer, Belstaff leather, DKNY, Gucci, Chanel and more, oh my.
Again the dilenma of finding a one off piece in your size can make or break the shopping experience.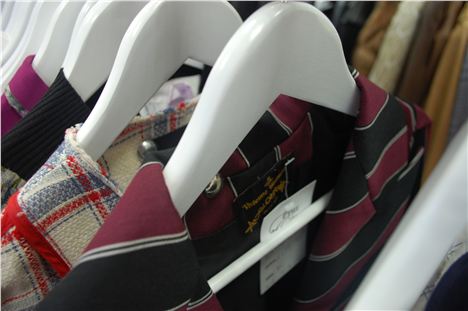 I spy Vivienne Westwood and Dolce and Gabbanna
"We see a variety of shoppers," said Leslie.
"We have a range of different price points and a lot of high street items – so we cater for everyone."
The Elite Dress Agency is in the process of opening its third store in Bolton to join its presence in Altrincham and the city centre. In an age of online second hand sellers such as Ebay and Amazon, the concept of Elite Dress Agency feels fresh and modern, but the store is over fifty years old. 
Leslie said: "We were asked whether we were worried that Ebay would affect us. It hasn't. Of course, like everyone we have our quieter periods, yet we have consistent suppliers who like the security of selling with us and people still enjoy the trying on process, making sure items fit and getting a closer look."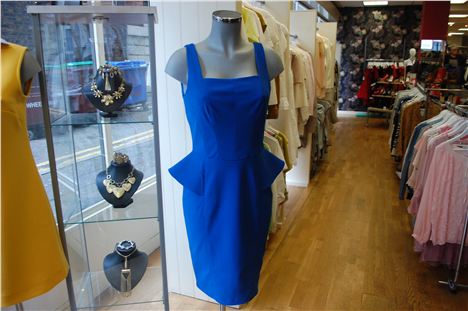 Elite Dress Agency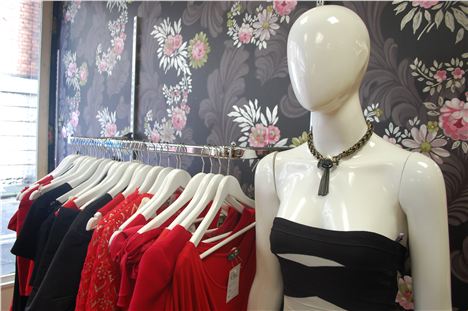 "We have an ongoing wishlist from those who desire a Chanel bag for instance," continues Lesley. "We will give you a ring if we come across one. But we can't guarantee that it'll be there when you get to the store. Women can be very quick to snap up that one off purchase."
Elite Dress Agency is busy at lunchtime and a consistent flow of shoppers come in and try on clothes. Leslie and her staff are equally as busy and more products come in as we chat. Elite makes designer clothes accessible for those with strained budgets and allows those with a brilliant collection make money and space in their wardrobes – without the hassle of postage and packaging. It's recycling, economical and appeals to my frugal heart (and wallet). 
Overall it's a shopping experience I'd be keen to revisit. It's a store for dressing like the elite without the elitist prices. 
Elite Dress Agency
City centre: 35 King Street West, Manchester, M3 2PW.
Tel: 0161 832 3670 
Opening hours: 10am - 5pm Monday to Saturday, 11am-4pm Sunday
Website: www.elitedressagency.co.uk
Follow @LOreal_B on Twitter