RIGHT now King Street is chock-a-block.
Dragons' Den's newest tycoon's high hopes for King Street feeds a sense of optimism for the street
The Christmas Markets have returned full throttle with festive cheer, and it feels as if the entire population of Manchester is queuing up for mulled wine. You can barely move for bratwurst. It's bustling.
In recent years King Street hasn't commanded this much shopping action without the help of the festive season. It was, as many veteran shoppers will know, Manchester's answer to London's Bond Street; home to French Connection, DKNY, Karen Millen and successful independent stores – some of which were Mancunian-owned.
Closures have since marred the feeling of affluence in the area. The loss of Tommy Hilfiger earlier this year and soon-to-close Jaeger is yet another blow for King Street. The spectre of the last recession still lingers and King Street has felt the impact of high rents, endless city centre roadworks, ridiculous parking fees and the online shopping boom.
Optimistically, there have been sniffs of a turnaround.
Earlier this month Hawes & Curtis, a long-standing heritage brand, opened up on King Street – it's a move owner Touker Suleyman (main image), a newly appointed BBC Two 'dragon' and multi-million pound retail tycoon, is confident with.
"King Street is up for a revival," says Suleyman assuredly. "It has all the promise of becoming a destination for great menswear brands. We hope other brands can benefit from Hawes and Curtis being there and vice versa."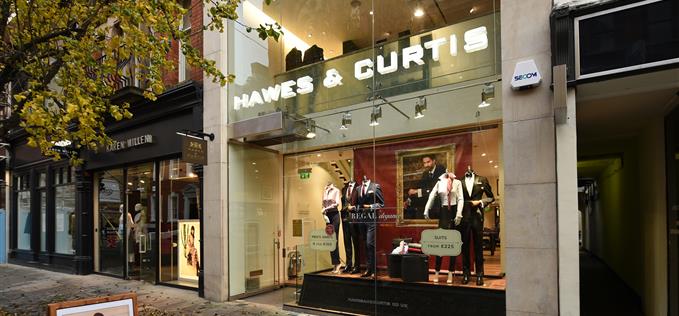 Hawes & Curtis, King Street
It's easy to see where Suleyman is going with this. The menswear market has reportedly 'stepped out of the shadow of womenswear' and grown by a massive 18% in recent years. And in many ways menswear brands, often shoved to the basement in big retail stores, could do with a dedicated 'destination point' here in the city. Hawes & Curtis now neighbours skilful suit tailors (Manchester's answer to Savile Row, so to speak) and menswear brands such as The Kooples, Crombie and Charles Tyrwhitt.
Suleyman may be right about a 'revival'. And we would be inclined to trust his judgement.
Suleyman is no stranger to the struggle of retail business and the inevitable peaks and troughs that come with making a fashion store succeed. Famously, he bought the struggling Hawes and Curtis brand for £1 before turning it into an empire. Hawes & Curtis now reportedly makes an impressive £21m turnover and is debt free. Its combination of sharply made shirts for the 'contemporary man' and failsafe suits have made it a permanent fixture on UK high streets. There are now 30 stores across the UK.
"It was initially my passion for shirts that led me to Hawes & Curtis. I was manufacturing shirts for Ralph Lauren for instance, but had always wanted my own brand."
Hawes & Curtis has been synonymous with the notion of a true gentleman outfitters since 1913 and it is certainly a suited fit: smart, refined, filled to the brim with snazzy shirts and chinos – it's very King Street.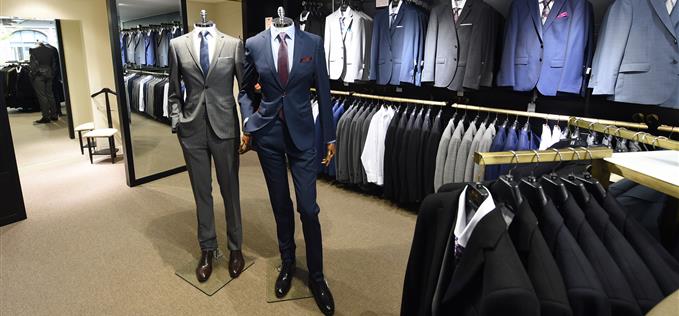 Suleyman: 'King Street could become a destination for menswear'
With retailers beginning to bank on King Street once again (albeit slowly) there's been a palpable buzz about a return to the street's former high fashion glory days. New menswear store Diverso has also opened and the recent openings of fine-dining restaurant Quill, alongside the coming El Gato Negro, have also prompted talk of a food and drink renaissance. However, as we investigated in another article (read here), fashion retailers and restaurant businesses are developing at different speeds in Manchester. Food, rather than fashion, has become a sexier investment on the high street, with local councillors expressing support for a 'cafe culture' to complement a retail resurgence.
"I hope it's both," says Suleyman. "In any high street you always need both fashion and leisure business. They help us as we help them."
In Manchester, Hawes and Curtis is also tucked away in Trafford Centre, a shopping centre that, with an annual footfall of 30 million, hasn't seen similar struggles as King Street. However, Suleyman thinks it may be time to bow out of the mammoth shopping plaza.
"Trafford Centre's rents are going up. You start comparing the low rental costs achieved by other retailers and King Street becomes more attractive. Trafford Centre could benefit from a few smaller brands, but they simply can't because the rents are too high."
High rents on King Street has been the core issue with many retailers, especially the little independent stores that give Manchester its unique fashion identity. Available lots remain empty as a result. Blame has been put on both council and landlords to lower rents, rates and parking fees to begin resettling retailers. It's no wonder many new indie start-ups are banking on online business and forgoing bricks and mortar.
"Today it's all about multi-channel shopping," says Suleyman. "People want more from retailers and have higher expectations. A complete service. The option to buy it online but also come instore to try it on.
"And it also very much depends on the product. The high street is still very important. When we decided to expand, we knew we needed a flagship store in New York just as much as an online presence."
Why are young retail entrepreneurs not tempted to invest in a store?
"There's never been a better time to start a business. With any business, you have to start spending money to invest in a brand. Online businesses start cheaply but you quickly realise there's still a lot of cost involved."
Dragons' Den's newest tycoon's high hopes for King Street reinstates some optimism in the street. Regardless of whether food or fashion is the key to future sucess - we're all in.
Find Hawes & Curtis at 46 King St, Manchester, M2 4LG