I know the saying 'Summer bodies are made in Winter' from a period of outdoor bootcamp sessions where my military trainer shouted at me to squat in the snow. However, I've made it to May and my 'summer body' is still in hibernation.
The 8 week Summer Body Blitz at Y Club Manchester
I'm a regular gym goer and I like to think I'm fairly fit but I let myself down on the weekends when I unleash my inner fat girl and eat every filthy meal Manchester has to offer.
So when I heard about the 8 week Summer Body Blitz on offer at Y Club, which is free if you join the Y Club in May, I had no excuse – it's just round the corner from work in Castlefield, there's a fleshy overhang above my jeans I just can't shift and even a prize to be won.
The programme includes:
Full health check
Body measurements
Programme review every 2 weeks
Diet / nutrition advice
Instructor class pass
Free gym buddy pass
Motivation / support
Prizes / small gift for achieving results
The body blitz begins with a personal training induction session. My trainer was Maya, an extremely energetic and enthusiastic woman who managed to calm my nerves and actually get me looking forward to the challenge ahead.
At the induction, we went through a health check and body measurements including height, weight, body fat percentage, blood pressure, lung capacity and flexibility – all very in depth.
I was dreading the moment Maya pulled the scales out, having refused to step on them for a good year. However, Maya didn't bring out my nemesis, as scales don't account for muscle weight, bone density or height - great as I'm short with very, very heavy bones.
Instead, she said measure yourself in inches, which she did, and by the tightness of your jeans.
Maya asked me for my personal goals for the 8 weeks, these being to tone up and lose weight from my problem area – the dreaded tyre.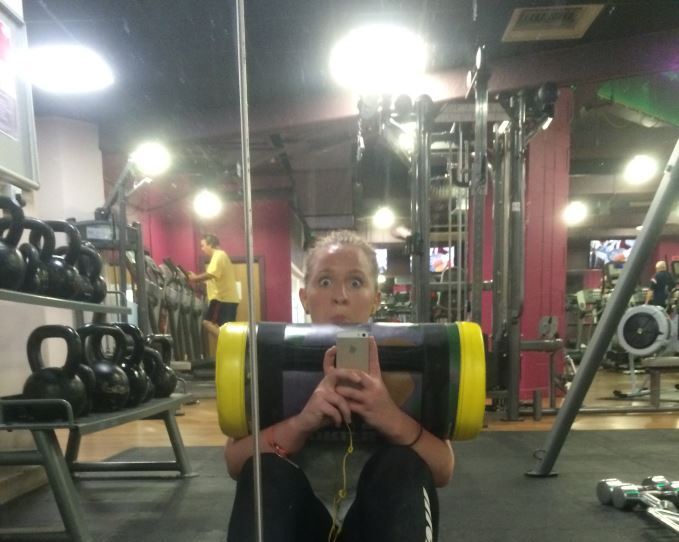 A shameless post first work-out selfie
Next up was the gym workout programme, tailored to meet my goals.
Maya went through everything from how to warm up on the cardio machines, to getting my heart rate up for 20 minutes before doing the core workout. This is where it gets interesting.
Maya went through each exercise she wanted me to do as part of functional training. This includes weight exercises that work all of your muscle groups. Many people think you need to run on the treadmill for an hour to lose weight when in fact, a core workout is much more productive as it keeps your body guessing.
Exercises in my programme include everything from bicep curls, tricep kicks to squats and walking like a crab. Every exercise was interesting and dare I say it, fun? A favourite has to be working with the weighted Core Bags. The Y Club goes above offering the standard gym equipment which makes your workout more interesting and beneficial.
Maya ended the work out by giving me a pack including the work out plan, class timetable, lifestyle tips and ideas to help you along with keeping your diet in check. I left the session feeling excited, knowledgeable and looking forward to the summer body I would see at the end of the 8 weeks.
It's safe to say after doing two sessions in the gym on Maya's workout, I was in pain. It shocked me that even though I go to the gym so often, I had muscles in places I never knew existed. This is good pain though and it's spurred me on to improve my fitness.
The beauty of this 8 week blitz, is that you won't get bored; Maya is on hand to change up my work out every two weeks and has offered advice and support since the first visit and makes sure I'm happy when she sees me around the gym.
So, here's to the next 8 weeks and the hope of that toned, tyre-free goddess at the end of it.
Stay tuned for the next update.
You can start your Summer Body Blitz now just call the Y Club on 0161 837 3535 or email membership@yclub.org.uk for more information.