EYEBROWS are always a strong subject of discussion in the beauty world. Whilst my Confidential co-workers might be boggled at the notion that I can discuss my habits, grooming and general brow routine for endless hours, there are many other beauty fanatics who will find themselves able to do the same.
"I might have met the most silent beautician in Manchester but she has left me with perfect brows."
Where you get your brows done and your chosen method of removal are the main topics of conversation. Wax or threading? Semi permanent make-up or laser hair removal? HD or standard pencil and powder method? There's a variety of options and it's important to get it right. After all, the eyebrows frame the face and I spend at least a good ten minutes shading mine into shape each morning.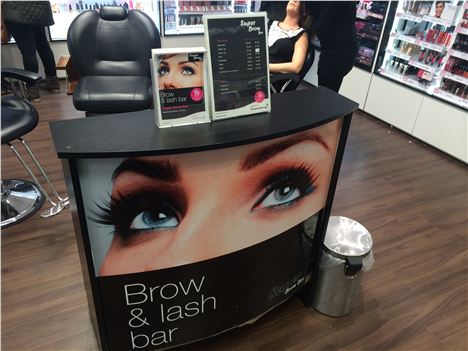 Superdrug's brow and lash bar...does what it says on the tin
Frida Kahlo might have been able to style out a monobrow as part of her creative image but I definitely can't.
So with my brows ready to be groomed I set off to review one of the many options out there on the market. Selfridges? Harvey Nichols? A high-end beauty salon? No. I was off to Superdrug to test out their high street brow and lash bar.
As one friend described it to me, "they are good but it's like having the Tesco value version of a proper treatment." Equipped with that knowledge and filled with optimism I set off to investigate just how little expense had been spared when you don't have the expense to spare on your brow care. Tesco Value can sit in my fridge but would I want it in my beauty regime?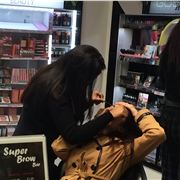 Threading in processMy Superdrug of choice was the large(ish) shop at Manchester's Piccadilly Gardens. After all, if Superdrug is offering convenience style treatments it makes sense to find the most convenient store for you. 
I had been forewarned that many of Superdrug's brow and lash bars are situated, not so conveniently, in the windows of their stores. Yep, slap bang in the window so not only fellow shoppers can watch you wince and twitch as your eyebrows are threaded into shape but so can passers by.
Memories of girls getting their scousebrows whipped into shape for everyone in the LiverpoolONE shopping centre to see immediately sprang to mind. Privacy isn't thought of when you're opting for budget beauty.
Luckily for me my particular Superdrug has relocated their brow bar to be nestled in the back of the shop by the cosmetic counters. You're still on display but at least it's with other shoppers who, on this late Tuesday afternoon, generally seemed non-plussed.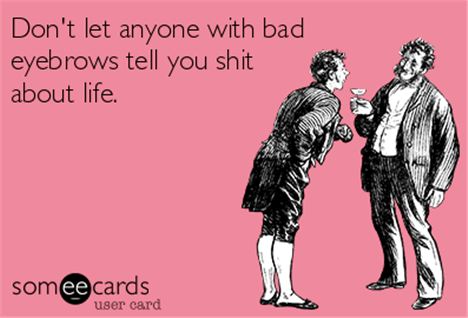 True that.
After paying at the till and coming back to the brow bar, even though I was behind two others I was still settling myself into the chair after only ten minutes. Quick and convenient, I was beginning to see why Superdrug's brow bars are likened to Tesco. Conveyor belt-esque, most people are threaded and out within ten minutes.
Plus as threading costs just £10 and the same for tints, it's a lot cheaper than some of the more costly options. HD brows will set you back anything from £25 to £45 and even threading in a more high end setting such as Harvey Nichols comes in at £17, and that's without a tint.
I find that the threading process is standard wherever you go. Meaning it hurts no matter if you're sat in a plush leather seat surrounded by designer kiosks and spa products or on a plastic pleather one next to the three for a fiver nail polishes. For the record I was sat on a sticky plastic seat and wincing as each eyebrow hair was pulled from the root with a reel of white cotton.

My before brows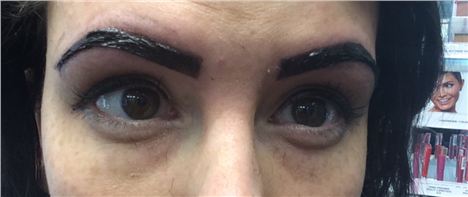 Mid tint...distinctively Scousebrow/Angry Bird style
Now I'm not really one for the idle chitchat you get in the hairdressers and beauty salon and the quick in and out nature of Superdrug suited me perfectly. However going through the threading and tinting process without even a word from the beautician was weird.
As she pulled a bit too hard on her thread and tears sprang to my eyes? Not a word.
As she pasted a dark tint onto my brows leaving me looking not disimilar to a character from the Angry Bird game? Silence.
As she left me alone for five minutes with said fierce looking blackened eyebrows amidst the cosmetic counters and shoppers? Not a peep.
As she scrubbed at my face with a dry cotton wool pad to remove the tint and thus managing to leave a black smear across my forehead? You could have heard a pin drop.
I have no time for that 'where are you off on holiday?' drivel but absolute silence is also a non-no, and downright bad service, in my book. Still there was no arguing with the results. I might have met the most silent beautician in Manchester but she has left me with perfect brows.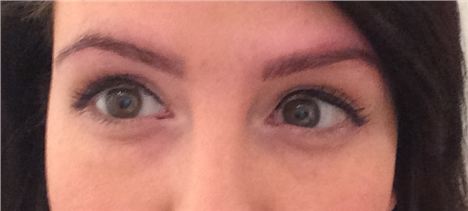 My after brows
Follow Niamh Spence at @missnspence
Superdrug brow and lash bars can be found in certain Superdrug stores, for the full list click here.
Niamh visited: Superdrug, Manchester, New Piccadilly, 7-9 Picadilly, Manchester, M1 1LZ.
Opening hours are Mon-Fri 9am-8pm, Sat 9am-5.30pm and Sun 11am-5pm.
ALL SCORED CONFIDENTIAL REVIEWS ARE IMPARTIAL AND PAID FOR BY THE MAGAZINE. 
Score: 10.5/20 
Product: 6/10 (Threading is the same wherever you go, it's always going to hurt)
Effectiveness:4.5/5 (Perfect brows and not a hair out of place)
Service:0/5 (Silence, utter silence, because this was so unusual)