WEDDINGS are not usually known for being understated and embracing the 'less is more' approach. In fact, for many brides the more lavish and ostentatious the better. A bride can never have too many ruffles it seems.
"We do half of their face and then teach them how to copy it on the other half." 
Not for bareMinerals.
The mineral cosmetic brand is shunning the overdone and showy make-up looks that most of us would associate with weddings. Their bridal 'makeunders' are showing the brides-to-be how 'the natural look' needn't mean baring all.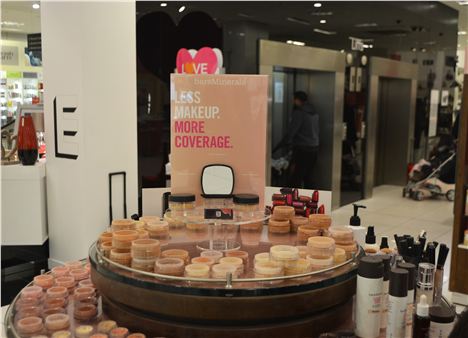 Less is more is the rule with bareMinerals
Nobody wants to look back at their wedding photographs in years to come and ask why they looked, well, so odd? Just look at your parents wedding pictures and you'll know what I mean. Excessive hairspray, flares, BeeGees bouffants and shoulder pads. No, no, no.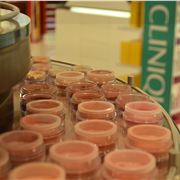 bareMineralsbareMinerals are encouraging more brides to embrace their natural beauty and wear less - without having to sacrifice coverage. 'Less make-up, more coverage' is the slogan emblazoned on every counter and across their website. Their skin enhancing make-up has already converted many fans from full faces of slap to a more natural look. 
"It's all about making the most of what you have," says make-up artist Sam, who runs the bareMinerals counter in Debenhams.
"I've had lots of brides come in who are doing their own make-up on the day and want a natural pretty look. I've also had quite a few mothers and daughters come in who are just curious about what make-up to have for the big day."


Hannah Garrigan is one bride-to-be who is considering doing her own make-up for her upcoming wedding.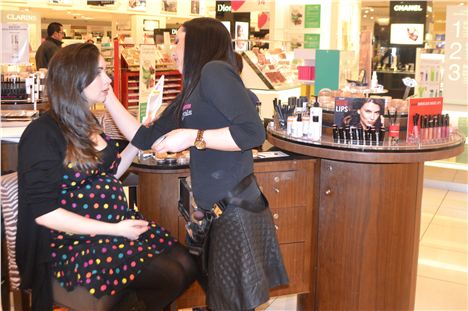 Bridal 'makeunder' in process
"We do half of their face and then teach them how to copy it on the other half," explains Sam. "They're always surprised how light it all feels, and how easy it is to recreate."
Using luminescent primer and brightening mineral concealer, Sam made over Hannah's face to give it a glow without masking. "I've just brightened the skin and added the Stroke of Light eye brightener to highlight."
Another bride-to-be preparing to walk up the aisle is Laura Timmins. Newly engaged (her boyfriend proposed on Christmas day, n'aww) she is still in the early stages of planning her wedding but doing her own make-up is a strong possibility. Her style is more contemporary but Sam still manages to create a natural look for the girl who favours dark eyeliner flicks and tattoos.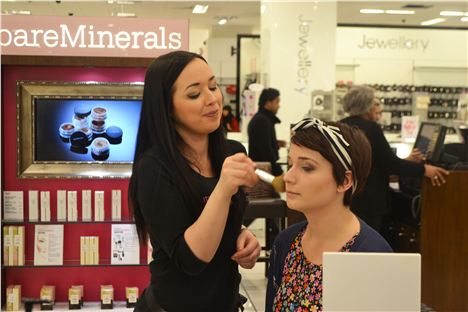 Sam working on Laura
"You still get that full coverage and can hide imperfections but it's so much better for your skin," says Sam. Make-up that improves your skin is always a welcome addition to any cosmetic bag.
Although bareMinerals are working with The National Wedding Show (coming to Manchester in March), as a brand it's not just about weddings. They're open to all occasions, skin types and colours as their collection also features a great range for dark skin too. "Anyone can wear it," confirms Sam.
There's no need to book an appointment weeks in advance either. "I do get people booking for busy times such as the weekends but in the week when it's quiet I can easily fit people in."
But what about the brides-to-be finished looks? Well, see for yourself...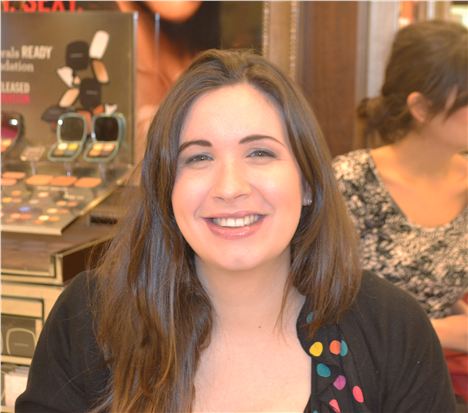 Bride-to-be Hannah's finished look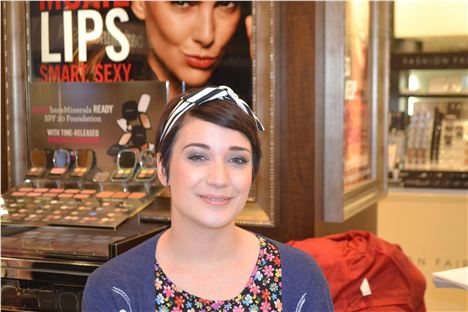 Bride-to-be Laura's finished make-up look
bareMinerals is available in Debenhams, or via the website:
They will also be exhibiting at The National Wedding Show at Manchester Central on 15 and 16 March. For more information or to book your tickets go to www.nationalweddingshow.co.uk
Follow Niamh Spence at @missnspence