Body Confidential with a round-up of the best health, beauty and fashion happenings in Manchester this month...
YOGA WITH ACTRESS GEMMA MERNA
"I just found that the world I was in was incredibly competitive, there were a lot of pressures and it was hard to know who was real," says former Hollyoaks actress, Gemma Merna. She's a far cry from Carmel McQueen, the ditzy character she played for ten years, and is now a fully fledged Yoga teacher.
She'd just put us through our paces during a one-off class at Cloud 23, overlooking Manchester's growing skyline. Turns out she's very good and seriously bendy. "I just like the way Yoga made me feel, it teaches you to be happy with who you are, to be kinder to yourself and value yourself. So after I left Hollyoaks, I got my Yoga certificate," she explains.
But doesn't she miss the flash, showbiz life?
"Oh I miss Carmel to death but when you play a character for so long you start to lose yourself, I'm excited for the next role and the journey."
Yoga tips: "Try to introduce Yoga into your life at least once a week."
Where: "I currently host classes around Liverpool but I have plans to do classes in Manchester"
Actress turned yoga instructor, Gemma Merna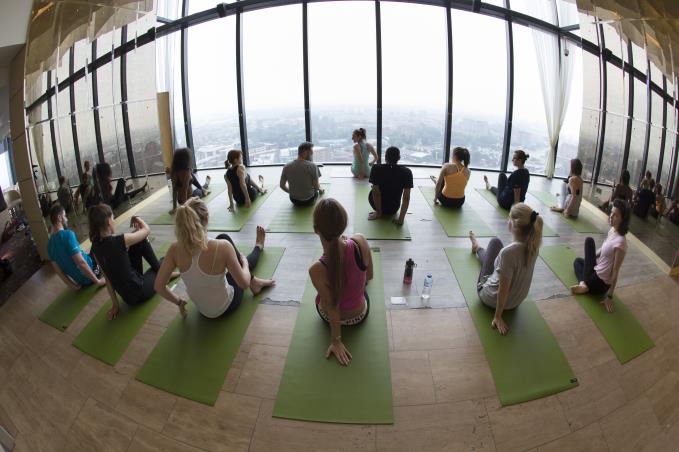 "UBER FOR MAKEUP ARTISTS"
You have a pressing event and you're in need of a make-up artist (say a hot date or Mario Testino is about to shoot your new Facebook profile picture), then soon-to-launch make-up service, Palette, should be your first point of call. Founded by young Manchester business woman, Anastasia Kenyon, Palette will be a place for make-up artists (MUAs), beauty bloggers, and professionals to 'connect and collaborate.' You can book a make-up artist for jobs, while there'll also be videos, tutorials and all other social media in one place.
It's a useful new venture – especially for those who don't know their contouring from their strobing. "It's like an Uber for make-up artists," says celebrity makeup artist, Sean Maloney, at the Palette launch party at The Alchemist this week. Maloney was enlisted to show fashion bloggers and celebs (Ex on the Beach's Jen Lucy and model Louise Cliffe), just how high-maintenance great make-up could be with a live party make-up masterclass.
"I use four primers," demonstrated Maloney. "I then blend together six foundations…" We're dumbfounded. We don't even own six foundations. But look at the fabulous result on the model below.
Any tips? "Tom Ford makeup brushes are the best, Sigma and if you're on a budget Real Techniques," says Sean.
Where?: Find Palette online at www.palette.com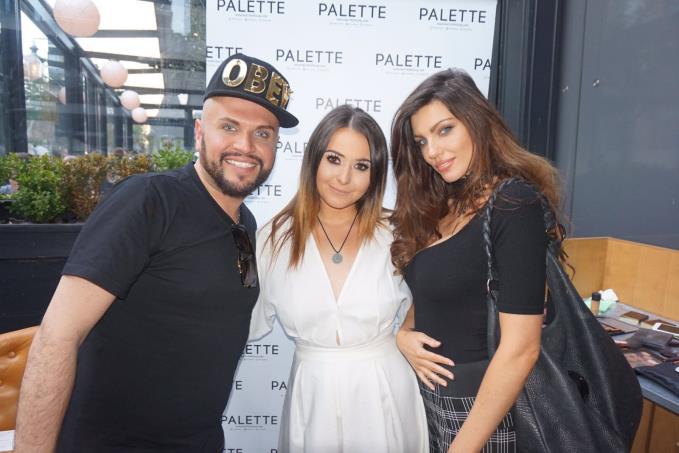 Founder Anastasia Kenyon (centre) with Louise Cliffe and friend
EYEKO'S BLACK MAGIC
Nina Leyland is our kind of woman. The co-founder of eye makeup brand Eyeko understands that a woman's relationship with her mascara runs long and deep. We met Leyland on her regional tour to Manchester where she helped reaffirm our love for good winged eyeliner and eyelashes as long as our hair and as black as our coffee.
"We don't believe in wearing one mascara. There's even Sport waterproof mascara because we know some women like to look great when they're in the gym. We have an entire mascara wardrobe." The range sounds truly magical. Particularly, the Black Magic mascara and the Black Magic eyeliner which is used by the likes of Alexa Chung (the unofficial Queen of the cat-eye flick - watch the video below). The liquid liner created in Japan is inspired by 'traditional calligraphy' – which should make lining the eyes a little less tricky, but ask us again on a blurry Monday morning. The liner also lasts three hours, so no smudge or tear stains. The Black Magic mascara is a treat; a little goes a long way here and every lash is coated and curled in the blackest black. Mascara should always be this black. We're complete Eyeko converts.
Any tips? When applying liquid liner start at the far corner of the eye first. That way you can have control of the overall thickness of the line.
Where? Available at Harvey Nichols
How much: Buy Black Magic Liquid Eyeliner (£15.00), Black Magic Mascara (£18.00)