IF you can tell a man by his shoes, then in the interest of gender equality, a woman should be judged by the state of her hands and her manicure. By that standard then, looking at my nails earlier this week you would have believed I was either a witch, or a lumberjack.
I had let my hands go.
After feeling embarrassed around preened and polished beauty types it was time to bring my hands to some experts.
I wasn't expecting a mural of The Sistine Chapel painted across my fingers, but I did expect some nail art. A smiley face at the very least.
When it comes to manicures, while we may have DIY options, you open yourself to the risks of smudges, stained fingers and uncontrollable rage. Most women will have experienced the frustration of trying to paint left-handed.
This is why we let professionals, with more dextrous and controlled skills, do it for us.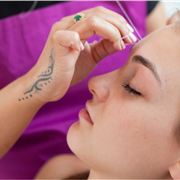 Blink do brows but can they do nails?I opted to try Blink Brow Bar in the beauty hall within Selfridges, Exchange Square.
Admittedly, going to a brow bar to get my nails done seems a little counterintuitive. However Blink appeared to have a great deal of manicurists on board and you could tell that manicures aren't an afterthought.
Blink's manicure prices jump from £20 for a 'Polish and Go' treatment to £40 for the Artistic Gel Nail Polish.
"Artistic? Why's it artistic? What do I get?" I asked.
"That's just the name of the nail polish brand," said a lady with architecturally arched eyebrows and elegantly poised on a very high wedged shoe.
Oh. Of course I wasn't expecting a mural of The Sistine Chapel painted across my fingers, but I did expect some nail art. A smiley face at the very least.
Instead, the Gel Artistic Nail manicure promises to leave your nails chip free for at least 2 weeks – 3 weeks depending on how fast your nails grow. That means for one fortnight you can open cans of diet coke, scratch your scalp and wallpaper your entire house without so much of a dent on your new nails, right?
For £40 compared to a £2.99 bottle of Barry M nail polish, one would hope so.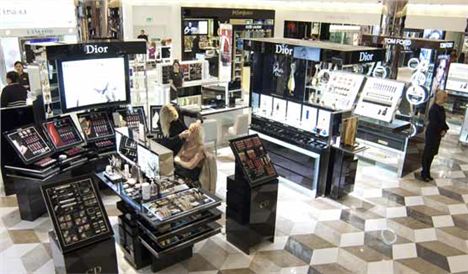 Blink is based within Selfridges' Beauty Hall
I was attended to by a friendly manicurist called Krystina.
Testament to Blink's service, Krystina seemed genuinely interested in my life.
As one has come to expect with the beauty salon customer experience, most manicurists act like your best friend for the duration of the treatment. We talked, or more, I talked, for most of the snappy manicure. So much so, I had barely noticed Krystina had whizzed around my cuticles with very sharp scissors without taking my fingers off with it.
One thing to note with gel nail polishes, the choice of shades are cut by half compared to regular ones. There's the obvious primary colours, some neons and some glittery colours thrown in for good measure.
Good solid colours but no, nothing artistic.
I went for grey. Or, what I've decided to rebrand as 'Silver Porsche'.
A few people have remarked that the colour resembles the slate many pick for their kitchen floors, but I've dismissed it. The finish is even,  has a nice shimmer and fits in well with the modern goth look I tend to sport throughout winter months. Even though the fashion and beauty world prep for Spring/Summer 2014 it's still very much winter here in Manchester.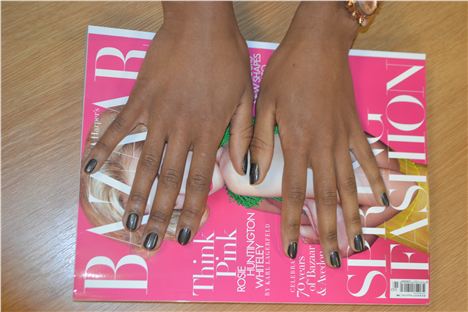 Finished result
Krystina had a well practiced rhythm when rotating from drying my nails under the lamp, to adding another coat. It was lamp, coat, lamp, coat – until my nails were thick to the brim with polish.
As I fumbled around my purse for my debit card, I tried to avoid any mishaps, Krystina laughed:
"There's no chance it's coming off soon. Don't worry."
A few head scratches and many cans of coke later the gel polished nails are still intact and staying strong. 
Follow @LOreal_B on Twitter
Blink Brow Bar at Selfridges, Exchange Square, Manchester, M3 1BD
Call 0161 838 0536 to make an appointment.
Open Mon-Fri 10am-10pm, Sat 10am-9pm, Sun 11:30am-6.30pm.
Or follow them on Twitter at @blinkbrowbar
ALL SCORED CONFIDENTIAL REVIEWS ARE IMPARTIAL AND PAID FOR BY THE MAGAZINE. 
Score: 17/20 
Product: 8/10 (Needed more choice of colours)
Effectiveness:4/5 (Very durable nail polish, still no chip)
Service:5/5 (Helpful, conversational and skilled)