RATHER than enjoy hiking or mountaineering, I'm far more likely to appreciate the 'great outdoors' when peering at it through the windows of a really great indoors.
I am a recalcitrant city type by nature and by nurture.
Then I was wrapped up like an Egyptian Mummy while my therapist massaged my face. No stranger to a facial, I can say that someone rubbing your eyebrows and upper lip is far more relaxing than it sounds.
The great indoors that would inspire me to become a little more one with the earth was Armathwaite Hall, a striking stately home secluded in 400 acres of deer park by Bassenthwaite Lake, over the hills and not too far away in the Lake District.  
The seventeenth century country house has welcomed aristocrats, politicians, parliamentarians, award-winning poets and evacuated school girls during the Second World War.
Presumably, it doesn't play host too often to us inner city urbanites with social media obsessions, much more used to detached houses on busy main roads. I sometimes spot the odd urban fox but that's as country as I get. 
Still, Armathwaite Hall opened its grand and formidable doors to me and my mother – an admittedly noisy pair – for a one night stay. It promised to give us a taste of British refinement, a history lesson, a luxury experience and a detox treatment that would help get rid of some pesky cellulite in the process.  
Armathwaite Hall in a land not so far away
What we'd also come to discover is that detoxing at Armathwaite Hall meant completely purging ourselves of our city habits and coming to terms with the fact this was to be more sheep than Starbucks.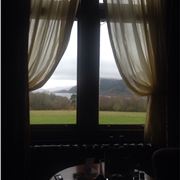 View from the deluxe roomPart of the spa package was a stay in Armathwaite Hall's deluxe twin room. The room was romantic as much in ambience as the romantic period. The large room's high ceilings, collection of period dark wood furniture, large beds with giant mattresses and the faint smell of incense made the stay almost fairytale. The view outside of the nearby Skiddaw Mountains was breathtaking and calmed me to a standstill; a remarkable achievement in itself.
Calm and quiet became the running theme throughout the house. Armathwaite Hall is refreshingly tranquil and at first, a welcome change from the constant hustle and bustle I'm used to.
Yet as the stay progressed, the peace and quiet began to vere towards rest-in-peacefulness.
For instance, at dinner we ventured to the Lake View dining room and were met by stares from the other diners – age ranging from late 40s to late 70s.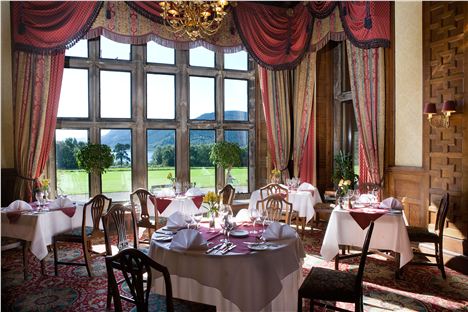 Lake View Restaurant 
I decided that it was best to assume they believed my mother and I, with our unruly afros, to be African royalty on a dignitary visit.
Or, perhaps, with the quiet engulfing the room interrupted only by the shuffling of bums and tinkering wine glasses, we were the most interesting things in the place.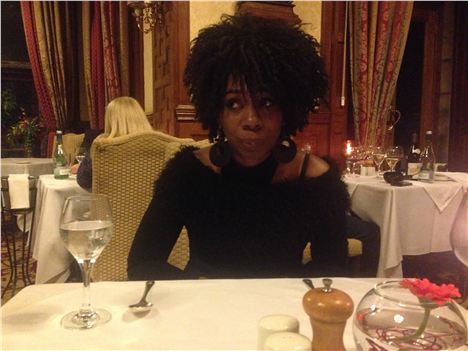 Mother being quiet. 
While the warmth and beauty of the Lake View Room was inviting, the quiet made it awkward to get into the rhythm of conversation. We were reduced to giggling behind our hands like two school girls.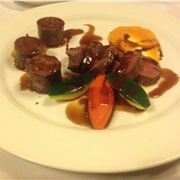 VenisonI've been told that it's par for the course in country and certain Michelin starred restaurants to not have any music playing in the background. Some gentle classical music would have eased the atmosphere.
Instead, if diners dared to speak at all, they spoke in whispers. 
You could almost hear stomachs digesting their three courses of duck, venison and other fresh country kills. There was much relief when a woman, who had drunk too much wine, took off her shoes and bumped into tables. Another began to roar ecstatically when her husband was brought a birthday cake with a single candle. Yet no one clapped, or sang. We all sat quietly.
Yet, this is the country, I reminded myself. And once I gradually settled into my plate of venison, I began to revel in the new experience. Unlike spa weekends in the city, Armathwaite Hall offered a chance to have an uninterrupted rest from the industrial soundtrack of cars, horns, trams and loudmouths.
The staff were friendly -  in a reserved manner. I was addressed as Mrs Blackett throughout and I didn't care to correct that I was only a 'Miss'. It added to the game of period dress up and fantasy I had begun to play.
We were tended to by a busy French porter who served drinks with the elegance of a Russian ballerina. As he poured tea, he slowed into a remarkable plié. These little things were truly appreciated.
After breakfast and over-hearing excited conversations about bird watching, it was clear that our want for a little more noise and 'action' could be met away from the confines of the house. There's even a zoo nearby.
A short walk down the hall you are welcomed into the Armathwaite's new spa. It's uncharacteristically modern compared to the rest of the place – plus there's music.
Armathwaite Hotel and Spa
Maintaining the grandeur, the spa is surrounded by ceiling to floor windows so you can continue to marvel at the spectacular views outside – whether on a treadmill or in the hot tub.
I was invited to try their 60 minute 'embrace the elements' spa treatment which I was told helps aid weightloss, tackle cellulite and signs of aging.
My skin was prepared with a 'Himalayan salt detox scrub' that felt quite abrasive, but I expected that was because my thick city hide was rough to the touch.
Oil was drizzled over me, before the 'anti-aging' peat mud mask was applied to the entire surface of my body. Then I was wrapped up like an Egyptian Mummy while my therapist massaged my face. No stranger to a facial, I can say that someone rubbing your eyebrows and upper lip is far more relaxing than it sounds.
Once I showered off the peat, warm oil was massaged into my skin. Apparently, this organic solution is what leaves the skin detoxified and toned.  
It's hard to say whether this treatment has boosted my immune system and stimulated the metabolism as it suggested, but my skin looked and felt smoother and I had relaxed almost to the point of REM sleep. 
Following the treatment I was told to rest and relax in a tranquil Hush Room, tucked away in bed and to sip herbal tea. Again, we got to stare at a gorgeous view and be left alone with our thoughts. More silence. Not even Enya?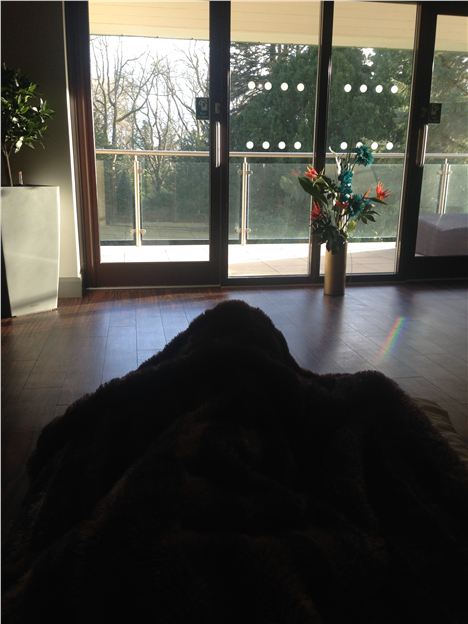 More silence in the 'Hush Room'
I was beginning to get used to the walls of silence until an accident with my phone snapped me back into busy mode. After a night and day I was well rested, fed and looked after. Still, there was a hankering to get back to being a busy-body.
Armathwaite Hall provides a great escape for those who have become stressed and fed-up with city living. Whilst the stillness felt foreign at first, you are encouraged to focus on quiet conversation, relaxation and peace - it's a spa break after all. It's easily managed while surrounded by such beautiful landscape. 
I'd most definitely go back, just with an ipod on hand when the quiet becomes a little too loud. 
The 'Embrace the Elements' spa treatment at Armathwaite Hall Country House and Spa costs from £380 for two sharing a room. 
It includes the 90 minute 'Just Be' elemental treatment, overnight accommodation, three course dinner in the courtyard bar and brasserie restaurant, complimentary use of spa facilities and daily exercise class. Book here.