THERE are around 60 shopping days (from late October) till Christmas. I don't like to say it, much less write it, before Hallowe'en has even knocked on the door and demanded Haribo, but there it is. An unavoidable fact. 
There's plenty of the weird and wonderful. French pith helmet, anyone?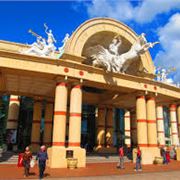 A Conundrum Fit For Countdown
As the rain lashes down and a decidedly wintry wind howls outside, the thought of pottering around quirky little shops seeking out the perfect gift doesn't exactly fill most of us with a fuzzy, festive glow. That leaves The Trafford Centre Conundrum.
This describes the difficult balancing act where you weigh up the pros of this altar to consumerism (free car parking, a roof) with its cons (soulless, banal range of shops, dodgy cod-Grecian architectural flourishes everywhere).
If that doesn't tempt you, there is always the internet. I'm not usually a huge fan of internet shopping because I am, to all intent and purposes, a Luddite who would prefer to have written this article on a scroll of parchment and pinned it up in the town square.
On top of this, there remains the quagmire of trying to avoid the retail giants who have decided to base their companies on Jupiter for tax reasons, whilst also trying to avoid the retail giants. Putting yourself to the bother of waiting in to take delivery of a John Lewis candle snuffer when you could just nip out and get it yourself seems to me like killing no birds with two stones.
Enter Boutique Local.
Boutique Local started off a few months ago with a soft launch. It aims to replicate the experience of nipping from one charming little independent shop to another but without having to get off the sofa.
Just as you'd expect from somewhere that was trying to cram the likes of Beech Road in Chorlton and Burton Road in West Didsbury into one internet location, the site is quite a looker.
At the moment, it offers a range of gifts, homeware, jewellery, cards, toys and clothes but Managing Director, Julian Emery, wants to expand this range. Whether it's a deli with a great range of food and drink or a vintage boutique, Emery is looking for any small businesses which have something interesting to offer.
The idea is to have a selection of unusual, original items for sale, things that you can't buy just anywhere. The anti-Arndale, if you like. I use the term 'things' loosely because the intention is to sell vouchers for lessons, sessions and all sorts of services as well. As you browse the site, the hope is that you find exactly what you are looking for whilst also making some more unexpected, serendipitous finds.
Quality fare is the watchword, with plenty to interest and intrigue but nothing to frighten your maiden aunt. Overall the wares look tempting; the bikinis have a cool retro feel and beachwear can be a bugger to buy in the winter, there are soaps to satisfy every olfactory passage but for me the rugs are the outright winner. There's plenty of the weird and wonderful. French pith helmet, anyone? But they seem to have got rid of the dodgy IRA balaclavas. They must have sold out.
Boutique Local was started to give small business a fighting chance, so they could get online in front of a targeted audience without paying an arm and a leg on pay per click advertising. Darren Preece, who runs The Great British Rug Company, explained that he was spending two or three grand a month on pay per click advertising (which in my book is at least a couple of arms and legs) until he joined up with Boutique Local.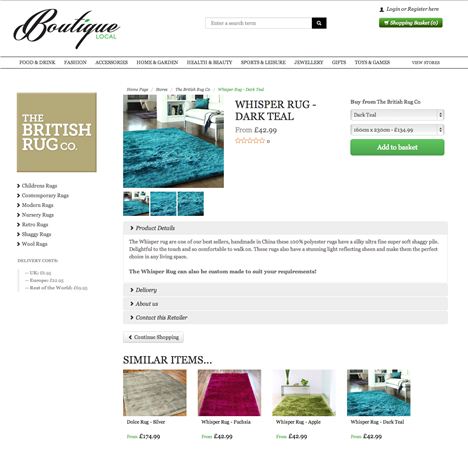 Rugs

In fact Preece (he of the lovely rugs) doesn't have a bad word to say about Boutique Local and to say he recommends it to other retailers would be something of an understatement.
"To go on Boutique Local is a no-brainer. You pay as you sell and the commission is low. It's the best thing I've ever done. You've got to give it a go. I'd have to give it ten out of ten. Try it out for six months; you've got nothing to lose."
As a customer the site is easy to use as it works much like any other with the exception that you only have to go to checkout and type in your vital statistics once, even if you've been on a spending spree with ten different retailers.
It appears to be child's play on the business side of things too as Darren Preece explained: "Their system is dead easy to use. My daughter could manage all the orders."
Boutique Local charges 10% commission including VAT. How the system works is, each retailer has their own fully-loaded e-commerce website. They manage their own online store and they are paid straight away for each transaction. If it all sounds a bit much, Boutique Local offers a start-up service so you can have your first 25 products uploaded the for free.
The fledgling company has just joined forces with PayPal and Boutique Local will be appearing on their shopping portal. Such a big player should drive up internet sales but it's not all about virtual shopping trips. Through the click and collect option, Julian Emery hopes to work his magic on the sorry state of local high streets, bringing back footfall and stemming the tide of pound shops, charity shops and boarded up shops.  
The last word on how Boutique Local will not only save your Christmas shopping, but will also save the British economy, goes to Darren Preece:
"As the business grows, I'll be able to employ more people which is good for the local economy. There are about four of us at the moment but with bigger premises and more warehouse space, the world's your oyster."
Good luck to them.