CAN you tell what it is yet?
Wait for it... it's only a money-can't-buy prize from Liverpool Confidential and the Walker Art Gallery!
Yes, the legend that is Rolf Harris has SIGNED this gorgeous bamboo didgeridoo, exclusively for us.
So one lucky reader is going to be able to tie their own kangaroo down with some deep and stirring sounds from the Outback.
Rolf's retrospective at the Walker Art Gallery in Liverpool continues to attract record numbers of visitors. It seems people can't get enough of the Aussie artist, writer and entertainer.  Rolf Harris has become one of the UK's favourite imports from Down Under and his work continues to be in high demand among art collectors.
'Rolf Harris: Can you tell what it is yet?' runs until August 12 and features paintings, memorabilia and much more. The original works on display range from Rolf's early days as a student to paintings he created at lightning speed in front of a TV camera. The exhibition also shows how Rolf creates one of his paintings from start to finish.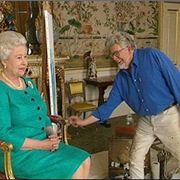 'One wouldn't mind
a signed didgeridoo'Some of his most impressive and well known pieces are on display, along with self-portraits, portraits, paintings of wildlife, urban and rural landscapes and studies of people and everyday life from home and abroad, including his study of The Queen.
But even Her Majesty hasn't got a signed Rolf Harris didgeridoo in her palaces. No.
We do not even know if there is another one in existence.
But fortune will smile on one Liverpool Confidential winner who will bag just that by entering this very special competition today.
And there's more. More? Indeedy. We have a signed catalogue of the show for the runner-up.
These fabulous prizes will be presented at the Walker Art Gallery on July 31 or August 1 or 2 when the William Brown Street gallery hosts special didgeridoo "show and tell" events at 1pm, 2pm and 3pm. During this time, the lucky winner, and anyone else interested, will be able to learn how to play the thing.
Deep breaths everyone...now click "Enter".