A STAR-studded series of films made to mark the 400th anniversary of Shakespeare's death is to be screened in Liverpool, it was confirmed today.
The city has been picked by Shakespeare's Globe as the only UK city outside London to show The Complete Walk.
Described as a major cultural coup, The Complete Walk iwill be simultaneously screened along a two and a half mile stretch of the Thames South Bank and in a number of international locations. The weekend of 23-24 April 2016 is the one for the diary.
The Complete Walk comprises 37 short films, one for each of Shakespeare's plays.
The cast was also announced today and includes Simon Russell Beale, Zawe Ashton, Peter Capaldi, Dominic West, James Norton, Olivia Williams, Jonathan Pryce, Phoebe Pryce, Hayley Atwell, Meera Syal, Jamie Parker, Danny Sapani, Mel Giedroyc, Aidan Gillen, Joshua McGuire, Paul Chahidi, Pauline McLynn, Joseph Marcell, Kenneth Cranham and Tom Burke. More big names are set to be confirmed,
The Globe says: "At the heart of each 10-minute film will be brand new material, shot on location in a setting with particular historical and narrative resonance.
"Small, fleet-of-foot film crews have been flying around the world to capture performances against the original settings from Shakespeare's global imagination."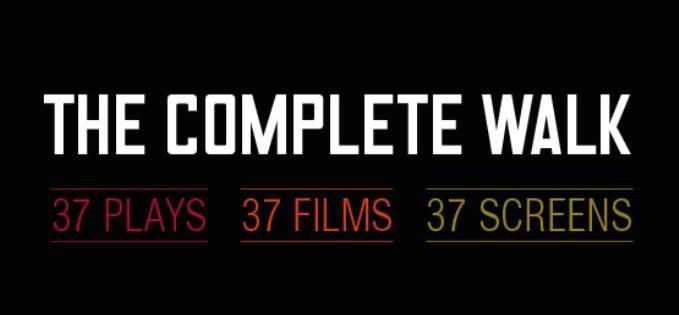 Filming locations include Hampton Court Palace for Henry VIII, The Tower of London for Richard III, Westminster Abbey for Henry IV, The Houses of Parliament for Richard II, Areopagus Hill in Athens for Timon of Athens, the Forest of Ardennes in Belgium for As You Like It, Tomba di Giulietta in Verona for Romeo and Juliet and Kronborg Castle in Denmark for Hamlet.
Each film will be shown in venues throughout Liverpool city centre and Culture Liverpool is inviting anyone who wants to stage one to get in touch.
"A full list of venues, opening times and the locations of each play will be released in March. If you are venue and are interested in hosting a film please email cultureliverpool@liverpool.gov.uk no later than 5pm Friday 26 February." it says.
The Assistant Mayor and Cabinet Member for culture, Councillor Wendy Simon said: "It's a huge coup for Liverpool to be the only city in the UK outside of London to host The Complete Walk.
"It's wonderful to be able to work with venues across the city centre to mark the Bard's anniversary, and I'm sure with the impressive cast list, thousands of people will take the opportunity to see as many, if not all, of the 37 short films as possible."
Liverpool doth seem to be favoured by the Globe and last year Liverpool Confidential revealed how Helen Mirren and Vanessa Redgrave were backing plans to recreate the Bard's theatre in Knowsley, where he spent much of his time.
The Complete Walks is part of Shakespeare Lives 2016, a global celebration of the influence of the Bard on culture, language, education and society.
Backed by The British Council, the GREAT Britain campaign and a number of partners it will commemorate the 400th anniversary year of his death online, in stage and film performances, exhibitions, public readings, conversations, debates and educational resources that people around the world and of all ages can actively join in with from January to December 2016.
For more information, visit the website www.shakespearelives.org or contact us at shakespearelives@britishcouncil.org
Who is in The Complete Walk
Simon Russell Beale as Timon, filmed in Athens
Peter Capaldi as Titus Andronicus, filmed in Rome
Hayley Atwell as Innogen in Cymbeline, filmed in Milford Haven
James Norton as Richard II, filmed in Westminster Hall
Zawe Ashton, Joseph Marcell and Kenneth Cranham in scenes from King Learon the Cliffs of Dover
Jessie Buckley and Luke Thompson as Romeo and Juliet in the Tomba di Giulietta in Verona
Dominic West as Coriolanus in Rome
Lindsay Duncan in All's Well That Ends Well, filmed in Roussillon
Olivia Williams and Susannah Fielding as Olivia and Viola in Twelfth Night
Jonathan Pryce and Phoebe Pryce as Shylock and Jessica, filmed in Venice's historic Jewish Ghetto
Aidan Gillen and Joshua McGuire in Measure for Measure, filmed in Liechtenstein Castle in Vienna
Mel Giedroyc and Paul Chahidi in The Merry Wives of Windsor
Jamie Parker as Henry V at Azincourt in France
Meera Syal as Lucetta in The Two Gentlemen of Verona
Danny Sapani as Henry VIII with Pauline McLynn and David Calder, filmed at Hampton Court
David and Tom Burke as father and son in Henry VI Part 3, filmed at Towton Battlefield