UPDATE: May 1, 2015: The L8 Superstore has won the BBC Radio 4 Retailer of The Year award.
A SUPERMARKET that helped inject new life and vibrancy into Toxteth's Lodge Lane has been shortlisted for one of the country's biggest food honours.
The Liverpool 8 Superstore, which opened in 2011 on the site of a former Kwik Save, is crammed with foods from around the world and attracts customers from every continent - not to mention every part of Merseyside.
Its colourful street display of fresh fruit and vegetables has become something of a landmark along a strip more synonymous with the riots of 1981 when it became world news for the wrong reasons.
My mother lives in Huyton but she prefers to come here, passing two Asdas and a Tesco. She says it's much cheaper and the food is so fresh
It has been named as one of three stores around the country competing for the Radio 4 You and Yours Best Food Retailer Award, as part of the Beeb's popular Food and Farming annual awards.
The store is one of 10 opened around the north by a Manchester-based businessman.
Jaber Ali, deputy manager in Lodge Lane, said: "We opened just a few years ago, refurbished the building and it has taken off. It has made a big difference to the lane and is attracting customers from far and wide. We are happy we have been recognised with this nomination."
Lee Kelly, a volunteer at the Toxteth Granby Development Trust, next door to the superstore, said its impact on Lodge Lane had been amazing.
"The shoppers come from every faith and every social divide, Muslims, Christians, just everybody. The staff are so friendly and helpful. The range of foods they sell from around the world is amazing. There were things I wouldn't have known whether to wear or eat until I asked. It is bringing in people from Wirral and all over Merseyside.
"My mother lives in Huyton but she prefers to come here, passing two Asdas and a Tesco. She says it's much cheaper and the food is so fresh.
"I see people every day buying fresh fruit and veg and that must be good for health, people are eating better.
Jaber Ali, deputy manager
"It has been excellent for this community, bringing cheap, healthy, fresh food as well as plenty of jobs. It is great to see so much happening in Lodge Lane."
In its citation, The Food Programme says of the store: "Lodge Lane in Toxteth has a chequered past of problems, but in recent years the area has changed and become more vibrant, with food being at the heart of the community's transformation.
"Liverpool 8 Superstore has played a vital role in changing a once intimidating space into a bustling one, offering a sense of community for a diverse customer base, as well as selling an abundance of herbs, spices, fresh vegetables and authentic imported ingredients."
Its rivals are a formidable motorway services and an organic store in mid-Wales.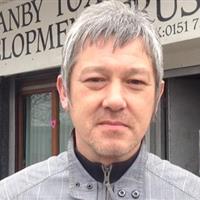 Happy customer: Lee Kelly
Gloucester Services, 150 miles away on the M5, is a rare breed of motorway service stop, dedicated to local food and the farming community. Liverpool Confidential just so happened to be there at the weekend, and with its veg stalls, bakery and butcher counters serving up grass-fed beef and all permutations of Gloucester Old Spot sausages it is a welcome break from the Welcome Breaks.
It was created in partnership with the Gloucestershire Gateway Trust, a social regeneration charity, to work with 200 producers from across the South West. Once completed the project will employ 300 people in the local area and will redistribute an estimated £10m over 20 years back into local Gloucestershire charitable community projects.
The Treehouse in Aberystwyth is a one-stop organic shop with over 1,000 products. Opened in 1991, its aim has always been to "sell great produce at fair prices, whilst being committed to reducing the size of their footprint on the Earth".
The winners will be announced at a glittering awards ceremony on April 30 when a contingent of supporters from Lodge Lane will be cheering on the store.