There is a man in Halewood who enjoys eating Spam so much that he's changed his middle name by Deed Poll to reflect his passion for the porky product.
Dad-of two Mark Benson, 41, tucks into the meat for breakfast every day and serves it up for dinner four times a week.
His name, as it now appears on his passport, is "Mark I Love Spam Benson".
Care worker Mark has been scoffing SPAM since the age of two. He was introduced to it by his grandfather who worked in the Newforge canning plant, where SPAM began UK production 75 years ago, in nearby Gateacre.
Earlier this month a SPAM Can Tour launched in Liverpool to mark the link, serving thousands of free SPAM Fries samples from an Airstream van.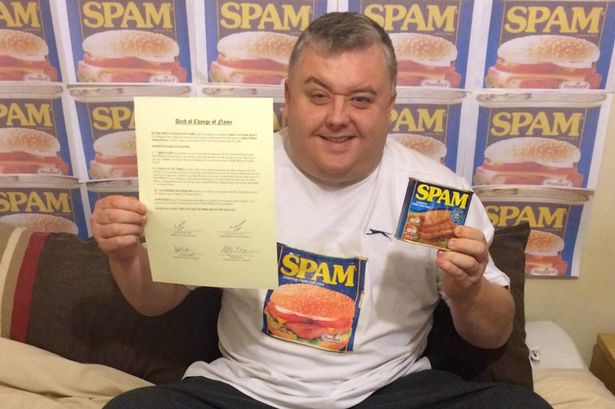 Mark 'I Love Spam' Benson, from Halewood, with his deed poll certificate. He has SPAM for breakfast every day and four times a week for dinner
The factory is now a Morrisons supermarket, which meets all of Mark's many SPAM needs, and there is a special mural on the wall to commemorate its history.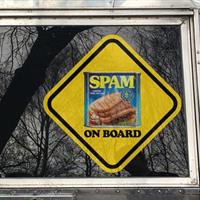 As for Mark's granddad, little could he have known that an innocent SPAM encounter would lead to the toddler growing up to build an extensive collection of memorabilia, including a SPAM can suit and SPAM flip flops.
But one thing sturdy Mark doesn't have is a limited edition Spam barbecue pack worth £50.
Aha! But we do. Three of them, and you, lucky reader, could be stealing a sizzling march on him and all the neighbours if you win our fantastic competition today.
It's your chance to scour the commemorative recipe book and savour delicious buffalo Spamburgers, Spam kebabs, Spam fries.
How about Pulled Spam? You hadn't even thought of that, had you?
Want one of these mouthwatering packs? Spark up the barbie and hit the big red button now!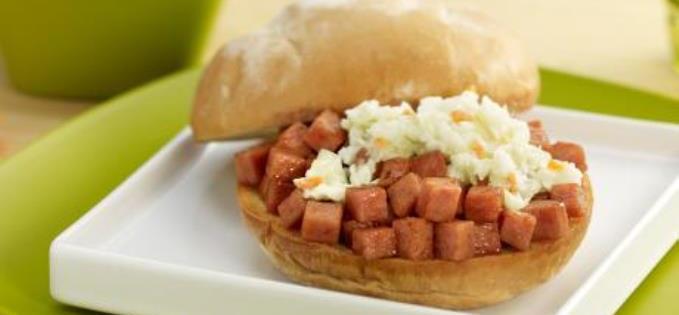 Mmmm...Pulled SPAM